BZ MESA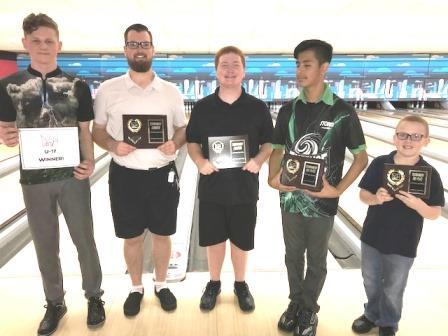 champs Harley Sweigart & CJ Todeschi; Hunter Mayes, Cesar Padilla, Jason Gootzeit
Harley Sweigart and CJ Todeschi racked up JBT titles in exciting JBT action at BZ Mesa.
After five qualifying games, bowlers competed in head to head matchplay. Down to four scratch semifinalists, Lucas Rabb stopped Josh Mabry, while Harley Sweigart halted Ryan Perry, setting up a battle between the reigning Arizona Conference Bowler of the Year and the reigning All-Conference Bowler of the Year. In this clash of the titans, Harley came out on top, winning the match for the 38th title of his exceptional JBT career.
Jason Gootzeit made the finals the day before, and the little guy roared to the top seed this time, earning a bye and then beating Kendal Bollea before falling to Todeschi in the semifinals. On teh other side of the matchplay bracket, Cesar Padilla beat Alex Thompson to set up the final match. In the finale, Todeschi, who has been so close to winning recently, was able to beat Padilla, who also has been close to JBT victory but is still looking for that first title, good for the second title of his JBT career.
Madison Holman won her first Priority Scratch Girls event with a win over Elizabeth Romero, while Hunter Mayes earned his first U17 win of the season by beating Gootziet.
Thanks to the team at Mesa for their usual great hosting job. Want in on the fun? Just check out our schedule and come on down!
BZ Mesa- final results and scholarship winners
10/21/2018
Scratch Division
rank
bowler
prize
1
Harley Sweigart
$265
2
Lucas Rabb
$184
3
Joshua Mabry
$75
4
Ryan Perry
$50
5
Clifford Robbins
$15
6
Christopher Mayes
7
Hunter Mayes
8
Tim Hill
$15
9
Kevin Lu
10
Hayden Hull
11
Zach Harvey
12
Brock Bivins
13
William Robbins
14
Phillip Sauve
15
3lizab3th Rom3ro
$25
16
Josh Fearing
17
Darren Fletcher
18
Abby Franklin
Handicap Division
1
CJ Todeschi
$200
2
Cesar Padilla
$100
3
Jason Gootzeit
$75
4
Alex Thompson
$50
5
Ryan Zent
$55
6
Max Premeau
7
Kendall Bollea
$90
8
Zackary Othic
9
Josh Williams
10
Madison Holman
$95
11
Kara Thompson
$44
12
Connor Meliska
13
Gavin Holter
14
Mark Sauve
15
Silas Phillips
16
Aiden Othic
17
Payton Workman
$10
18
Kristy Mace
19
Asher Toberer
20
Kaitlyn Hammer
21
Caden Meliska
22
Kyle Lawrence
23
Mackenzie Hammer
24
Raymond Gaiser
25
Katy Mace
26
Jadeyn Mabry
27
Noel Hernandez
28
Alisabeth Rich
29
Bethanie Toberer
High Games
Scratch
Handicap
Sweigart 270
Premeau 330
C Robbins 268
Gootzeit 285
Mabry 263
Gootzeit 284
C Robbins 256
Zent 272
W Robbins 255
A Thompson 264
High Female
1
Holman -4*
2
E Romero -71
3
Kristy Mace -134
4
K Thompson -137
5
Franklin -151
Qualifying Leaders
Scratch
Handicap
1
Rabb +134
Gootzeit +220
2
C Robbins +111
C Padilla +161
3
C Mayes +96
Zent +135
U-17
1
H Mayes +93
2
Gootzeit +65
3
C Padilla +61
4
Zent +55
5
Lu +22
Round Leaders
Scratch
Handicap
1
C Robbins
Gootzeit
2
C Robbins
Zent
3
L Rabb
Zent
4
C Robbins
Gootzeit
5
L Rabb
Gootzeit
Total Awarded This Event: $1,348