MIRA MESA LANES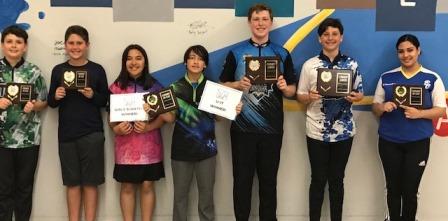 champs Zach Greim & Nathan Ginsburg with Ryan Ginsburg, Ethan Ash, Avery Domaguin, Elias O'Hollaren, Andrea Martinez
Zach Greim and Nathan Ginsburg earned JBT titles in exciting Southern California Conference action at San Diego's Mira Mesa Lanes.
The scratch division stepladder finals' first match was illustrative of the day's challenging pattern, as Harley Sweigart ground his way to a 160-148 win over Gael Egana. Sweigart made good adjustments to get to 203 next game, but 12 year-old star in the making Elias O'Hollaren strung the strikes for a 228 win, advancing to his first career scratch title match.
Top seed Zach Greim has been on a roll this year, and continued it here in his home center with a huge 289 game that helped lift him to the number one spot. Elias was looking to become one of the very youngest scratch winners in JBT history, but Greim, still a youngster himself, was not to be denied, striking out late for a 248-215 win and his fifth career JBT title.
Ethan Ash began the handicap finals with a222-203 win over his buddy Ryan Ginsburg. Ryan's brother Nathan then avenged the family with a 243-225 win over Ash. Andrea Martinez grabbed the top spot with beautiful bowling all day, but could not fins a consistent look in the final game. Nathan was able to win the final 218-201 to earn the first JBT title of his career.
Avery Domaguin captured the day's Priority Girls Scratch event with a 184-130 win over Martinez, while O'Hollaren survived a dramatic finish for a 174-165 win over Daniel Hong to earn the U-17 win.
Big thanks as always to the team at Mira Mesa for hosting our Tour. Want in on all the fun? Check out our schedule and come on down!
Mira Mesa- final results and scholarship winners
3/16/2019
Scratch Division
rank
bowler
prize
1
Zach Greim
$262
2
Elias O'Hollaren
$150
3
Harley Sweigart
$117
4
Gael Egana
$50
5
Ryan Lee
6
Daniel Hong
7
Lukas Wilcox
$28
8
Nolan Am-Khong
9
Cerell Cardines
10
Matthew Carpenter
11
Kyler Orosco
12
Carlos Perez
13
Megan Carpenter
14
Alberto Bernal
15
Trevyr Geronimo
16
Joshua Abigania
17
Justin Phillips
18
Hunter Ellenburg
19
Tim Hill
20
James McGough
Handicap Division
1
Nathan Ginsburg
$250
2
Andrea Martinez
$175
3
Ethan Ash
$125
4
Ryan Ginsburg
$100
5
Hailey Shepherd
$150
6
Hillari Hampton
$139
7
Raeden Pimentel
$50
8
Mikayla Villa
$40
9
Connor Miyake
$40
10
Kayden O'Dell
11
Avery Domaguin
$65
12
Lindsay Greim
13
Emily Cheesman
14
Akayla Orosco
15
Brandon Rother
16
Max Premeau
$30
17
Hayden Wegner
18
Josh Williams
$29
19
Kendall Bollea
$15
20
Dante Villa
21
Katelyn Abigania
22
Angelina Wallin
23
Emily Schrider
24
Connor Steelmon-Hill
25
Cyruss Tehrani
26
Ava McLaughlin
27
Miya Greene
28
Gavin Holter
$5
29
Secilia Kalvelage
30
Courtney Rogers
31
Simon Ortega
32
Manuel Gonzalez
33
Yael Salama
34
Ryland Pimentel
35
Prestin Frazee
36
AJ Imperial
37
Sterling Lopez
38
Lexi Cassman
39
Josh Karney
40
Stephanie Hong
41
Braeden Phillips
42
Caleb Rothstein
43
Zian Saaski
44
Matt Ross
High Games
Scratch
Handicap
1
Greim 289
O'Dell 264
2
O'Hollaren 258
Miayke 262
3
Sweigart 258
N Ginsburg 259
4
K Orosco 249
Shepherd 252
5
Greim, Sweigart 248
A Orosco 247
High Female
1
A Martinez -46
2
Domaguin -55*
3
Cheesman -77
4
Carpenter -92
5
Abigania -115
Qualifying Leaders
Scratch
Handicap
1
Sweigart +95
Martinez +94
2
R Lee +62
Shepherd +78
3
O'Hollaren +44
Hampton +52
U-17
1
O'Hollaren +44*
2
Hong +22
3
Egana -28
4
AM-Khong -35
5
Greim -44
Round Leaders
Scratch
Handicap
1
Sweigart
Miyake
2
Sweigart
Ash
3
Sweigart
Ash
4
Sweigart
Shepherd
5
Sweigart
Martinez
6
O'Hollaren
Martinez
7
Greim
Martinez
8
Greim
Martinez
Total Awarded This Event: $1,820