BZ GLENDALE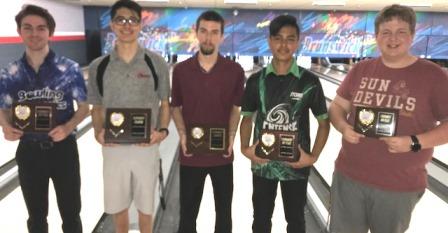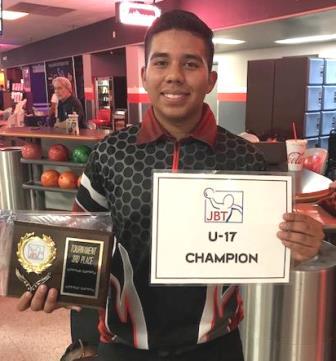 champs Cortez Schenck & Austin Penne; Lucas Rabb, Cesar Padilla, Corbin Hirsch; AJ Imperial
Cortez Schenck was on a mission, while Austin Penne rang the JBT victory bell for the first time, in exciting Arizona Conference action at Brunswick Zone Glendale.
Cristian Roque, returning after a successful football season, began the scratch division stepladder finals with a 190-178 win over Joshua Mabry. Defending Bowler of the Year Lucas Rabb then stopped Roque 233-205 to reach the title game.
Top seed Schenck reminded us why he's JBT's GOAT by lapping the field throughout the event, including +301 for qualifying. A great ball change mid-game in the final led to a 237-191 win over Rabb, earning him the 94th title of his unparalleled JBT career.
Austin Penne escaped from the first round of the handicap division stepladder 213-208 over Corbin Hirsch. Penne took that good break and then got on a roll, beating AJ Imperial 234-190 to reach the title match. Top seed Cesar Padilla has been painfully close to a title a few times, and looked very impressive here. However, it was more heartbreak as Penne rolled a great game to edge Cesar 240-231, and win the first title of his JBT career.
Imperial earlier beat Padilla 229-203 to win the U17 subdivision, while Emily Cheesman beat Aileen Linares to win the Priority Girls Scratch event.
Big thanks to JBT vet Alexis Atkin and the team at Glendale for a great job hosting us. Want in on all the fun? Check out our schedule and come on down!
BZ Glendale- final results and scholarship winners
4/27/2019
Scratch Division
rank
bowler
prize
1
Cortez Schenck
$343
2
Lucas Rabb
$132
3
Cristian Roque
$100
4
Josh Mabry
$135
5
Justin Song
$64
6
Tim Hill
7
Chris Mayes
8
Ryan Perry
9
Harley Sweigart
10
William Robbins
$15
11
Shane Smith
12
Hunter Mayes
13
Dawson Reese
14
Hayden Hull
15
Kyle Perry
16
Brock Bivins
17
Josh Fearing
18
Aileen Linares
$25
19
Darren Fletcher
20
Alex Seng
21
Eric Gauna
22
LaMarr Damon
23
Philip Sauve
24
Clifford Robbins
25
Abby Franklin
Handicap Division
1
Austin Penne
2
Cesar Padilla
$200
3
AJ Imperial
$155
4
Corbin Hirsch
$100
5
Jacob Soulliere
$75
6
CJ Todeschi
$50
7
Jaden Workman
$40
8
Zack Othic
9
Alisabeth Rich
10
Aiden Othic
$5
11
Silas Phillips
12
Mackenzie Hammer
$15
13
Kyle Lawrence
$15
14
Kendall Bollea
$5
15
Caden Meliska
16
Noel Hernandez
17
Kaitlyn Hammer
$45
18
Emily Cheesman
$50
19
Gavin Holter
$30
20
Josh Brown
21
Yael Salama
22
Ryan Zent
23
Emma Downing
24
Payton Workman
25
Michael McQuisten
26
David Waybright
27
Daniella LaBier
28
Kristy Mace
29
Jason Gootzeit
$15
31
Connor Meliska
32
Josh Williams
33
Madison Holman
$5
34
Katy Mace
35
Michael Goodman
Qualifying Leaders
Scratch
Handicap
1
Schenck +301
Soulliere +177
2
Rabb +157
Padilla +171
3
Mabry +104
Imperial +143
High Games
Scratch
Handicap
1
Schenck 279
Todeschi 284
2
Rabb 279
Padilla 264
3
Hill 278
Z Othic 261
4
Schenck 277
Hirsch 259
5
R Perry 268
Hernandez 259
Girls Scratch side event
1
Linares -47
2
Cheesman -71*
3
M Hammer -104
4
K Hammer -120
5
Bollea -158
U-17 scratch side event
1
Padilla +136
2
Imperial +28*
3
H Mayes +15
4
Reese +9
5
Hull -7
Round Leaders
Scratch
Handicap
1
Sweigart
Padilla
2
Sweigart
Imperial
3
Schenck
Soiulliere
4
Schenck
Soiulliere
5
Schenck
Soiulliere
6
Schenck
Padilla
7
Schenck
Padilla
8
Schenck
Padilla
TOTAL AWARDED THIS EVENT: $1,621