BZ GLENDALE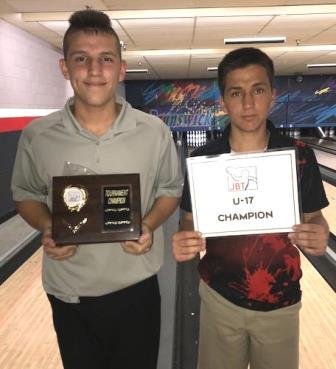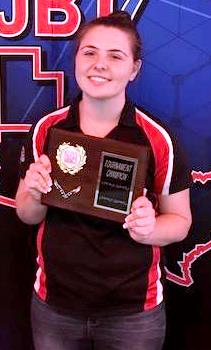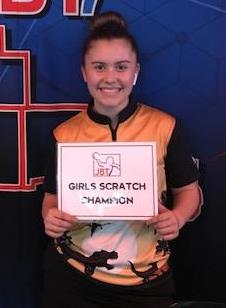 champs Brock Bivins & Baylee Snow; Josh Williams; Abby Franklin
Brock Bivins and Baylee Snow survived tough lane conditions to earn JBT titles in exciting Arizona Conference action at Brunswick Zone Glendale.
High scores were the order of the day yesterday, but a tricky 'Los Angeles' pattern proved to snarl traffic to the pocket today, putting an emphasis on shotmaking and spares. In the exciting 'super survivor' rounds, ten scratch semifinalists were carved down to four. In that round, qualifying leader Tim Hill bowed out with the low game, while Clifford Robbins ended up in fourth based on low overall pinfall. In the title match, Lucas Rabb, who had come all the way from a rolloff against Dawson Reese just to make the cut, was looking to avenge a runner up finish the day before. However, Bivins took the lane out of play with accurate rockets to the pocket, and gave Rabb no chance in the second half of the game with a 212-177 win, good for the rising star's second career JBT title.
Fourteen semifinalists in the handicap division were whittled down to five, and in that penultimate round, qualifying leader Phillip Sauve had a stumble and rolled the low game to be eliminated in third, while Kyle Lawrence and Jake Creek's lowest remaining totals landed them in fourth and fifth. That left the ladies (and Monday night teammates) Baylee Snow and Kendall Bollea to fight it out for the title. Snow, coming off the second highest handicap game of the whole tournament, then managed to fire the highest game of the event (221+47=268) to easily win the final, and capture a long awaited first career JBT title.
Another direct-line player, Josh Williams, beat Bivins for the U17 subdivision win, while Abby Franklin officially made herself Girls TPC eligible with a Priority Girls Scratch win over Main Event champ Aileen Linares.
Big thanks to the team at Zone Glendale for a great job hosting our Tour after a long hiatus, we look forward to many more! You shouldn't miss all the fun and excitement only JBT provides, and there's still time this season! Check out our schedule and come on down!
BZ Glendale- final results and scholarship winners
4/28/2019
Scratch Division
rank
bowler
prize
1
Brock Bivins
$250
2
Lucas Rabb
$139
3
Tim Hill
$89
4
Clifford Robbins
$50
5
Abby Franklin
$64
6
Mathew Adragna
7
Josh Molloy
8
Cristian Roque
9
Josh Mabry
10
William Robbins
$14
11
Dawson Reese
$44
12
Kyle Perry
13
Aileen Linares
$25
14
Alex Seng
15
Josh Fearing
$25
16
Keith Ylvisaker
17
Hunter Mayes
18
Harley Sweigart
19
Ryan Perry
20
Darren Fletcher
21
Chris Mayes
$14
22
Eric Gauna
23
Hayden Hull
24
LaMarr Damon
$100
Handicap Division
1
Baylee Snow
$200
2
Kendall Bollea
$139
3
Phillip Sauve
$90
4
Kyle Lawrence
$79
5
Jake Creek
$40
6
Mark Sauve
$29
7
Josh Williams
$25
8
Alisabeth Rich
9
Gavin Holter
$30
10
Kaitlyn Hammer
$15
11
Caden Meliska
12
Michael Goodman
13
Connor Meliska
14
Mackenzie Hammer
15
AJ Imperial
16
Cesar Padilla
17
Yael Salama
18
CJ Todeschi
19
Jaden Workman
20
Emily Cheesman
21
David Waybright
22
Jason Gootzeit
23
Aiden Othic
24
Daniella LaBier
25
Ryan Zent
26
Noel Hernandez
27
Zack Othic
28
Payton Workman
29
Michael McQuisten
31
Austin Penne
Qualifying Leaders
Scratch
Handicap
1
Hill +7
P Sauve +62
2
Franklin -28
K Lawrence +32
3
Adragna -48
Creek -18
High Games
Scratch
Handicap
1
Franklin 257
Snow 268
2
Rabb 235
Snow 256
3
Adragna 255
Bollea 252
4
Hill 224
Creek 235
5
Hill 224
P Sauve, M Sauve 234
Girls Scratch side event
1
Franklin -28*
2
Linares -140
3
K Hammer -197
4
Cheesman -235
5
M Hammer -263
U-17 scratch side event
1
Williams -51*
2
Bivins -71*
3
Padilla -98
4
Reese -116
5
Holter -161
Round Leaders
Scratch
Handicap
1
Bivins
M Sauve
2
Franklin
K Lawrence
3
Molloy
K Lawrence
4
Hill
K Lawrence
5
Hill
P Sauve
TOTAL AWARDED THIS EVENT: $1,461