MOJAVE DOUBLES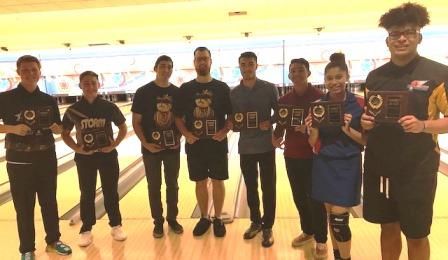 champs Eric Hatchett & Harley Sweigart and Michael Wyman & Sonny Geronimo with finalists
Harley Sweigart and Eric Hatchett defended their titles, while Sonny Geronimo and Michael Wyman earned their first wins, in exciting action at the JBT Mojave Doubles Classic, hosted by Texas Star Lanes.
Zach Greim and Gael Egana began the scratch division stepladder finals with a 226-186 win over Wendy MacPherson and April McDonnell. Greim and Egana then rolled past Sebastian Huffman and Zack Hattori 205-173 to reach the title match,
After going 0-3 in matchplay, Gael and Zach were looking to go 3-0 in the stepladder to get the title. Defending champs Harley and Eric had something to say about that, however. After Sweigart's open sixth frame, the talented team struck out from there, including Harley's tenth frame double to seal an exciting 238-233 win. It was Sweigart's 41st career JBT title, while Hatchett runs his post-career title total to 19 with the win.
Geronimo and Wyman began a climb up the handicap stepadder with a 237-164 win over AJ Imperial and Gavin Holter. Sonny and Michael then topped Hillari Hampton and Caleb Rothstein 231-185 to advance to the title game.
Siblings Jason and Justyce McCoy had been brilliant all day en route to the top seed, but Geronimo and Wyman continued their unstoppable roll, cruising to a 227-181 win, and the first career JBT title for each of them.
Big thanks to Jerry Francomano and the team at Texas for their usual flawless hosting job, as well as to all the adults and alumni who took the time to bowl with today's youth stars. Want in on all the fun? Come on down to the next JBT event, that's all there is to it!
Mojave Doubles- final results and scholarship winners
12/8/2018
Scratch Division
rank
bowler
prize
bowler
prize
total
1
Harley Sweigart
$472
Eric Hatchett
$472
2
Gael Egana
$100
Zach Greim
$130
$230
3
Sebastian Huffman
$150
Zack Hattori
$150
4
April McDonnell
$100
Wendy MacPherson
$100
5
Kyle Reed
$40
Zack Long
$50
$90
6
Joe Gerencser
Ian Hanuscin
7
Daryus Alo
$14
Dallas Leong
$14
8
Cerell Cardines
Jeremy Cardines
9
William Robbins
Tim Hill
$15
$15
10
Skyler McGowan
Solomon Salama
$20
$20
11
Joshua Abigania
$14
Ricky Pollom
$14
12
Dawson Reese
Lenny Reese
13
Austin Sugarman
David Galvan
14
Kyle Gilbert
Kaylee Am-Khong
15
Makenzie Derezotes
Eric Forkel
16
Samantha Conti
Johnny Petraglia Jr
17
Devyn Patalina
Caleb Andrews
18
Cordell Johnson
Nolan Sepulveda
19
Kyle Rendon
Rick Rendon
20
Kyle Perry
Clifford Robbins
Handicap Division
1
Sonny Geronimo
$200
Michael Wyman
$200
$400
2
Jayson McCoy
$175
Justyce McCoy
$115
$290
3
Hillari Hampton
$75
Caleb Rothstein
$105
$180
4
AJ Imperial
$80
Gavin Holter
$50
$130
5
Josh Alcaraz
$40
Jopfel Gafate
$40
$80
6
Ryland Gregorich
Noel Gregorich
$30
$30
7
Faythe Reid
Zack Gonzalez
8
Jordan Gil
Ringo Gil
9
Afton Lords
Calman Lords
10
Alexiz Bustamante
Mark Lacksanamyxay
$15
$15
11
Wyland Gilmore
Mark Gilmore
12
Autumn Barnes
Jace Barnes
13
JT Verde
John Verde
14
Yael Salama
Brian Reed
15
Aarin Shepard
Brandon McCoy
16
Emi Leong
Casey Nagamine
17
Ely Salcedo
Carlos Paez
18
Katelyn Abigania
Avery Domaguin
19
Josh Williams
Darren Fletcher
20
Alayana Purdy
Steven Villanueva
21
Lindsay Greim
Emily Cheesman
$10
$10
22
Leanna Orlando
Matt Lyons
23
Kendall Bollea
Derrick Bollea
High Games
Scratch
Handicap
1
Gerencser 269
Imperial 290
2
Reed 262
Wyman 275
3
Sweigart 259
Rothstein 271
4
Reed 258
Jayson McCoy 269
5
Egana-Huffman 252
Jayson McCoy 268
Round Leaders
Scratch
Handicap
1
W Robbins - Hill
Lords-Lords
2
Reed - Long
McCoy-McCoy
3
Sweigart - Hatchett
McCoy-McCoy
4
Egana - Greim
Gregorich-Gregorich
5
Sweigart - Hatchett
McCoy-McCoy
6
Sweigart - Hatchett
McCoy-McCoy
7
Sweigart - Hatchett
McCoy-McCoy
TOTAL AWARDED THIS EVENT: $2,240