NARROWS PLAZA BOWL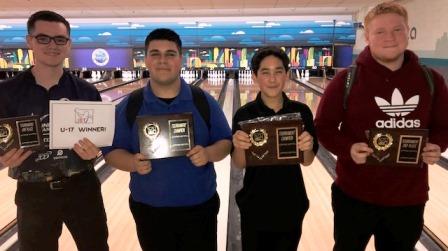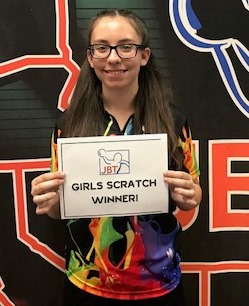 champs Isaac Mailkoff & Jaadyn Humphries; Brian DeLuisa-Anderson, Derek Haight; Brooklyn Boudreau
Isaac Mailkoff and Jaadyn Humphries picked up JBT titles in exciting Pacific Northwest Conference action at Narrows Plaza Bowl in Tacoma.
Bradley Baltazar began the scratch division stepladder finals with a 215-195 win over Brian DeLuisa-Anderson. Baltazar then upped the strikes in a 246-207 win over Hunter Bower to advance to the title game.
Top seed Mailkoff has made a smooth transition into the scratch division, and proved his mettle with a 197-177 win over Baltazar, good for his first scratch and third career JBT title.
Sienna Stoner began the handicap stepladder with a 235-207 win over Ben Heisler. Humphries then stopped Sienna 258-224 to reach the title match,
Top seed Derek Haight had been brilliant all day, but Humphries is used to the title match pressure. His 239-209 win over Derek was good for the second title of his JBT career.
DeLuisa-Anderson was well consoled with a 256-226 win over Matthew Lennox, who earlier thrilled the crowd with a 299 game, to win the U17 event. Priority Girls Scratch went to Brooklyn Boudreau, who beat Abbie Kay 235-206 for the crown.
Big thanks to the team at Narrows for their usual great job hosting our Tour. Want in on the fun? Just check out our schedule and come on down!
Narrows Plaza- final results and scholarship winners
10/27/2018
Scratch Division
rank
bowler
prize
1
Isaac Mailkoff
$250
2
Bradley Baltazar
$125
3
Hunter Bower
$75
4
Brian DeLuisa-Anderson
$60
5
Tyler Boe
$50
6
Tyler DeNune
7
Tyler Coates
8
Ethen Maxwell
$28
9
Makana Wong
$15
10
Ashton Yamasaki
11
Jacob Frazier
12
Kaleb Vogt
13
Brookly Boudreau
$50
14
Bud Sicard
15
Sam Gritzke
16
Duncan Whitaker
$42
17
Lohrghan Ziegler
18
John Malone
19
Cosmo Castellano
20
Evan Smith
21
Simon Dyck
22
Andrew Martin
23
Elijah Chin
24
Christopher Bautz
25
Aidghan Ziegler
26
Mateo Segura
27
Payton Edwards
28
Mac Kaurin
29
Alejandro Moser-Hernandez
Handicap Division
1
Jaadyn Humphries
$243
2
Derek Haight
$183
3
Sienna Stoner
$100
4
Ben Heisler
$75
5
Matthew Lennox
$60
6
Aiden Wong
$50
7
WendyJo LaTurner
$40
8
Hailey Lennox
$40
9
Hilary Zuniga
$14
10
Hannah Hamilton
11
Guillermo Castaneda
12
Ruth Magana
13
Brendan Curtis
14
Jonathan Lorey
15
Cadin Cervine
$15
16
Jasmine Emswiler
17
Mackenzie Theophilus
18
Abbie Kay
$54
19
Payton Bower
20
Miranda Lundquist
21
Aubrey Harding
22
Joshua Iverson
23
Kailee Wilcox
24
Sam Flaisig
25
Jayden Thayer
26
Cody Nathanson
27
Mary Sicard
28
Kierra Wilcox
29
Lailani Wallin
30
Carter Humphries
31
Sarah Trimble
32
Silas LeBlanc
33
Jasmine Yetter
34
Noah Sicard
35
Jacob Lennox
36
Dalton Mason
37
Ryan Smerud
38
Dayton Nickolson
39
Colt Jance
40
Skyler Broussard
$5
Qualifying Leaders
Scratch
Handicap
1
DeLuisa-And. +157
M Lennox +262
2
Mailkoff +139
H Lennox +218
3
Maxwell +122
Stoner +215
High Games
Scratch
Handicap
1
H Bower 290
M Lennox 318
2
B Baltazar 280
Heisler 303
3
T Boe 268
Stoner 282
4
Frazier 268
Haight 281
5
Mailkoff 268
J Humphries 278
Girls Scratch side event
1
Boudreau +47*
2
A Kay -28
3
LATurner -43
4
E Smith -45
5
Magana -63
U-17 scratch side event
1
M Lennox +167
2
DeLuisa-Anderson +157
3
Baltazar +104
4
Denune +94
5
Bower +92
Round Leaders
Scratch
Handicap
1
Bower
Heisler
2
Mailkoff
Heisler
3
Mailkoff
M Lennox
4
Mailkoff
M Lennox
5
DeLuisa-Anderson
M Lennox
6
Mailkoff
M Lennox
7
DeLuisa-Anderson
Haight
8
Mailkoff
Haight
TOTAL AWARDED THIS EVENT: $1,524