PARADISE LANES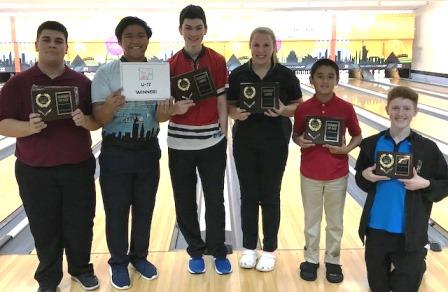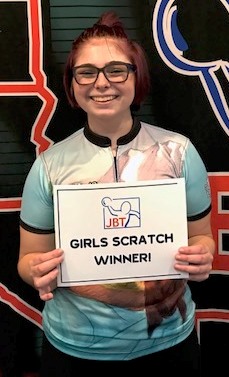 champs Hunter Bower & Mackenzie Theophilus; Isaac Mailkoff, Bradley Baltazar, Aiden Wong, Jonathan Lorey; WendyJo LaTurner
Hunter Bower and Mackenzie Theophilus ended journeys of different durations to earn their first JBT titles, in exciting Pacific Northwest Conference action at Paradise Lanes.
Bowlers competed in head to head matchplay after the first cut. In the scratch final four, Bower got by his buddy Jacob Frazier 215-199, while in the other match, previous day's champ Isaac Mailkoff beat Bradley Baltazar 222-202 to set up the finale. The title gae was all Bower, who finally earned his first JBT title with a 242-157 win over Mailkoff.
Aiden Wong beat Ruth Magana in one match of the handicap semifinals, while in the opposite match Theophilus edged Jonathan Lorey 226-214. The title game was a thriller, and in the end Theophilus, in her rookie season, just edged out Wong 230-226 for the first title of her young JBT career.
WendyJo LaTurner earned her first Priority Girls Scratch win with a 199-169 victory over Reagan Lorey. Baltazar was consoled with a 226-166 win over Cosmo Castellano to take the U17 crown.
Big thanks to Kim and the team at Paradise for another great hosting job. Want in on the fun? Check out our schedule and come on down!
Paradise- final results and scholarship winners
10/27/2018
Scratch Division
rank
bowler
prize
1
Hunter Bower
$255
2
Isaac Mailkoff
$125
3
Bradley Baltazar
$103
4
Jacob Frazier
$88
5
Cosmo Castellano
$50
6
Tyler DeNune
7
Lohrghan Ziegler
8
Duke Knudsen
9
Brian DeLuisa-Anderson
10
John Malone
11
Simon Dyck
$14
12
Tyler Boe
13
Tyler Coates
14
Reagan Lorey
15
Ethen Maxwell
16
Preston Craig
17
Andrew Martin
18
Makana Wong
19
Alejandro Moser-Hernandez
20
Sam Gritzke
21
Bud Sicard
22
Evan Smith
23
Cody Nathanson
24
Ashton Yamasaki
25
Elijah Chin
26
Liam McNamara
27
Brendan Curtis
28
Aidghan Ziegler
29
Mac Kaurin
30
Malcolm Jacobson
31
Payton Edwards
32
Brooklyn Boudreau
Handicap Division
1
Mackenzie Theophilus
$200
2
Aiden Wong
$145
3
Jonathan Lorey
$90
4
Ruth Magana
$60
5
Skyler Broussard
$58
6
Ben Heisler
$40
7
Mary Sicard
$20
8
Ashley Kay Nelson
9
Cadin Cervine
$23
10
Noah Sicard
11
Dayton Nickolson
12
Vianne Daniels
$29
13
WendyJo LaTurner
14
Grace Gibbs
15
Hunter Moreno
16
Sam Flaisig
17
Sam Cox
18
Sienna Stoner
19
Aubrey Harding
20
Hannah Hamilton
21
Derek Haight
22
Silas LeBlanc
23
Liam Hardman
$15
24
Jayden Thayer
25
Dalton Mason
26
Lailani Wallin
27
Hilary Zuniga
28
Ryan Smerud
$15
29
Megan Flood
$20
30
Colt Jance
31
Payton Bower
32
Joshua Iverson
33
Sarah Trimble
34
Guillermo Castaneda
35
Jaadyn Humphries
Qualifying Leaders
Scratch
Handicap
1
Baltazar +100
A Wong +66
2
Mailkoff +80
Broussard +31
3
Castellano +11
Heisler +24
High Games
Scratch
Handicap
1
Baltazar 279
A Wong 252
2
L Ziegler 266
Cervine 250
3
DeLuisa-And. 257
Broussard 249
4
Bower 247
J Lorey 248
5
Frazier 243
Nickolson 246
Girls Scratch side event
1
Lorey -81
2
LaTurner -129*
3
Smith -137
4
Magana -143
5
Theophilus -218
U-17 scratch side event
1
Baltazar +100*
2
Castellano +11
3
DeLuisa-And. +3
4
Denune +1
5
Malone -2
Round Leaders
Scratch
Handicap
1
L Ziegler
Cox
2
Baltazar
Cox
3
Baltazar
A Wong
4
Baltazar
A Wong
5
Baltazar
A Wong
TOTAL AWARDED THIS EVENT: $1,350