STRIKE GOLD LANES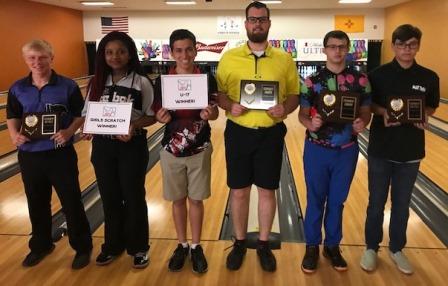 champs Harley Sweigfrt & Michael Goodman; Will Davis, Robin Prioleau, Josh Williams, Matthew Grimes
A high scoring day of action at Pojoaque's Strike Gold Lanes saw Harley Sweigart and Michael Goodman capture JBT titles in exciting New Mexico-Texas Conference action.
Zach Harvey began the scratch division stepladder finals with a 265-203 win over Aileen Linares. Will Davis, on a four-tournament win streak, then snuck by Harvey 220-217 thanks to a brutal 10th frame solid-9 from Zach.
Top seed Harley Sweigart had already adjusted the JBT history books, firing a blistering 300-824 in the semifinals, and then put a stop to Will's incredible winning streak by running the front 9 in the title match. A bizarre 8-10 stopped Sweigart's bid for double perfection on the final shot, and the 298-228 final score was good for the 47th, and surely one of the most memorable, titles of his JBT career.
The handicap division finals opened with a thriller, as Shaiden Ryamond and Jayden Martinez tied at a big 257. Martinez won the tiebreaker 62-44 to advance. Michael Goodman then defeated Jayden 230-183 to advance to the title match.
Newcomer Matthew Grimes paced the high scoring field, but Goodman, breaing out of a recent slump, had the answers, running the last seven strikes for a 274-225 win over Grimes, earning Michael his second career JBT title.
Strikes were flying in the subdivisions as well. Josh Williams blasted 276 to defeat Will Davis for the U17 event, while Robin Prioleau threw a clutch last four to edge Yarelis Alvarez 210-208 for the Priority Girls Scratch win.
Thanks to Ed Romero and the team at Strike Gold for their usual great hosting job. Want in on the fun? Check out our schedule and come on down!
Strike Gold- final results and scholarship winners
5/4/2019
Scratch Division
rank
bowler
prize
1
Harley Sweigart
$286
2
Will Davis
$154
3
Zach Harvey
$85
4
Aileen Linares
$50
5
Yarelis Alvarez
$25
6
Kallista Fritts
7
Alex Harmon
$15
8
Robin Prioleau
$62
9
Daniel Hall
10
Quirino Sanchez
11
Brad Harvey
12
Nathan Nguyen
13
Jonah Seawright
$30
14
Lauren Jaramillo
$14
15
Eric Gauna
$14
16
Elizabeth Romero
17
Christian Apolonio
18
Motana Cdebaca
19
Morgab Ellis
20
Kaitlinn Joslin
Handicap Division
1
Michael Goodman
$255
2
Matthew Grimes
$150
3
Jayden Martinez
$140
4
Shaiden Raymond
$100
5
Josh Williams
$115
6
Gerilynn Delegarito
7
Jared Basey
$28
8
Michael Jamael
9
Jordan Womble
$14
10
Kara Thompson
$28
11
Ivan John
12
Angela Romero
13
TJ Thalman
$24
14
JD Messenger
15
Meah Alvarado-McDonald
16
Conner Ziska
17
Kloey Kielich
$10
18
Taylor Herson
19
Isaaj John]
20
Sonja Baca
21
Josie Herson
22
Justin Weddige
$20
23
Alex Thompson
24
Jay Heffer
25
AJ Navarrete
26
Antonio Ontiveros
27
Gabe Alvarado
$20
28
Faith Pinter
29
Santiago Navarrete
30
Iliana Ontiveros
High Games
Scratch
Handicap
1
Sweigart 300
K Thompson 302
2
Sweigart 298
Basey 281
3
Fritts 279
S Raymond 276
4
Hall 279
Goodman 275
5
Sweigart 279
Goodman 274
Girls Scratch side event
1
Alvarez +120
2
Prioleau +114*
3
Fritts +99
4
Linares +97
5
K Thompson +77
U-17 scratch side event
1
Williams +163*
2
Davis +162
3
Harmon +129
4
Alvarez +120
5
Priloeau +114
Round Leaders
Scratch
Handicap
1
Harmon/Nguyen
S Raymond
2
Sweigart
S Raymond
3
Sweigart
K Thompson
4
Sweigart
Basey
5
Sweigart
Grimes
6
Sweigart
Goodman
7
Sweigart
Grimes
8
Sweigart
Grimes
TOTAL AWARDED THIS EVENT: $1,538