STRIKE GOLD LANES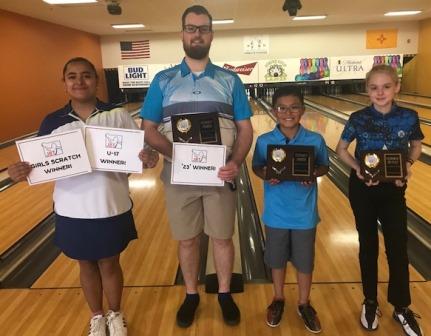 champs Harley Sweigart & Ivan John; Yarelis Alvarez, Kloey Kielich
Harley Sweigart completed a dream weekend, while 9 year-old Ivan John outlasted the handicap field, in exciting JBT NM-TX Conference action at Strike Gold Lanes.
Scores were at the opposite end of the spectrum from the previous day on the tough Turnpike pattern. Instead of near perfection every game, Sweigart ground out +60 in qualifying to earn the top seed. Form held in matchplay with the top 4 seeds advancing to the semifinals. In that round, Harley beat Zach Wojciechowski, while Zach Harvey got past Daniel Hall to set up the title match. Harvey is a very talented bowler still looking for his first scratch win, but Sweigart ensured that wait would continue, as he bowled a confident game to beat Zach, sweep the weekend, and earn the 48th title of his JBT career.
Kloey Kielich fired a big game to grab the top seed, then her personal best game (246) to beat Shaiden Raymond, then stopped previous day's champ Michael Goodman to reach the final. On the other side of the bracket, newcomer Ivan John beat Taylor Herson, then threw a late turkey to stun Kara Thompson and get through to the final. The title game went similarly to the previous match for John, with Kloey having the early lead but Ivan coming up with a late game double to flip things around. In the end he held off Kloey for the title, the first of his JBT career.
Yarelis Alvarez was unbeatable in the day's subdivisions, beating Josh Williams for the U17 win, and Elizabeth Romero for teh Priority Girls Scratch win.
Big thanks to Ed Romero and the team at Pojoaque for another great hosting job. Want in on all the fun? Just check out our schedule and come on down!
Strike Gold- final results and scholarship winners
5/5/2019
Scratch Division
rank
bowler
prize
1
Harley Sweigart
$425
2
Zach Harvey
$125
3
Daniel Hall
$75
4
Zach Wojciechowski
$65
5
Yarelis Alvarez
$50
6
Toby Cdebaca
7
3lizab3th Rom3ro
$25
8
Brad Harvey
9
Christian Apolonio
$29
10
Will Davis
11
Kaitinn Joslin
$29
12
Jonah Seawright
13
Nathan Nguyen
14
Kallista Fritts
15
Aileen Linares
16
Alex Harmon
17
Quirino Sanchez
18
Jauren Jaramillo
19
Montana Cdebaca
20
Eric Gauna
Handicap Division
1
Ivan John
$200
2
Kloey Kielich
$100
3
Kara Thompson
$114
4
Michael Goodman
$40
5
Alex Thompson
$14
6
Taylor Herson
7
Isaac John
8
Shaiden Raymond
$29
9
Josh Williams
$15
10
Meah Alvarado-McDonald
11
Josie Herson
12
Jordan Womble
13
Angela Romero
14
Jared Basey
15
AJ Navarrete
16
Michael Jamael
17
Gabe Alvarado
18
Faith Pinter
19
TJ Thalman
$10
20
Gerilynn Delegarito
21
Justin Weddige
22
Santiago Navarrete
High Games
Scratch
Handicap
1
Z Harvey 277
Kielich 292
2
Sweigart 259
Kielich 245
3
Sweigart 259
K Thompson 236
4
Sweigart 257
Isaac John 236
5
Sweigart 247
Kielich 236
Girls Scratch side event
1
Alvarez -36*
2
E Romero -52
3
Joslin -70
4
K Thompson -94
5
Fritts -99
U-17 scratch side event
1
Alvarez -36*
2
Williams -46
3
T Cdebaca -52
4
Davis -61
5
Fritts -99
Round Leaders
Scratch
Handicap
1
Hall
S Raymond
2
Hall
T herson
3
Hall
T herson
4
Sweigart
Ivan John
5
Sweigart
Kielich
TOTAL AWARDED THIS EVENT: $1,345