PALOS VERDES BOWL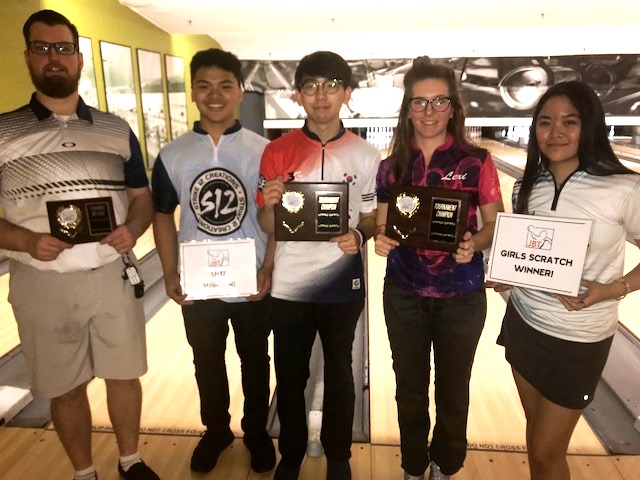 champs Ryan Lee & Lexi Cassman with Harley Sweigart, Garrett Lee, Jacey Opiana
Ryan Lee and Lexi Cassman struck their way to JBT titles, in terrific JBT Southern California Conference action at Torrance's Palos Verdes Bowl.
Lee made a wonderful run up the scratch division stepladder, beginning with a 212-192 win over youngster (and rapidly improving) Elias O'Hollaren. Lee then outsruck Harley Sweigart in a classic score-fest 266-248. Aginst top seed Cerell Cardines, Lee, who has one of the best strike balls on Tour, maintained his good look while Cardines struggled, and the 224-170 final result was good for the 4th title of his JBT career. Cerell settled for second in a string of runner-up finishes that he's sure to break out of soon.
Emily Cheesman broke out of a recent slump with a 225-176 win over previous day's champ Lindsay Greim to start the handicap stepladder finals. Lexi Cassman then stopped Emily 217-191 to move on to the final. Top seed Josh Karney has been knocking on the door of a title often lately, but Lexi would have none of it, firing 267 scratch to beat Josh 283-221 to earn the first title of her JBT career.
Garrett Lee defeated O'Hollaren in an entertaining U17 finale 235-224, when Elias couldn't get all three in the tenth to tie. The Priority Girls Scratch match was able to even top that, as Cassman was looking to finish her off her breakthrough weekend with that win. She started with the first six strikes, but Jacey Opiana never quit, tossing the back seven to catch Lexi 245-229 and earn that subdivision win!
Big thanks to the team at PV for hosting us for the first time in quite a while, we hope to be back soon! Check out our upcoming schedule and come on down to get in on all the fun!
Palos Verdes- final results and scholarship winners
2/25/2019
Scratch Division
rank
bowler
prize
1
Ryan Lee
$250
2
Cerell Cardines
$125
3
Harley Sweigart
$80
4
Elias O'Hollaren
$90
5
Solomon Salama
$65
6
Kevin Banaag
7
Trevyr Geronimo
8
David Schneider
$44
9
Alberto Bernal
10
Garrett Lee
11
Nick Caner
12
Dawson Reese
13
Zach Greim
14
Tim Hill
15
Austin Sugarman
16
Jacey Opiana
$50
17
Benjamin Byers
18
Gael Egana
19
Joshua Brinker
20
Kyler Orosco
$5
21
Anthony Schanen
22
Dillon O'Neil
23
Allysha Howard
24
Leoj Chin
25
Louis Luna
Handicap Division
1
Lexi Cassman
$250
2
Josh Karney
$185
3
Emily Cheesman
$90
4
Lindsay Greim
$104
5
Connor Steelmon-Hill
$95
6
Kaitlynn Yukihiro
$40
7
Zian Sasaki
$30
8
Matt Ross
9
Akayla Orosco
10
Peter Ruiz
11
Caleb Rothstein
$15
12
Justin Redfield
$15
13
Secilia Kalvelage
$15
14
Yael Salama
15
Manuel Gonzalez
16
Tyler Weitzman
17
Timothy LeCount
18
Josh Williams
19
Avery Domaguin
20
Katelyn Abigania
21
Jessica Handa
22
Cyruss Tehrani
23
Lathan Chin
24
Cameron Criss
25
Alexis lee
26
Young Cho
27
Hailey Shepherd
28
Ava McLaughlin
29
Haylee Carlos
30
Miya Greene
31
Kaitlynn Martin
32
Gavin Holter
33
David Waybright
34
Kendall Bollea
$5
High Games
Scratch
Handicap
1
Cardines 290
Karney 295
2
O'Hollaren 286
Cassman 283
3
Cardines 279
Gonzalez 276
4
Schneider 279
Redfield 269
5
Geronimo 278
Cassman 268
High Female
1
Cassman +95
2
Opiana -10*
3
Cheesman -11
4
K Abigania -55
5
L Greim -56
Qualifying Leaders
Scratch
Handicap
1
Cardines +266
L Greim +184
2
R Lee +252
Cassman +175
3
Sweigart +220
Cheesman +114
U-17
1
O'Hollaren +172
2
G Lee +155*
3
Salama +144
4
Reese +79
5
Bernal +62
Round Leaders
Scratch
Handicap
1
Cardines
L Greim
2
Lee
L Greim
3
Lee
L Greim
4
Cardines
Cassman
5
Cardines
L Greim
6
Cardines
CAssman
7
Cardines
Karney
Total Awarded This Event: $1,553