SECOMA LANES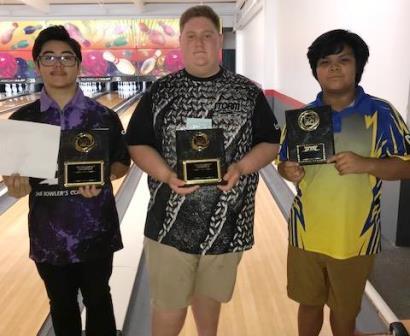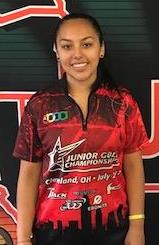 champs Ashton Yamasaki & Cody Nathanson; U17 winner Cosmo Castellano & Girls winner Evan Smith
Season 23 of JBT action got off to an exciting start with Ashton Yamasaki and Cody Nathanson claiming titles in Pacific Northwest Conference action at Secoma Lanes.
Yamasaki began the stepladder finals with a 235-180 decision over Simon Dyck. He then stopped Isaac Mailkoff 220-180 to reach the title game. Top seed Makana Wong almost claimed Bowler of the Year last season despite no titles and numerous runner-up finishes, and is obviously looking to erase that anomaly as soon as possible. It wouldn't happen here though, as he got off to a slow start while 14 year-old Yamasaki piled up the strikes. Ashton held on for a 231-217 victory, good for the second title of his JBT career.
Derek Haight opened the handicap stepladder finals with a 235-224 win over Liam Hardman. In the next match, Haight missed a 7-pin in the tenth frame, resulting in a 196 tie with Cody Nathanson. In the rolloff, Cody threw a clutch double to win 53-45 and advance. Top seed Cosmo Castellano had been brilliant all day, but Nathanson was able to edge him in the title match by a 209-203 margin, good for his first career JBT title.
Castellano did get some revenge in the U17 title match, defeating Hunter Bower 229-223 for that subdivision win. Evan Smith claimed the first Priority Girls subdivision event of the season, beating Jessica Holbrook 191-138 for that win.
Big thanks to the team at Secoma for hosting us, and everyone for attending. Want in on all the fun for all ages and averages? Just check out our schedule and come on down!
Secoma Lanes- final results and scholarship winners
8/27/2017
Scratch Division
rank
bowler
prize
1
Ashton Yamasaki
$250
2
Makana Wong
$140
3
Isaac Mailkoff
$75
4
Simon Dyck
$60
5
Hunter Bower
$114
6
Tommie McNeal
$15
7
Brian DeLuisa-Anderson
8
Bradley Baltazar
9
Kyle Adams
10
Ethen Maxwell
11
Aidghan Ziegler
12
Tyler DeNune
13
Anthony Lyons
14
Andrew Martin
15
Michael Strothman'
16
Elijah Chin
17
Tyler Boe
18
Jordan Jonker
19
Preston Craig
20
Cyrus Bachmann
$5
21
Evan Smith
$50
22
Andrew Robb
23
Jessica Holbrook
$25
24
Payton Edwards
25
Tyler Coates
26
Sam Gritzke
27
Paul Rosales
28
John Malone
29
Daniel Johnson
30
Noah Kieffer
Handicap Division
1
Cody Nathanson
$250
2
Cosmo Castellano
$140
3
Derek Haight
$100
4
Liam Hardman
$75
5
Colt Jance
$89
6
Ryan Smerud
$65
7
Bud Sicard
$45
8
Jacob Lennox
$40
9
Skyler Broussard
$54
10
Jasmine Emswiler
11
Lailani Wallin
$57
12
Brendan Curtis
$10
13
Cadin Cervine
$14
14
Bryan Zeutenhorst
15
Aubrey Harding
16
Matthew Lennox
17
WendyJo LaTurner
18
Ben Heisler
19
Alejandro Moser-Hernandez
20
Paul Lemay
21
Lohrghan Ziegler
22
Dyana Perkins
23
Mary Sicard
24
Hannah Johnson
25
Trevor Wodesky
26
Madison Flatin
27
Carter Humphries
28
Aiden Wong
29
Jonathan Lorey
30
Dalton Mason
31
Isabella Winchell
32
Tyson Nathanson
33
Kylah Hankins
34
Silas LeBlanc
35
Hannah Hamilton
36
Joshua Iverson
37
JT Taylor
38
Lucas LeBlanc
39
Aiden White
40
Noah Sicard
41
Shelby Unger
42
Stacy Griffith
43
Logan Winchell
44
Vianne Daniels
45
Jaadyn Humphries
46
Ruth Magana
47
Hilary Zuniga
48
Guillermo Castaneda
49
Ashley Kay Nelson
50
Madelyn San Soucie
Qualifying Leaders
Scratch
Handicap
1
Mailkoff +159
Castellano +225
2
Wong +142
Jance +166
3
Adams +58
Broussard +152
High Games
Scratch
Handicap
1
Adams 276
C Nathanson 299
2
Bower 268
Broussard 292
3
Mailkoff 265
B Sicard 291
4
Wong 255
L Hardman 287
5
Yamasaki 255
Castellano 286
Girls Scratch side event
1
Smith -107*
2
Holbrook -111
3
LaTurner -123
4
H Johnson -191
5
Hankins -206
U-17 scratch side event
1
Castellano +95*
2
Bower +53
3
Baltazar +41
4
C Nathanson +39
5
Broussard +36
Round Leaders
Scratch
Handicap
1
Wong
Jance
2
Wong
Castellano
3
Mailkoff
Jance
4
Mailkoff
Jance
5
Mailkoff
Castellano
6
Mailkoff
Castellano
7
Mailkoff
Castellano
8
Wong
Castellano
TOTAL AWARDED THIS EVENT: $1,598