SILVA LANES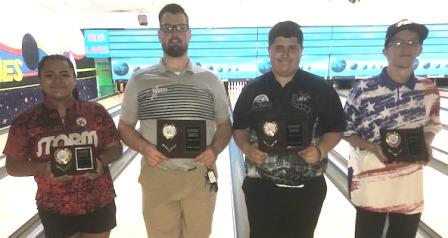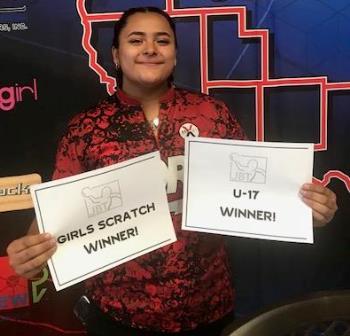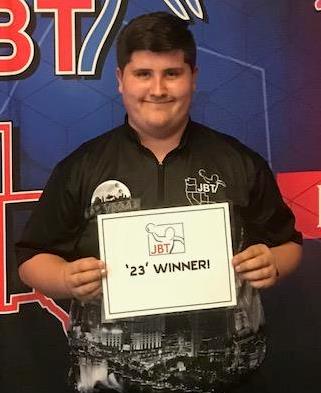 champs Harley Sweigart & Justin Weddige; Yarelis Alvarez, Jeremy Perlinski; Alvarez; Weddige
The points leaders in each division consolidated their Bowler of the Year runs with dominant wins in exciting JBT NM-TX Conference action at Silva Lanes.
Christian Apolonio, after a brilliant semifinal run, began the scratch division stepladder finals with a 208-189 win over Yarelis Alvarez. Apolonio then got by Zach Harvey 217-184 to advance to the title match.
Top seed Sweigart led after every round, and against his good buddy, gave him no chance, blasting 259 on the demanding lane pattern to best Christian's excellent 222, earning him the 49th title of his amazing JBT career.
Jeremy Perlinski opened the handicap stepladder with a 206-188 win over Ivan John, who made it two finals in a row. Perlinski then got by another youngster, Shaiden Raymond 216-152 in the semi to reach the title game. Top seed Justin Weddige has done it all this season (including winning the '23' game today), except win a title. He erased that anomaly with a 170-163 grindout win on the tough pattern to break through for his first career JBT title.
Alvarez pulled off a sweep of the side events, beating Lauren Jaramillo for the Priority Girls Scratch title, and beating Weddige for the U17 win.
Big thanks to the team at Silva for their usual great hosting job. The fields are now set for the NM-TX Invitational, featuring $1,000 for first in scratch and handicap!
Silva Lanes- final results and scholarship winners
6/1/2019
Scratch Division
rank
bowler
prize
1
Harley Sweigart
$327
2
Christian Apolonio
$125
3
Zach Harvey
$118
4
Yarelis Alvarez
$100
5
Donius Jeffries II
$14
6
Blayne Hurst
7
Brad Harvey
8
Nathan Nguyen
9
Lauren Jaramillo
$40
10
Jonah Seawright
11
Dante Uribarri
12
Will Davis
$14
13
Aileen Linares
14
Zach Wojciechowski
15
Montana Cdebaca
16
Carson Opela
17
Kaitlin Joslin
$10
18
Kallista Fritts
19
Payton Nunez
20
Alex Harmon
21
LaMarr Damon
22
Quirino Sanchez
23
Tylor MacPhee
24
Eric Gauna
Handicap Division
1
Justin Weddige
$300
2
Jeremy Perlinski
$100
3
Shaiden Raymond
$60
4
Ivan John
$40
5
Angela Romero
6
Gerilynn Delegarito
$38
7
Josh Burnett
8
Kara Thompson
$14
9
Alex Thompson
$14
10
Isaac John
11
Taylor Herson
12
Isaiah Sandoval
13
Kloey Kielich
$14
14
Josh Williams
$14
15
AJ Navarrette
16
Faith Pinter
17
Josie Herson
18
Santiago Navarrette
19
Jayden Martinez
20
Michael Goodman
21
JD Messenger
Qualifying Leaders
Scratch
Handicap
1
Sweigart +67
Weddige +68
2
Z Harvey +28
Perlinski -31
3
Alvarez -10
S Raymond -40
High Games
Scratch
Handicap
1
Alvarez 265
Raymond 241
2
Sweigart 259
Weddige 241
3
Sweigart 257
Burnett 227
4
Z Harvey 246
Raymond 220
5
Alvarez 244
Raymond 219
Girls Scratch side event
1
Alvarez -10*
2
L Jaramillo -124
3
K Thompson -162
4
Delegarito -196
5
Linares -200
U-17 scratch side event
1
Alvarez -10*
2
Weddige -22
3
Williams -146
4
K Thompson -162
5
Uribarri -180
Round Leaders
Scratch
Handicap
1
Sweigart
Weddige
2
Sweigart
Weddige
3
Sweigart
Weddige
4
Sweigart
Weddige
5
Sweigart
Weddige
6
Sweigart
Weddige
7
Sweigart
Weddige
8
Sweigart
Weddige
TOTAL AWARDED THIS EVENT: $1,352