SOUTH PLAINS LANES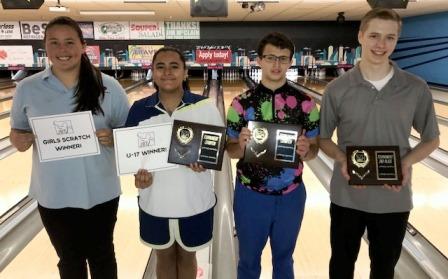 champs Yarelis Alvarez & Michael Goodman; Lauren Jaramillo, Alek Rakov
Yarelis Alvarez and Michael Goodman enjoyed breakthrough wins in exciting JBT NM-TX Conference action at South Plains Lanes in Lubbock.
Nathan Nguyen began the scratch division stepladder finals with a 217-190 win over Blayne Hurst. Alvarez then stopped Nguyen 227-200 to reach the title match.
Top seed Harley Sweigart recovered from a rough weekend in California last week to lead this event halfway across the country the next week. However, the greatly improved Alvarez did not back down against the all-time lefty JBT titles leader. Her tenth frame strike sealed a thrilling 217-215 win, and first career scratch title.
Goodman ran the handicap stepladder, beginning with a 245-237 win over Kolton Carpenter in a very well bowled match by both players. In another squeaker, Michael got past Josie Herson 224-219 to set up the title game.
Top seed Alek Rakov enjoyed his best JBT event ever, blasting 200 after 200 to take a huge lead. He was in control in the title match as well until an eighth frame pocket 7-10 changed everything. Goodman went off teh sheet from there, and claimed an amazing 234-228 win, good for his first career JBT title.
Lauren Jaramillo defeated Alvarez 203-174 for the day's Priority Girls Scratch subdivision win, while Alvarez made it two wins on teh day by beating Eric Gauna 211-207 for the U-17 win.
Big thanks as always to Jimbo and the team at South Plains for hosting us. Want in on all the fun? Just check out our schedule and come on down to the next JBT event!
South Plains Lanes- final results and scholarship winners
10/13/2018
Scratch Division
rank
bowler
prize
1
Yarelis Alvarez
$275
2
Harley Sweigart
$154
3
Nathan Nguyen
$75
4
Blayne Hurst
$50
5
Eric Gauna
$30
6
Lauren Jaramillo
7
Jordi Gonzalez
8
Donius Jeffries II
9
Will Davis
$29
10
Deo Benard
11
Kallista Fritts
12
Aileen Linares
13
Montana Cdebaca
14
John Green
15
Chris Furdek
16
Jonah Seawright
17
Zach Wojciechowski
18
Gavin Allen
19
Christian Apolonio
20
Toby Cdebaca
Handicap Division
1
Michael Goodman
$205
2
Alek Rakov
$100
3
Josie Herson
$60
4
Kolton Carpenter
$40
5
Michael Jamael
6
Jayden Martinez
7
Shaiden Raymond
$14
8
Jordan Womble
$56
9
Justin Weddige
$5
10
Carlos Estrada
11
Angela Romero
12
Harlee Wilson
13
Angela Lykens
$12
14
TJ Thalman
$10
15
Jarrett Lykens
16
Zoe Woodruff
17
Sarah Williams
High Games
Scratch
Handicap
1
J Gonzalez 276
K Carpenter 303
2
L Jaramillo 268
Weddige 293
3
Sweigart 268
Goodman 274
4
Alvarez 254
J Herson 272
5
Nguyen 253
J Martinez 271
Girls Scratch side event
1
Alvarez +44
2
L Jaramillo +37*
3
Fritts -21
4
Linares -33
5
Cdebaca -37
U-17 scratch side event
1
Gauna +74
2
Alvarez +44*
3
Davis +18
4
Benard +10
5
Fritts -21
Round Leaders
Scratch
Handicap
1
Gauna
K Carpenter
2
Sweigart
Weddige
3
J Gonzalez
Rakov
4
Gauna
Rakov
5
Gauna
Rakov
6
Hurst
Rakov
7
Hurst
Rakov
8
Sweigart
Rakov
TOTAL AWARDED THIS EVENT: $1,115