SOUTH PLAINS LANES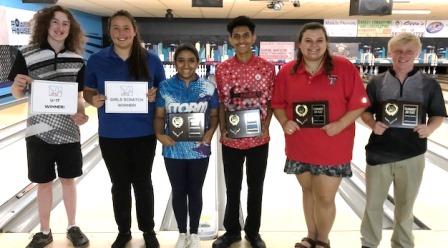 champs Aileen Linares & Jayden Martinez; Deo Benard, Lauren Jaramillo, Sarah Williams, Will Davis
A little bit of JBT history was made in Lubbock, as Aileen Linares and Jayden Martinez captured JBT titles in exciting action at South Plains Lanes.
Harley Sweigart began the scratch division stepladder finals with a 223-205 win over his archrival (and buddy) Deo Benard, who earlier blasted the weekend's only 300 game. Will Davis then stopped Sweigart 211-191 to move on to the title match.
Top seed Aileen Linares watched her cousin Yarelis break through for the scratch win yesterday, and must have been motivated, as she was brilliant all day in getting the #1 spot. She came out strong in the title match, but Davis hung in there, and had a chance to win with a tenth frame double. When the pins didn't fall for Will, Linares claimed the 255-223 win and her first career JBT title. It marks only the second time that two girls won both scratch events on a weekend, matching Breanne Mattson and Courtney Nikolas' sweep in 2012, but certainly the first relatives to pull it off!
Jayden Martinez roared through the handicap stepladder field, starting with a 239-168 win over Josie Herson, who made back to back finals on the weekend. Jayden then topped Justin Weddige 236-146 to advance to the title match.
Top seed Sarah Williams really struggled the day before, but turned it all around at this event, bowling great all day to earn the #1 spot. However, Martinez gave her no chance in the finale, as he poured on the strikes in a 225-193 win, good for the second title of his JBT career.
Yarelis and Aileen are far from the only girls kicking butt in NM-TX, as Lauren Jaramillo swept the Priority Girls scratch weekend, defeating Alvarez yesterday and defeating Linares 233-219 today to get 2/3 of the way to the Girls TPC in a span of about 23 hours!
U-17 went to Deo Benard, who after the 300 on the same pair a few games ago, blasted 277 to oust Will Davis. 577 for two will win a lot of matches!
Big thanks as always to the team at South Plains for another great visit to one of our favorite towns. Any average and age does well with us each week, check out our schedule and come on down!
South Plains Lanes- final results and scholarship winners
10/14/2018
Scratch Division
rank
bowler
prize
1
Aileen Linares
$275
2
Will Davis
$181
3
Harley Sweigart
$75
4
Deo Benard
$64
5
John Green
6
Zach Wojciechowski
7
Lauren Jaramillo
$50
8
Christian Apolonio
9
Toby Cdebaca
10
Nathan Nguyen
11
Yarelis Alvarez
12
Ashton Holladay
13
Donius Jeffries II
14
Kallista Fritts
15
Jordi Gonzalez
$5
16
Eric Gauna
17
Gavin Allen
18
Montana Cdebaca
19
Alek Rakov
20
Jonah Seawright
Handicap Division
1
Jayden Martinez
$200
2
Sarah Williams
$128
3
Justin Weddige
$60
4
Josie Herson
$40
5
Angela Romero
$28
6
Carlos Estrada
7
Michael Jamael
8
Zoe Woodruff
$19
9
Holly Redfearn
10
Kaitlyn Meiers
11
Stevanie Sisson
12
Shaiden Raymond
13
Taylor Zeigler
14
Jordan Womble
$5
15
TJ Thalman
16
Zoe Woodruff
17
Sarah Williams
High Games
Scratch
Handicap
1
Benard 300
Weddige 272
2
Benard 277
J Martinez 271
3
Wojo 273
Weddige 270
4
Linares 269
Estrada 264
5
Davis 268
Weddige 255
Girls Scratch side event
1
Linares +76
2
L Jaramillo +27
3
Alvarez +16
4
Fritts -50
5
S Williams -56
U-17 scratch side event
1
Benard +116*
2
W Davis +108
3
Green +71
4
T Cdebaca +18
5
Weddige -10
Round Leaders
Scratch
Handicap
1
Alvarez
Woodriff
2
Sweigart
Williams
3
Sweigart
Estrada
4
Sweigart
Williams
5
Benard
Weddige
6
Linares
Williams
7
Davis
Williams
8
Linares
Williams
TOTAL AWARDED THIS EVENT: $1,130