STARLITE LANES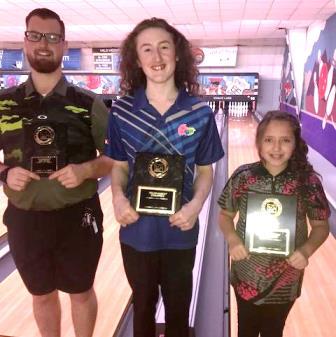 champs Deo Benard & Alisabeth Rich; Harley Sweigart
Deo Benard and Alisabeth Rich claimed JBT titles in exciting JBT action at Flagstaff's Starlite Lanes.
Harley Sweigart began the scratch division stepladder finals with a 227-184 win over reigning Bowler of the Year Lucas Rabb. The next match was a thriller, as Sweigart got the hits to out-strike Cerell Cardines, who fell victim to a late pocket 7-10, 267-251.
Top seed Deo Benard exploded onto the scene two seasons ago in handicap, and rapidly advanced through the scratch ranks last season. He's gotten the new season off to a great start, defeating Sweigart in an entertaining finale to earn the 6th title of his JBT career.
Rich squeezed her way into the handicap finals, and then ran the table, starting with a 229-197 win over Kaitlyn Hammer. Alisabeth then got past Madison Holman to reach the title game.
Top seed Hayden Hull put on a clinic in his home town, outscoring a strike-filled field to get the #1 spot. He kept striking in the title match, and he needed to to make up the handicap difference. Now needing a mark to win, Hull threw what looked to be a good shot, but a 4-10 stood. When he couldn't get the spare, Alisabeth came away with the 237-224 win and her first career JBT title.
Solomon Salama defeated Benard 206-159 to win the U17 finals, in a match we may see a lot of this season. The Priority Girls scratch win went to Samantha Conti, who beat Aileen Linares 163-152.
Thanks to Dale and the crew at Starlite for hosting our Tour. Want in on all the fun? Check out our schedule and come on down!
Starlite Lanes- final results and scholarship winners
9/15/2018
Scratch Division
rank
bowler
prize
1
Deo Benard
$315
2
Harley Sweigart
$192
3
Cerell Cardines
$125
4
Lucas Rabb
$100
5
Clifford Robbins
$75
6
Ryan Perry
$50
7
Solomon Salama
$73
8
DJ Kneifel
9
Zach Harvey
$14
10
Skyler McGowan
11
Joe Gerencser
12
Dawson Reese
$14
13
Matthew Garrett
14
Christian Apolonio
15
Tim Hill
$19
16
Aileen Linares
$25
17
Samantha Conti
$50
18
Sebastian Huffman
19
Brock Bivins
20
Jake Tucker
21
Kyle Perry
22
Nick Noone
23
Phillip Sauve
24
Hunter Mayes
$14
25
Josh Fearing
26
Darren Fletcher
27
William Robbins
28
Christian Caron
29
Rashaad Jordan
30
Abby Franklin
31
Jacob Merki
32
Chris Mayes
33
Mariano Garcia
34
Gavin Holter
35
Elizabeth Romero
Handicap Division
1
Alisabeth Rich
$200
2
Hayden Hull
$150
3
Madison Holman
$140
4
Kaitlyn Hammer
$100
5
Eric Gauna
$120
6
Noel Hernandez
7
Alex Thompson
$30
8
Kara Thompson
$10
9
Payton Workman
10
Faythe Reid
11
Cameron Criss
12
Jennifer Peterson
13
Jordan Gil
14
Yael Salama
15
Eli DeHerrera
16
Ryan Zent
17
Kendall Bollea
$25
18
Mark Sauve
19
Kyle Lawrence
$20
20
Raymond Gaiser
21
Josh Williams
22
CJ Todeschi
23
Leah Zweig
$15
24
Mackenzie Hammer
25
Silas Phillips
26
Jadeyn Mabry
27
Emily Cheesman
High Games
Scratch
Handicap
C Robbins 278
Criss 280
Salama 278
Hull 276
L Rabb 269
K Hammer 273
Sweigart 267
Gauna 266
Sweigart 266
Hull 264
High Female
1
Linares +44
2
Conti -9*
3
Hammer -13
4
Holman -52
5
Peterson -116
Qualifying Leaders
Scratch
Handicap
1
R Perry +134
Hull +215
2
Rabb +117
K Hammer +181
3
Salama +99
N Hernandez +135
U-17
1
Salama +99*
2
Benard +73
3
Garrett +5
4
Reese -4
5
Conti -9
Round Leaders
Scratch
Handicap
1
Benard
Hull
2
Gerencser
K Hammer
3
Benard
Gauna
4
Gerencser
K Hammer
5
R Perry
Hull
6
Rabb
K Hammer
7
Benard
Hull
8
Benard
Hull
Total Awarded This Event: $1,876