STARLITE LANES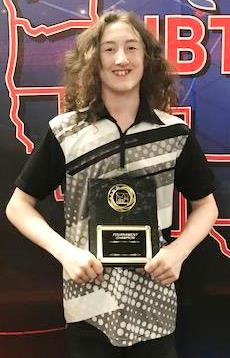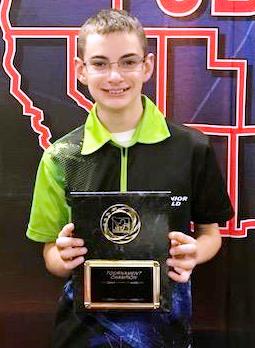 champs Deo Benard & Caden Meliska; Elizabeth Romero
Deo Benard swept the weekend, while Caden Meliska won for the first time, in exciting dual-conference JBT action at Starlite Lanes in beautiful Flagstaff.
Bowlers competed in the exciting 'super survivor' format, where the low game and low series are eliminated game by game. Scratch qualifiers were carved down to a final four, and in that game, Solomon Salama bowed out with low game, and Harley Sweigart fell with low series, leaving Deo Benard (who shot 276) and Cerell Cardines to play for the title.
Benard was able to defeat the dangerous Cardines to sweep the scratch titles on the weekend, and make it seven titles for his JBT career.
High scores were the order of the day in the handicap division. Three survivors eventually remained, with the high game of those three to take the title. Gavin Holter, who had been great all day, struggled a bit to a third place finish. Madison Holman fired a 200 game that may have won the title in many occasions, but Meliska came up with a giant 223 scratch game, plenty to claim his first career JBT title.
Benard completed his dominant day with a win over Holter for the U17 subdivision title. The Priority Girls Scratch subdivision went to Elizabeth Romero, beating Kaylee Am-Khong in that final.
Thanks to the team at Starlite for hosting our Tour. Want in on all the fun for all ages and averages? Just check out our schedule and come on down!
Starlite Lanes- final results and scholarship winners
9/16/2018
Scratch Division
rank
bowler
prize
1
Deo Benard
$300
2
Cerell Cardines
$125
3
Solomon Salama
$150
4
Harley Sweigart
$140
5
3lizab3th Rom3ro
$129
6
Christian Apolonio
$60
7
Lucas Rabb
$50
8
Ryan Perry
9
Dawson Reese
$64
10
Clifford Robbins
11
Skyler McGowan
12
Sebastian Huffman
13
Christian Caron
14
Zach Harvey
$15
15
Brock Bivins
16
Mathew Adragna
17
Matthew Garrett
18
Kaylee Am-Khong
$25
19
Mariano Garcia
20
William Robbins
21
Joe Gerencser
22
Hunter Mayes
23
Hayden Hull
24
DJ Kneifel
25
James Wilson
26
Chris Mayes
27
Samantha Conti
28
Josh Mabry
29
Kyle Perry
30
Tim Hill
$29
31
Austin Muldoon
32
Josh Fearing
33
Kyle Gilbert
$28
34
Abby Franklin
35
Phillip Sauve
36
Jake Tucker
37
Darren Fletcher
38
Aileen Linares
39
Rashaad Jordan
40
Jacob Merki
Handicap Division
1
Caden Meliska
$200
2
Madison Holman
$130
3
Gavin Holter
$133
4
Payton Workman
$50
5
Jadeyn Mabry
$40
6
Miya Greene
$55
7
Silas Phillips
8
Alisabeth Rich
9
Ryan Zent
10
Mackenzie Hammer
11
Jennifer Peterson
12
Raymond Gaiser
13
Kara Thompson
14
Noel Hernandez
15
Jordan Gil
16
Leah Zweig
17
CJ Todeschi
18
Josh Williams
19
Emily Cheesman
20
Kendall Bollea
$5
21
Amelia Mosley
22
Alex Thompson
23
Mark Sauve
$15
24
Eric Gauna
25
Kyle Lawrence
26
Yael Salama
27
Kaitlyn Hammer
28
Bethanie Toberer
High Games
Scratch
Handicap
R Perry 279
Meliska 288
R Perry 278
Rich 275
Benard 278
Workman 269
Benard 276
Workman 259
E Romero 268
Holman, Holter 257
High Female
1
E Romero +51*
2
Am-Khong +26
3
J Peterson -7
4
Conti -29
5
Holman -62
Qualifying Leaders
Scratch
Handicap
1
Benard +227
Holter +194
2
R Perry +182
J Mabry +150
3
Cardines +174
Workman +143
U-17
1
Benard +227
2
Holter +89
3
Huffman +57
4
Bivins +38
5
Reese +37
Round Leaders
Scratch
Handicap
1
R Perry
Gil
2
R Perry
Holman
3
R Perry
Holter
4
R Perry
Holter
5
Benard
Holter
Total Awarded This Event: $1,719