fTEXAS STAR LANES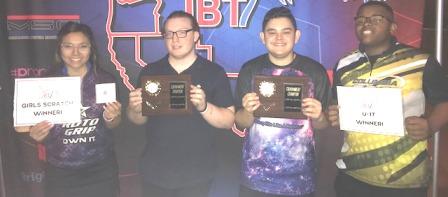 champs Skyler McGowan & Ethan Siu; Leah Glazer, TJ Rock
Skyler McGowan and Ethan Siu wrapped up the 2018-19 JBT Mojave Conference regular season with exciting wins at Texas Star Lanes.
McGowan won three close games in the scratch division stepladder. He began with a 221-216 squeaker over Andrew Guba. He then got by a close match against Zack Long to face top seed TJ Rock. Rock looked locked in, especially after a tough 4-9 from McGowan. Skyler struck out from there though, forcing TJ to strike to win. Rock threw what appeared to be a perfect shot, but a stubborn 7-pin stood, giving McGowan the 223-218 thriller win and third career JBT title.
Red-hot Lindsay Greim began the handicap stepladder with a 224-199 win over Gavin Holter. It takes a big number to beat any Greim these days, and Zack Gonzalez came up with just that in the semis, stopping Lindsay 295-245 to advance to the final.
Top seed Ethan Siu was enjoying an amazing first JBT event, and had enough in the tank for a 243-213 win and the title. It was also just enough points to squeak into the following day's Mojave Invitational, where he could parlay things into a $1,000 win!
Rock was consoled with the day's U17 win, while Priority Girls Scratch went to Leah Glazer, back from college, defeating rising star Vanessa Fuzie 210-191.
Big thanks as always to the incomparable Jerry Francomano and the team at Texas for hosting us. The field is now set for the Mojave Invitational, where over $5,000 will be awarded to the field!
Texas Station- final results and scholarship winners
5/11/2019
Scratch Division
rank
bowler
prize
1
Skyler McGowan
$250
2
TJ Rock
$180
3
Zack Long
$154
4
Andrew Guba
$100
5
Cerell Cardines
$75
6
David Galvan
$50
7
Allex Zieg
8
Deo Benard
9
Harley Sweigart
$43
10
Caleb Andrews
11
Joshua Abigania
12
Nolan Sepulveda
13
Dawson Reese
$115
14
Sergio Torres
$15
15
Vanessa Fuzie
$25
16
Leah Glazer
$65
17
Zach Greim
18
Joe Gerencser
19
Jayson McCoy
20
Hayden Hull
21
Brandon Duffy
22
Lucas Rabb
23
Sebastian Huffman
24
CJ Todeschi
25
Kyle Gilbert
26
Daryus Alo
27
Samantha Conti
28
Trevyr Geronimo
29
Tim Hill
30
Olivia Lampkin
31
April McDonnell
32
Janelle Lampkin
33
Mark Lacksanamyxay
34
Daniel Hong
35
Josue DeAlba
36
Kaylee Am-Khong
37
Jonah LaBlanc
Handicap Division
1
Ethan Siu
$225
2
Zack Gonzalez
$125
3
Lindsay Greim
$115
4
Gavin Holter
$90
5
Jason Bardol
$60
6
Ethan Rivera
$50
7
Noel Hernandez
$40
8
Cameron Criss
$54
9
Brandon Criss
$60
10
Emily Cheesman
11
Emma Downing
12
Katelyn Abigania
$15
13
Alayna Purdy
14
Lexi Cassman
15
Avery Domaguin
$15
16
Aiden Othic
17
Alex Domingo
18
Josh Karney
19
Afton Lords
20
Shatyl Denevan
21
Marisol Ramirez-Buckles
22
Yael Salama
23
Kathryn Shaffner
24
Zack Othic
25
Kendall Bollea
$35
26
Audrey Andrews
27
Miya Greene
28
Makenzie Derezotes
$15
29
Caleb Rothstein
30
Silas Phillips
31
Josh Williams
32
Julian Stenroos
33
Stephanie Hong
34
Cameron Lilley
35
Savanna Orlando
36
Connor Steelmon-Hill
37
Jack Haines
38
Megan Shaffner
39
Ava McLaughlin
40
Jake Creek
41
Hillari Hampton
High Games
Scratch
Handicap
1
Sweigart 290
C Criss 301
2
Cardines 279
Z Gonzalez 295
3
Galvan 279
Siu 295
4
Rock 278
Hernandez 293
5
Long 276
Bardol, Holter 292
High Female
1
Glazer +72*
2
Fuzie +39
3
Abigania +15
4
Cassman -4
5
Domaguin -27
Qualifying Leaders
Scratch
Handicap
1
Sweigart +187
Siu +183
2
Galvan +165
Hernandez +166
3
McGowan +150
L Greim +146
U-17
1
Rock +130*
2
Andrews +96
3
Hernandez +91
4
Benard +87
5
Reese +76
Round Leaders
Scratch
Handicap
1
Sweigart
L Greim
2
McGowan
Hernandez
3
Andrews
Siu
4
Galvan
Siu
5
Sweigart
Siu
6
Rock
Siu
7
Rock
Siu
8
Rock
Siu
Total Awarded This Event: $1,961