TEXAS STATION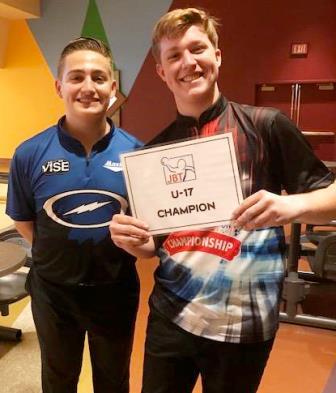 champs Joe Gerencser & Miya Greene; Gael Egana, April McDonnell, Justyce McCoy; Egana & Zach Greim
Joe Gerencser and Miya Greene captured JBT titles in exciting Mojave Conference action at Texas Star Lanes in North Las Vegas.
Gael Egana opened the stepladder finals in the scratch division with a 231-201 win over Kyle Gilbert. He then made it a doubleheader sweep over the Kyles, this time besting Kyle Reed 257-212 to reach the title match.
Egana fell short the day before in the title match with his doubles partner Zach Greim, and wanted to finish the deal today, but top seed Gerencser was not going to allow that. After a shaky mid-game, the powerful righty ran the back five for a 212-167 win, good for the 9th title of his excellent JBT career.
Josh Weber began the handicap finals with a 254-208 win over Lexi Cassman. Greene then stopped Weber 243-219 with a clutch tenth frame finish to reach her first career title match.
Justyce McCoy teamed with her brother Jayson for a runner-up finish in Doubles the day before, and kept on rolling here all the way to the top seed. Miya was in control until a tenth frame open left the door open for McCoy. Justyce was able to get a mark, but a short count on the fill ball left a stunned Greene with a 239-237 win, and her first career JBT title.
April McDonnell won the day's Priority Girls Scratch event with a 193-188 win over Katelyn Abigania. Egana squared off with Greim for the U17 title, and the match was won by Zach 223-212.
Thanks as always to the incredible Jerry Francomano and his team for hosting us. Want in on all the fun? Just come on out to the next JBT event!
Texas Station- final results and scholarship winners
12/9/2018
Scratch Division
rank
bowler
prize
1
Joe Gerencser
$250
2
Gael Egana
$125
3
Kyle Reed
$144
4
Kyle Gilbert
$176
5
Andrew Guba
$60
6
April McDonnell
$100
7
Tim Hill
8
Cerell Cardines
9
Zack Long
10
Sebastian Huffman
11
Kyle Perry
12
Joshua Abigania
13
Zach Greim
14
Ricky Pollom
15
Skyler McGowan
16
Clifford Robbins
17
Harley Sweigart
$15
18
Kyle Rendon
19
TJ Rock
20
Solomon Salama
21
Dawson Reese
22
Samantha Conti
23
Caleb Andrews
24
Jazelle Lampkin
25
Nolan Sepulveda
26
David Galvan
27
Olivia Lampkin
28
Daryus Alo
29
Darren Fletcher
30
Austin Sugarman
31
William Robbins
32
Kaylee Am-Khong
33
Jayson McCoy
$5
34
Raycine Mortensen
Handicap Division
1
Miya Greene
$215
2
Justyce McCoy
$144
3
Josh Weber
$100
3
Lexi Cassman
$75
5
Kayelyn Abigania
$75
6
Marisol Ramirez-Buckles
$40
7
Brett McEachern
8
Avery Domaguin
9
Alayna Purdy
10
Alexiz Bustamante
11
Josh Williams
12
Lindsay Greim
$14
13
Faythe Reid
14
Kendall Bollea
$63
15
Yael Salama
16
Caleb Rothstein
$14
17
Wyland Gilmore
18
Spencer Turner
19
Noel Gregorich
$29
20
Emily Cheesman
$30
21
Jessica Shaffner
22
LeoAngelo Salcedo
23
Megan Shaffner
24
Gavin Holter
25
AJ imperial
26
Makenzie Derezotes
27
Tyler Hedges
28
Afton Lords
29
Zachary Gonzalez
30
Adam Martinez
31
Ely Salcedo
32
Kathryn Shaffner
33
Wyatt Paez
34
Anthony Prevetti
35
Hillari Hampton
High Games
Scratch
Handicap
1
McGowan 279
Greene 296
2
Gerencser 278
Greene 275
3
Cardines 269
Ramirez-Buckles 272
4
J Abigania 258
McCoy 269
5
Reed 257
Cassman 267
High Female
1
McDonnell -14*
2
K Abigania -35
3
Cassman -48
4
Conti -53
5
J Lampkin -69
Qualifying Leaders
Scratch
Handicap
1
Z Long +114
J Weber +147
2
Cardines +98
J McCoy +128
3
Guba +86
Purdy +80
U-17
1
Egana +41
2
Z Greim +18*
3
Huffman 0
4
J Williams -3
5
J Abigania -4
Round Leaders
Scratch
Handicap
1
McGowan
Ramirez-Buckles
2
Z Long
K Abigania
3
Z Long
McCoy
4
Gilbert
McCoy
5
Z Long
J Weber
6
Gerencser
J Weber
7
Gilbert
McCoy
8
Gerencser
McCoy
Total Awarded This Event: $1,674