Click on the links below to jump to specific stats, results, info:
list of qualifiers semifinal scores consolation event results Top Dawg results
list of dinner attendees quarterfinal scores Elite TPC results TPC pictures
details on TPC qualifying scores U17 results scholarship earnings
THE 2019 JBT TOURING PLAYERS' CHAMPIONSHIP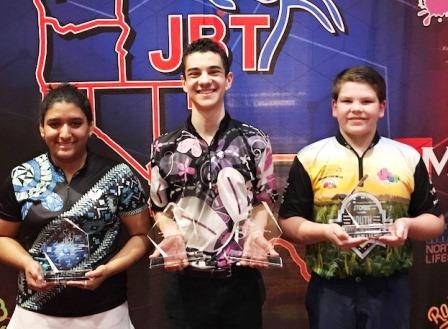 Girls Scratch champ Aileen Linares, Scratch & U17 champ Solomon Salama, Handicap champ Noah Sicard
Solomon Salama of Los Angeles, CA and Noah Sicard of Milwaukie, OR captured the $2,000 top scholarships as champions of the 2019 JBT Touring Players' Championship, hosted by Strike Zone Bowling Center in Henderson, NV.
Zach Harvey began a dramatic run up the scratch division stepladder finals with a tenth frame double to stun Tyler Coates 198-194. TJ Rock then turned the tables on Harvey with a tenth frame double of his own, but a short count on the fill ball left everyone stunned, and left Harvey with a 223-222 win and a trip to the TPC title match.
Top seed Salama dominated the event much as he has dominated the entire season, but still had to navigate his way through a tough title match against Zach. Solomon pulled away in the last three frames, and the 233-204 finale gave him the landmark 20th title of his JBT career. He also won the U17 event over Rock (who previously eliminated Hunter Mayes in third place), the Elite TPC side event, and the Top Dawg side event, contributing to an enormous $3,464 total haul.
Recent back-to-back U12 Junior Gold champ Katelyn Abigania opened the handicap division stepladder finals with a 211-187 win over fellow San Diego area bowler Josh Karney. Abigania then got by NM-TX Bowler of the Year Justin Weddige 196-122 to reach the title game. Top seed Noah Sicard had a stranglehold on the tournament lead from nearly the start of the event, but went on an absolute adventure in the title match. However, a few gutterballs and wild shots did not stop the determined Sicard. Katelyn hung in there as well, but in the end Noah hung on for the win, his first, and the $2,000 winner's share.
Abigania was also the top seed of the Priority Girls Scratch event, but had to suffer another runner-up finish there. Aileen Linares beat Abby Franklin in the semifinal match, and then bested Katelyn in the final. The $400 top prize was a great complement to her Main Event title in December, a doubleheader sweep of our most important events!
Our annual celebration Dinner was another big success, with awards distributed to All-Star teams and other recipients, including Jon Baker Sportsmanship winner Simon Dyck of British Columbia.
So many thanks need to go around, from title sponsor Ebonite to all our amazing sponsors, Jerry Francomano and the team at Strike Zone, Darlene and Maranda at Sunset for hotel and banquet coordination, all our vendors and providers, and all our families for attending.
In total, $20,564 in scholarships to he TPC qualifiers of all ages and all averages. What an amazing finish to season 23! Families have little time to take a breath though, as season 24 begins with the Desert Open in mid August! Check out www.bowljbt.com for all the details!
2018 JBT TPC- FINAL STANDINGS & EARNINGS
7/28/2019
SCRATCH DIVISION
RANK
BOWLER
TOTAL $
1
Salama, Solomon
3,464
2
Harvey, Zachary
1,284
3
Rock, TJ
550
4
Coates, Tyler
460
5
McGowan, Skylar
400
6
Guba, Andrew
200
7
Sicard, Bud
275
8
Davis, Will
200
9
O'Hollaren, Elias
275
10
Sweigart, Harley
293
11
Mayes, Hunter
265
12
Luna, Louis
100
13
Hong, Daniel
100
14
Frazier, Jacob
100
15
Reed, Kyle
140
16
Reese, Dawson
85
17
Adragna, Mathew
18
Boe, Tyler
434
19
Gerencser, Joe
100
20
Zieg, Allex
21
Gilbert, Kyle
198
22
Bivins, Brock
65
23
Geronimo, Trevyr
125
24
DeLuisa-Anderson, Brian
80
25
Harvey, Brad
26
Bower, Hunter
27
Jennings, Jerry
20
28
Banaag, Kevin
15
29
Egana, Gael
30
Abigania, Joshua
15
31
Dyck, Simon
30
32
Schanen, Anthony
33
Perry, Ryan
34
Rabb, Lucas
35
Greim, Zach
100
36
Perry, Kyle
37
Robbins, William
38
Rodas, Ardani
39
Pollom, Ricky
200
40
Mayes, Chris
41
Fritts, Kallista
42
Mailkoff, Isaac
43
Rivers, Marquan
44
Linares, Aileen
450
45
Franklin, Abby
100
46
Adams, Kyle
47
Alvarez, Yarelis
48
Hill, Tim
49
Robbins, Clifford
50
Long, Zack
51
Whitaker, Duncan
40
52
Nguyen, Nathan
53
Mabry, Josh
60
54
Molloy, Joshua
50
55
Smith, Evan
56
Huffman, Sebastian
30
57
Orosco, Kyler
58
Am-Khong, Nolan
59
Conti, Samantha
60
Am-Khong, Kaylee
61
Smerud, Ryan
100
62
Hull, Hayden
63
Lee, Garrett
200
64
Martin, Andrew
30
65
Prioleau, Robin
66
Galvan, David
125
67
Harmon, Alex
68
Seawright, Jonah
69
Joslin, Kaitlinn
70
Denune, Tyler
71
Gauna, Eric
72
Edwards, Payton
HANDICAP DIVISION
rank
BOWLER
TOTAL
1
Sicard, Noah
$2,250
2
Abigania, Katelyn
1230
3
Weddige, Justin
605
4
Karney, Josh
704
5
Greene, Miya
500
6
Tehrani, Cyruss
200
7
Raymond, Shaiden
290
8
Delegarito, Gerilynn
180
9
Orosco, Akayla
125
10
Reid, Faythe
180
11
Pimentel, Ryland
130
12
Phillips, Silas
120
13
Purdy, Alayna
144
14
Meliska, Caden
100
15
Wilcox, Kailee
330
16
Lorey, Jonathan
17
Lennox, Matthew
125
18
Gil, Jordan
40
19
Holter, Gavin
15
20
Knight, Bailey
144
21
Humphries, Jaadyn
125
22
Todeschi, CJ
23
Salama, Yael
163
24
Romero, Angela
25
Fletcher, Darren
26
Messenger, JD
27
Rothstein, Caleb
5
28
Hammer, Mackenzie
29
Jance, Colt
157
30
Wilcox, Kierra
125
31
McCoy, Justyce
32
Luna, Elias
33
Lawrence, Kyle
34
Kalvelage, Secilia
35
Thompson, Alex
130
36
Williams, Josh
110
37
Herson, Taylor
38
Mabry, Jadeyn
50
39
Yamanoha, Adrian
40
Bollea, Kendall
19
41
Greim, Lindsay
15
42
Workman, Payton
43
Cheesman, Emily
44
Hammer, Kaitlyn
45
Criss, Cameron
40
46
Herson, Josie
47
Domaguin, Avery
15
48
Zeutenhorst, Bryan
49
Holman, Madison
200
50
LeBlanc, Silas
51
Thompson, Kara
115
52
Rich, Alisabeth
53
Heisler, Ben
200
54
Goodman, Michael
50
55
Steelmon-Hill, Connor
56
Wodesky, Trevor
20
57
Iverson, Joshua
130
58
Pimentel, Raeden
30
59
Cervine, Cadin
50
60
Jamael, Michael
61
Harding, Aubrey
260
62
Kwon, Do
30
63
Sicard, Mary
60
64
Hong, Stephanie
80
65
Chambers, Nathan
66
Padilla, Cesar
150
67
Criss, Brandon
68
Zent, Ryan
69
Hernandez, Noel
dozens more pictures at our Facebook page- you should 'like' it! :-)
SCHOLARSHIP EARNINGS BY CATEGORY:
| | | | | | | | | | | | | |
| --- | --- | --- | --- | --- | --- | --- | --- | --- | --- | --- | --- | --- |
| bowler | TPC | Girls | U17 | elite | PB/23 | brax | banquet | Thurs | Fri | T Dawg | 2nd ch | TOTAL |
| Abigania, Josh | | | | | | 15 | | | | | | 15 |
| Abigania, Katelyn | 1000 | 200 | | 30 | | | | | | | | 1230 |
| Banaag, Kevin | | | | | | 15 | | | | | | 15 |
| Bardol, Jason | | | | | | | | 20 | | | | 20 |
| Basey, Jared | | | | | | | | | | | 40 | 40 |
| Bivins, Brock | | | | | | | | 25 | | 40 | | 65 |
| Boe, Tyler | | | | | | | 144 | 50 | 240 | | | 434 |
| Bollea, Kendall | | | | | 5 | | | 14 | | | | 19 |
| Cervine, Cadin | | | | | | | | | | | 50 | 50 |
| Coates, Tyler | 400 | | | | | | | | | 60 | | 460 |
| Criss, Cameron | | | | | | | | | | 40 | | 40 |
| Davis, Will | 150 | | | | | | | | 50 | | | 200 |
| Delegarito, Gerilynn | 150 | | | | | | | 30 | | | | 180 |
| DeLuisa-Anderson, Brian | | | | | | | | | | 80 | | 80 |
| Domaguin, Avery | | | | | | | | 15 | | | | 15 |
| Dyck, Simon | | | | | | | | | 30 | | | 30 |
| Franklin, Abby | | 100 | | | | | | | | | | 100 |
| Frazier, Jacob | 100 | | | | | | | | | | | 100 |
| Galvan, David | | | | | | | | 125 | | | | 125 |
| Gerencser, Joe | | | | | | | | | 100 | | | 100 |
| Geronimo, Trevyr | | | | | | | | | 125 | | | 125 |
| Gil, Jacob | | | | | | | | 40 | | | | 40 |
| Gilbert, Kyle | | | | | | 28 | | 150 | 20 | | | 198 |
| Goodman, Michael | | | | | | | | 30 | 20 | | | 50 |
| Greene, Miya | 300 | | | | | | | | 200 | | | 500 |
| Greim, Lindsay | | | | | | | | 15 | | | | 15 |
| Greim, Zach | | | | | | | | 100 | | | | 100 |
| Guba, Andrew | 200 | | | | | | | | | | | 200 |
| Harding, Aubrey | | | | | | | | 260 | | | | 260 |
| Harvey, Zach | 1000 | | | 40 | 10 | 14 | | | | 20 | | 1084 |
| Heisler, Ben | | | | | | | | | | | 200 | 200 |
| Holman, Madison | | | | | | | | | | 200 | | 200 |
| Holter, Gavin | | | | | | | | 15 | | | | 15 |
| Hong, Daniel | 100 | | | | | | | | | | | 100 |
| Hong, Stephanie | | | | | | | | | 80 | | | 80 |
| Huffman, Sebastian | | | | | | | | 30 | | | | 30 |
| Humphries, Jaadyn | | | | | | | | 125 | | | | 125 |
| Iverson, Joshua | | | | | | | | 100 | 30 | | | 130 |
| Jance, Colt | | | | | | 57 | | | 100 | | | 157 |
| Jennings, Jerry | | | | | | | | 20 | | | | 20 |
| Karney, Josh | 400 | | | 200 | | 104 | | | | | | 629 |
| Knight, Bailey | | | | | | 74 | | | 70 | | | 144 |
| Kwon, Do Hoon | | | | | | | | | | 30 | | 30 |
| Lee, Garrett | | | | | | | | | | | 200 | 200 |
| Lennox, Matthew | | | | | | | | | | 125 | | 125 |
| Linares, Aileen | | 400 | | | | | | | 20 | 30 | | 450 |
| Lindsey, Brendan | | | | | | | | | 80 | | | 80 |
| Luna, Louis | 100 | | | | | | | | | | | 100 |
| Mabry, Jadeyn | | | | | | | | | 50 | | | 50 |
| Mabry, Josh | | | | | | | | 60 | | | | 60 |
| Martin, Andrew | | | | | | | | | | | 30 | 30 |
| Mayes, Hunter | 100 | | 100 | 50 | | 15 | | | | | | 265 |
| McGowan, Skyler | 300 | | | 100 | | | | | | | | 400 |
| Meliska, Caden | 100 | | | | | | | | | | | 100 |
| Molloy, Joshua | | | | | | | | | | | 50 | 50 |
| O'Hollaren, Elias | 125 | | | | | | | | | 150 | | 275 |
| Orosco, Akayla | 125 | | | | | | | | | | | 125 |
| Padilla, Cesar | | | | | | | | | 150 | | | 150 |
| Phillips, Silas | 100 | | | 20 | | | | | | | | 120 |
| Pimentel, Raeden | | | | | | | | | | | 30 | 30 |
| Pimentel, Ryland | 100 | | | | | 30 | | | | | | 130 |
| Pollom, Ricky | | | | | | | | 200 | | | | 200 |
| Purdy, Alayna | 100 | | | | | 44 | | | | | | 144 |
| Raymond, Shaiden | 175 | | | | | 90 | | 25 | | | | 290 |
| Reed, Kyle | 100 | | | | | | | 40 | | | | 140 |
| Reese, Dawson | | | | | | | 5 | 80 | | | | 85 |
| Reid, Faythe | 100 | | | | | 30 | | | | 50 | | 180 |
| Rock, TJ | 500 | | 200 | | | | | | | 50 | | 750 |
| Rothstein, Caleb | | | | | 5 | | | | | | | 5 |
| Salama, Solomon | 2000 | | 400 | 200 | | 384 | | 70 | 210 | 200 | | 3464 |
| Salama, Yael | | | | | | | | 163 | | | | 163 |
| Sicard, Bud | 175 | | | | | | | | | 100 | | 275 |
| Sicard, Mary | | | | | | | | | 60 | | | 60 |
| Sicard, Noah | 2000 | | | 100 | | | | 150 | | | | 2250 |
| Smerud, Ryan | | | | | | | | | | | 100 | 100 |
| Sweigart, Harley | 100 | | | 30 | | 163 | | | | | | 293 |
| Tehrani, Cyruss | 200 | | | | | | | | | | | 200 |
| Thompson, Alex | | | | | | 15 | | | 40 | 75 | | 130 |
| Thompson, Kara | | | | | | | | 15 | | | 100 | 115 |
| Weddige, Justin | 500 | | | 50 | 5 | | | 50 | | | | 605 |
| Whitaker, Duncan | | | | | | | | | | | 40 | 40 |
| Wilcox, Kailee | 100 | | | | | | | 80 | | 150 | | 330 |
| Wilcox, Kierra | | | | | | | | | 125 | | | 125 |
| Williams, Josh | | | | | 10 | | | | | 100 | | 110 |
| Wodesky, Trevor | | | | | | | | | | 20 | | 20 |
| | | | | | | | | | | | | 20564 |
2019 TPC- scratch semifinals
4 qualify; scores include bonus pins
RANK
BOWLER
TOTAL
gm 1
gm 2
gm 3
gm 4
gm 5
gm 6
gm 7
gm 8
rd 4 tot
TOTAL
+ / -
1
Salama, Solomon
3502
243
246
167
166
245
229
229
267
1792
5294
694
2
Rock, TJ
3361
190
201
227
214
240
269
180
210
1731
5092
492
3
Coates, Tyler
3173
251
210
197
253
253
207
253
242
1866
5039
439
4
Harvey, Zachary
3245
213
245
148
232
254
211
216
197
1716
4961
361
5
McGowan, Skyler
3348
284
178
203
224
159
181
204
171
1604
4952
352
6
Guba, Andrew
3220
208
189
166
259
191
227
181
191
1612
4832
232
7
Sicard, Bud
3199
178
246
200
248
177
171
246
164
1630
4829
229
8
Davis, Will
3192
184
139
248
175
234
190
167
193
1530
4722
122
9
O'Hollaren, Elias
3236
172
169
214
151
139
235
206
158
1444
4680
80
10
Sweigart, Harley
3205
129
222
168
145
198
218
193
191
1464
4669
69
11
Mayes, Hunter
3342
145
175
181
188
167
159
150
133
1298
4640
40
12
Luna, Louis
3270
172
215
165
158
141
138
140
200
1329
4599
-1
2019 TPC- handicap semifinals
4 qualify (scores include bonus pins)
RANK
BOWLER
TOTAL
gm 1
gm 2
gm 3
gm 4
gm 5
gm 6
gm 7
gm 8
rd 4 tot
TOTAL
+ / -
1
Sicard, Noah
3403
223
251
208
238
246
200
191
173
1730
5133
533
2
Weddige, Justin
3384
140
183
167
251
207
247
224
233
1652
5036
436
3
Karney, Josh
3421
179
210
141
157
265
216
222
217
1607
5028
428
4
Abigania, Katelyn
3317
245
223
221
188
182
199
221
188
1667
4984
384
5
Greene, Miya
3214
149
230
249
226
222
181
260
217
1734
4948
348
6
Tehrani, Cyruss
3252
244
145
219
263
176
190
193
224
1654
4906
306
7
Raymond, Shaiden
3211
245
174
223
195
231
225
170
213
1676
4887
287
8
Delegarito, Gerilynn
3205
188
164
223
221
215
217
232
188
1648
4853
253
9
Orosco, Akayla
3147
229
232
238
170
255
241
159
181
1705
4852
252
10
Reid, Faythe
3176
176
227
190
202
259
175
178
221
1628
4804
204
11
Pimentel, Ryland
3215
204
169
176
231
177
299
163
164
1583
4798
198
12
Phillips, Silas
3272
160
159
141
140
176
176
237
225
1414
4686
86
2019 TPC- scratch quarterfinals
12 qualify (scores include bonus pins)
RANK
BOWLER
TOTAL
gm 1
gm 2
gm 3
gm 4
gm 5
rd 3 tot
TOTAL
+ / -
1
Salama, Solomon (ex)
2330
203
288
202
202
277
1172
3502
502
2
Rock, TJ
2260
193
241
288
234
145
1101
3361
361
3
McGowan, Skyler
2114
204
308
262
195
265
1234
3348
348
4
Mayes, Hunter (ex)
2217
203
214
227
225
256
1125
3342
342
5
Luna, Louis
2023
297
202
274
257
217
1247
3270
270
6
Harvey, Zachary
1907
296
289
298
258
197
1338
3245
245
7
O'Hollaren, Elias
2053
240
263
288
182
210
1183
3236
236
8
Guba, Andrew
1993
309
203
247
215
253
1227
3220
220
9
Sweigart, Harley (ex)
2227
229
171
226
167
185
978
3205
205
10
Sicard, Bud
1927
305
242
267
267
191
1272
3199
199
11
Davis, Will
1924
200
215
320
265
268
1268
3192
192
12
Coates, Tyler
2029
257
211
237
261
178
1144
3173
173
13
Hong, Daniel
2043
217
176
227
191
296
1107
3150
150
14
Frazier, Jacob
1942
230
250
194
251
261
1186
3128
128
15
Reed, Kyle
2029
276
164
173
243
231
1087
3116
116
16
Reese, Dawson (ex)
1999
266
227
167
168
288
1116
3115
115
17
Adragna, Mathew
1907
251
261
171
253
238
1174
3081
81
18
Boe, Tyler (ex)
1834
244
249
275
274
204
1246
3080
80
19
Gerencser, Joe
1950
195
199
182
277
277
1130
3080
80
20
Zieg, Allex
1953
235
181
239
264
201
1120
3073
73
21
Gilbert, Kyle
2047
184
175
250
172
233
1014
3061
61
22
Banaag, Kevin
1988
190
120
256
276
214
1026
3014
44
23
Bivins, Brock
1933
202
235
245
237
184
1103
3036
36
24
Geronimo, Trevyr
2020
183
212
249
190
180
1014
3034
34
25
DeLuisa-Anderson, Brian
1822
246
233
236
238
256
1209
3031
31
26
Harvey, Brad
1961
255
299
145
188
172
1059
3020
20
27
Bower, Hunter
1867
259
213
194
225
261
1152
3019
19
28
Jennings, Jerry
1911
264
207
175
226
232
1104
3015
15
29
Egana, Gael
1842
236
243
216
242
233
1170
3012
12
30
Abigania, Joshua (ex)
1947
182
225
222
241
181
1051
2998
-2
31
Dyck, Simon
1873
191
264
231
191
244
1121
2994
-6
32
Schanen, Anthony
1873
203
276
202
189
247
1117
2990
-10
33
Perry, Ryan
2024
197
194
167
242
162
962
2986
-14
34
Rabb, Lucas (ex)
1822
277
267
245
190
179
1158
2980
-20
35
Greim, Zach (ex)
1885
203
220
223
215
228
1089
2974
-26
36
Perry, Kyle
1862
218
292
163
241
188
1102
2964
-36
37
Robbins, William
1930
232
228
195
192
185
1032
2962
-38
38
Rodas, Ardani
2015
211
174
166
146
241
938
2953
-47
39
Pollom, Ricky
1908
213
238
190
207
176
1024
2932
-68
40
Mayes, Chris
1922
246
223
146
172
159
946
2868
-132
41
Fritts, Kallista
1935
179
168
245
164
171
927
2862
-138
42
Mailkoff, Isaac (ex)
1886
186
192
159
234
193
964
2850
-150
43
Rivers, Marquan
1829
154
190
188
205
247
984
2813
-187
44
Linares, Aileen
1867
224
191
182
191
144
932
2799
-201
45
Franklin, Abby
1856
170
207
204
163
194
938
2794
-206
46
Adams, Kyle
1926
151
187
205
159
161
863
2789
-211
47
Alvarez, Yarelis
1824
150
170
178
225
207
930
2754
-246
48
Hill, Tim (ex)
1822
230
158
251
140
148
927
2749
-251
2019 TPC- handicap quarterfinals
12 qualify (scores include bonus pins)
RANK
BOWLER
TOTAL
gm 1
gm 2
gm 3
gm 4
gm 5
rd 3 tot
TOTAL
+ / -
1
Karney, Josh (ex)
2107
235
247
260
268
304
1314
3421
421
2
Sicard, Noah
2180
233
300
229
248
213
1223
3403
403
3
Weddige, Justin (ex)
2040
312
255
169
305
303
1344
3384
384
4
Abigania, Katelyn (ex)
2069
240
259
263
290
196
1248
3317
317
5
Phillips, Silas
1974
199
289
244
268
298
1298
3272
272
6
Tehrani, Cyruss
2080
211
232
271
195
263
1172
3252
252
7
Pimentel, Ryland
2075
186
261
182
289
222
1140
3215
215
8
Greene, Miya
2035
251
266
260
220
182
1179
3214
214
9
Raymond, Shaiden
2074
226
209
255
187
260
1137
3211
211
10
Delegarito, Gerilynn
1963
288
237
235
230
252
1242
3205
205
11
Reid, Faythe
2081
220
155
223
286
211
1095
3176
176
12
Orosco, Akayla
1986
251
288
224
192
206
1161
3147
147
13
Purdy, Alayna
2001
295
240
219
193
197
1144
3145
145
14
Meliska, Caden
1974
203
199
276
246
246
1170
3144
144
15
Wilcox, Kailee
1902
263
248
252
234
241
1238
3140
140
16
Lorey, Jonathan
1905
235
302
250
266
167
1220
3125
125
17
Lennox, Matthew
2007
219
191
202
255
250
1117
3124
124
18
Gil, Jordan
2037
162
203
179
266
250
1060
3097
97
19
Holter, Gavin (ex)
1970
246
173
237
201
266
1123
3093
93
20
Knight, Bailey
1987
243
206
216
182
259
1106
3093
93
21
Humphries, Jaadyn
1936
197
174
270
233
279
1153
3089
89
22
Todeschi, CJ
1872
292
215
233
223
254
1217
3089
89
23
Salama, Yael (ex)
2091
211
196
224
177
189
997
3088
88
24
Romero, Angela
1972
238
173
262
202
239
1114
3086
86
25
Fletcher, Darren
1998
216
197
196
187
280
1076
3074
74
26
Messenger, JD
1959
227
219
196
193
270
1105
3064
64
27
Rothstein, Caleb (ex)
1870
279
216
196
233
256
1180
3050
50
28
Hammer, Mackenzie
1966
219
234
167
218
242
1080
3046
46
29
Jance, Colt (ex)
1973
239
229
218
206
177
1069
3042
42
30
Wilcox, Kierra
1881
191
191
284
256
231
1153
3034
34
31
McCoy, Justyce
1870
223
269
195
261
213
1161
3031
31
32
Luna, Elias
1872
206
241
208
297
204
1156
3028
28
33
Lawrence, Kyle (ex)
1900
244
229
207
246
191
1117
3017
17
34
Kalvelage, Secilia
1933
211
237
228
201
198
1075
3008
8
35
Thompson, Alex
1925
193
164
256
273
197
1083
3008
8
36
Williams, Josh (ex)
1870
176
258
246
312
144
1136
3006
6
37
Herson, Taylor
1912
161
248
204
202
266
1081
2993
-7
38
Mabry, Jadeyn
1896
242
191
187
245
227
1092
2988
-12
39
Yamanoha, Adrian
2017
168
204
182
161
228
943
2960
-40
40
Bollea, Kendall (ex)
1913
219
248
188
208
172
1035
2948
-52
41
Greim, Lindsay (ex)
1926
159
201
204
250
194
1008
2934
-66
42
Workman, Payton
1914
180
265
200
204
168
1017
2931
-69
43
Cheesman, Emily (ex)
1870
153
236
174
259
236
1058
2928
-72
44
Hammer, Kaitlyn
1900
238
178
211
223
171
1021
2921
-79
45
Criss, Cameron (ex)
1976
207
181
177
179
188
932
2908
-92
46
Herson, Josie
1878
187
205
258
224
156
1030
2908
-92
47
Domaguin, Avery (ex)
1870
188
230
247
177
189
1031
2901
-99
48
Zeutenhorst, Bryan
1950
156
174
173
176
212
891
2841
-159
2019 TPC- scratch qualifying
38 bowlers plus the 10 exempt bowlers qualify
RANK
BOWLER
rd 1 tot
gm 6
gm 7
gm 8
gm 9
gm 10
rd 2 tot
TOTAL
+ / -
1
Salama, Solomon (ex)
1140
210
243
235
257
245
1190
2330
330
2
Rock, TJ
1167
257
215
232
227
162
1093
2260
260
3
Sweigart, Harley (ex)
1135
222
227
212
223
208
1092
2227
227
4
Mayes, Hunter (ex)
1137
211
258
189
186
236
1080
2217
217
5
McGowan, Skyler
1088
178
186
189
231
242
1026
2114
114
6
O'Hollaren, Elias
1007
194
194
289
204
165