TRIANGLE BOWL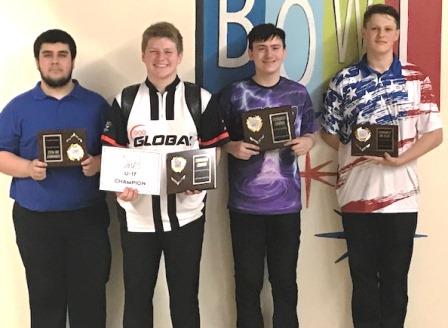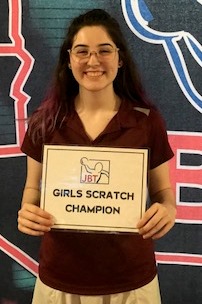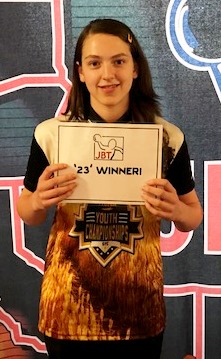 champs Tyler Coates & Joshua Iverson; Isaac Mailkoff, Cadin Cervine, Reagan Lorey
Tyler Coates and Joshua Iverson wrapped up the 2018-19 JBT Pac NW Conference regular season with big wins in exciting action at Longview's Triangle Bowl.
Tommie McNeal began the scratch division stepladder finals with a big 257-233 win over Jacob Mullen. That was a high scoring match on the day's tricky pattern, but Tommie and Isaac Mailkoff turned it up even more in the semifinals, with Isaac emerging the 279-253 winner, moving on to the finale. Top seed Tyler Coates was back to his 'old self;, struggling at the start then getting sharper every game, and when Mailkoff had a letdown from the exciting last match, Coates took full advantage with a 234-181 win, good for the 4th title of his JBT career.
Cadin Cervine began the handicap division stepladder with a 234-212 win over newcomer Bayli Lindeke. Cervine followed it up with a 220-198 win over Silas LeBlanc to advance to the title game.
Top seed Josh Iverson was enjoying his best JBT ever, and capped it off in fine style, beating Cadin 226-199 for his very first career JBT title. Coates completed his fin day with a tough win over Andrew Martin to win the U17 subdivision, while Girls Scratch was won by Reagan Lorey, with a win over Ruth Magana.
Big thanks to the team at Triangle for being great hosts and big supporters of competitive bowling. The field is now set for the Pac NW Invitational, with $1,000 top scholarship prizes up for grabs!
Triangle- final results and scholarship winners
6/22/2019
Scratch Division
rank
bowler
prize
1
Tyler Coates
$300
2
Isaac Mailkoff
$150
3
Tommie McNeal
$154
4
Jacob Mullen
$100
5
Jerry Jennings
$75
6
Duncan Whitaker
$105
7
Simon Dyck
$50
8
Tyler Boe
$30
9
Michael Strothman
10
Andrew Martin
11
Ashton Yamasaki
12
Donovan Grubaugh
13
Brian DeLuisa-Anderson
14
Hunter Bower
$39
15
Kyle Adams
16
Payton Edwards
17
Kevin Conradi
18
Bud Sicard
$5
19
Daniel Rutter
20
Lohrghan Ziegler
21
Tucker Kaus
22
Liam Hardman
23
Tyler Denune
24
John Malone
25
Ethen Maxwell
$15
26
Makana Wong
$15
27
Ryan Smerud
28
AJ Hooper
29
Jacob Frazier
30
Logan Setera
31
Reagan Lorey
$50
32
Mac Kaurin
33
Jessica Holbrook
34
WendyJo LaTurner
35
Noah Wheeler
36
Evan Smith
37
Bailey Peters
38
Brooklyn Boudreau
$5
39
Cosmo Castellano
40
Paul Rosales
41
Luke Cox
42
Hunter Setera
Handicap Division
1
Joshua Iverson
$300
2
Cadin Cervine
$165
3
Silas LeBlanc
$125
4
Bayli Lindeke
$29
5
Ben Heisler
$130
6
Bryan Zeutenhorst
$75
7
Mary Sicard
$160
8
Kailee Wilcox
$50
9
Noah Sicard
$40
10
Anna Gatlin
11
Douglas Bialza III
12
Peyton Freund
13
Ruth Magana
$25
14
Carson Wright
15
Hilari Zuniga
16
Hannah Hamilton
17
Aubrey Harding
18
Do Hoon Kwon
19
Payton Bower
20
Kaylee Lundgren
21
Kierra Wilcox
22
Trevor Wodesky
23
Mackenzie Theophilus
24
Kerissa Andersen
25
Aiden Wong
26
Colt Jance
27
Josh Williams
28
Skyler Broussard
$44
29
Carter Humphries
30
Madeline Sage
31
Colby Hull
32
Kenji London
33
Lucas Le Blanc
34
Toby Wills
35
Lailani Wallin
36
Guillermo Castaneda
37
Jaadyn Humphries
38
Hailey Lennox
39
Marissa Lindeke
40
Matthew Lennox
41
Halie Martin
42
Jonathan Lorey
43
Dalton Mason
Qualifying Leaders
Scratch
Handicap
1
Adams +60
N Sicard +60
2
McNeal +49
B Lindeke +52
3
Jennings +45
Gatlin +48
High Games
Scratch
Handicap
1
Mailkoff 279
Iverson 298
2
B Sicard 278
S LeBlanc 276
3
Martin 277
S LeBlanc 270
4
Coates 268
Heisler 263
5
McNeal 264
Kai. Wilcox 259
Girls Scratch side event
1
Magana -120
2
Lorey -123*
3
Andersen -145
4
Kai. Wilcox -156
5
B Lindeke -168
U-17 scratch side event
1
Coates +31*
2
Martin +20
3
B Sicard +17
4
Bower +5
5
Yamasaki -3
Round Leaders
Scratch
Handicap
1
McNeal
Bialza
2
Mailkoff
Bialza
3
Mullen
Cervine
4
Mullen
N Sicard
5
Adams
N Sicard
6
Mailkoff
Iverson
7
Mailkoff
S LeBlanc
8
Coates
Iverson
TOTAL AWARDED THIS EVENT: $2,235