VICTOR BOWL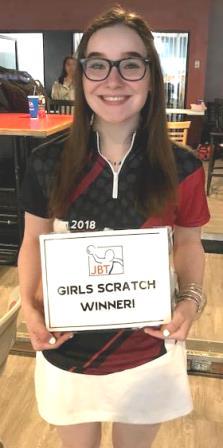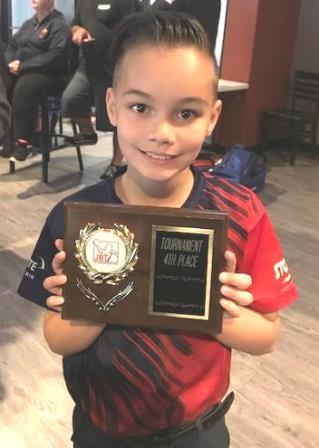 champs Cerell Cardines & Justyce McCoy; Solomon Salama, Samantha Conti, Mark Buster
Cerell Cardines and Justyce McCoy picked up JBT titles in exciting dual conference action at Victor Bowl in Victorville.
Jacob Johnson began the handicap division stepladder finals with a 228-191 win over newcomer Mark Buster. McCoy then stopped Johnson in a close match 224-218 to advance to the final.
Top seed Hailey Shepherd had been brilliant all day, but McCoy, having an excellent season of her own, defeated her 215-206, for the first title of her JBT career.
Solomon Salama defeated recent champ Allex Zieg 203-179 to begin the scratch division stepladder. Salama then downed Joshua Abigania 244-216 to reach the title match against top seed Cerell Cardines. The two super talented bowlers have a long head to head history in big JBT matches, and this time Cerell came out on top, ending a painful victory drought with a 225-186 win, good for the 13th title of his excellent JBT career.
Samantha Conti won the day's Priority Girl event 208-155 over Avery Domaguin, while Salama was consoled with the U17 win with a second victory over Abigania.
Big thanks to the team at Victor for hosting us. Want in on all this fun? Just check out our schedule and come on down!
Victor Bowl- final results and scholarship winners
4/13/2019
Scratch Division
rank
bowler
prize
1
Cerell Cardines
$250
2
Joshua Abigania
$125
3
Solomon Salama
$167
4
Allex Zieg
$75
5
Michael Marmolejo
$60
6
Joe Gerencser
$50
7
Harley Sweigart
$14
8
Ricky Pollom
9
Zach Greim
$14
10
Elias O'Hollaren
11
Samantha Conti
$50
12
Darren Fletchwer
13
Ryan Lee
14
Tim HIll
$14
15
Costa Gastouniotis
16
Skyler McGowan
17
Daniel Hong
18
Kyle Rendon
19
Kyler Orosco
20
Louis Luna
21
Nolan Sepulveda
22
Daryus Alo
23
Zack Long
24
Trevyr Geronimo
25
Austin Sugarman
26
Allison Azvedo
27
David Galvan
28
James McGough
Handicap Division
1
Justyce McCoy
$300
2
Hailey Shepherd
$175
3
Jacob Johnson
$150
4
Mark Buster
$125
5
Cameron Criss
$129
6
Haylee Carlos
$80
7
Ryland Pimentel
$120
8
Ronnie Castillo
$50
9
Justin Johnson
$40
10
Stephanie Hong
$40
11
Nathan Chambers
12
Alayna Purdy
13
Adrian Yamanoha
14
Tanner Ferguson
$20
15
Josh Williams
16
Maikayla Villa
$15
17
Ava McLaughlin
18
Alexis Lee
$5
19
Lindsay Greim
$15
20
Avery Domaguin
$69
21
Cyruss Tehrani
22
Gavin Holter
$15
23
Kendall Bollea
24
Raeden Pimentel
$15
25
Jacob McGough
26
Nicholas Hockman
27
Emily Cheesman
28
Ian Fiel
29
Dante Villa
$15
30
Ethan Chambers
31
Young Cho
32
Yael Salama
33
Caleb Rothstein
34
Secilia Kalvelage
$15
35
Akayla Orosco
36
Zackary Othic
37
Connor Steelmon-Hill
38
Afton Lords
$15
39
Ryan Bass
40
Elias Luna
41
Josh Karney
42
Tyler Weitzman
43
Aiden Othic
44
Katelyn Abigania
$15
45
Reymar Santos
46
Dan Cho
47
Zian Sasaki
48
Dewine Moore Jr
49
Jacob Arend
50
Amanda Hanson
51
Lexi Casman
52
Madison Wellman
53
Stephanie Fung
54
Jaclyn Azvedo
55
Silas Phillips
56
Jake Foster
High Games
Scratch
Handicap
1
Cardines 269
S Hong 289
2
Salama 267
Shepherd 279
3
Conti 258
Purdy 262
4
Cardines 247
S Hong 260
5
Salama 244
C Criss 254
High Female
1
Conti -57*
2
Domaguin -80
3
Shepherd -108
4
McCoy -130
5
Carlos -154
Qualifying Leaders
Scratch
Handicap
1
Cardines +149
Ry Pimentel +87
2
Salama +75
Shepherd +87
3
Zieg +49
R Castillo +74
U-17
1
Salama +75*
2
J Abigania +13
3
J Williams -6
4
Z Greim -19
5
Conti -57
Round Leaders
Scratch
Handicap
1
Cardines
J Williams
2
Cardines
J Williams
3
Cardines
Ry Pimentel
4
Cardines
Ry Pimentel
5
Cardines
Ry Pimentel
6
Cardines
Shepherd
7
Cardines
Shepherd
8
Cardines
Shepherd
Total Awarded This Event: $2,242