VICTOR BOWL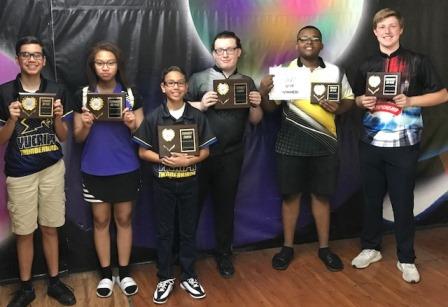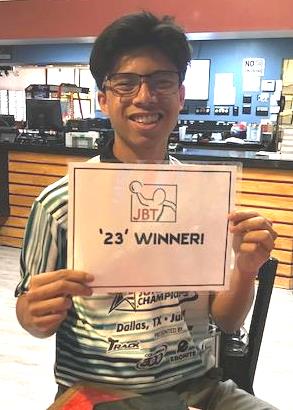 champs Skyler McGowan & Ben Heitmann; Jacob Heitmann, Alayna Purdy, TJ Rock, Zach Greim, Leoj Chin
Skyler McGowan and Ben Heitmann earned JBT titles in terrific dual So Cal / Mojave Conference action at Victorville's Victor Bowl.
Michael Marmolejo outpaced a very high scoring field en route to the #1 seed for matchplay, but #16 Ricky Pollom, who won a tiebreaker over Daniel Hong just to get in, suddenly had the big strike strings to oust him. Pollom fell to Zach Greim in the next round, who then was able to beat Elias O'Hollaren, who earlier fired a 299 game, to get to the finale. On the other side of the bracket, McGowan came from the 6 seed to beat Samantha Conti, Ryan Lee, and TJ Rock to get to the title game. The final appeared to be going the way of the red-hot Greim, but a late error allowed McGowan the opportunity to strike in the tenth to win. Skyler calmly did just that, earning the second title of his JBT career with the exciting win.
The handicap field was led by Josh Karney, who thrilled the packed house with a perfect 300 to close out the qualifying round. He got past Lawrence Buhain in a tough first round, but Jacob McGough halted his run in round two. McGough then fell to Alayna Purdy, who advanced on to the title game. The other side of the bracket was controlled by the Heitmann family, as 3 seed Jacob and 2 seed Ben advanced to play each other, with little brother Ben coming out victorious. In the title match, Alayna struggled a bit and Ben took advantage for a big win, earning his first career JBT title with the victory.
Rock was consoled with a win over Karney for the day's U17 title, while Conti completed a sweep of the Priority Girls Scratch weekend with a win over Jazelle Lampkin.
Thanks as always to the team at Victor for hosting our Tour. Want in on all this fun and excitement for all ages and averages? Just check out our schedule and come on down!
Victor Bowl- final results and scholarship winners
4/14/2019
Scratch Division
rank
bowler
prize
1
Skyler McGowan
$280
2
Zach Greim
$150
3
TJ Rock
$198
4
Elias O'Hollaren
$100
5
Ryan Lee
$75
6
Solomon Salama
$64
7
Trevyr Geronimo
8
Ricky Pollom
9
Michael Marmolejo
10
Kyler Orosco
11
Cerell Cardines
12
Nolan Sepulveda
$28
13
Samantha Conti
$50
14
Joe Gerencser
15
Louis Luna
16
Joshua Abigania
17
Daniel Hong
18
Ardani Rojas
19
Leoj Chin
$100
20
Jazelle Lampkin
$25
21
Nolan Am-Khong
22
David Galvan
$5
23
Kyle Rendon
24
Allex Zieg
25
Allysha Howard
26
Tim Hill
27
Harley Sweigart
28
Olivia Lampkin
29
Dejah Pope
30
Darren Fletcher
31
Jacey Opiana
32
Daryus Alo
33
Austin Sugarman
34
Dillon O'Neil
35
James McGough
Handicap Division
1
Ben Heitmann
$300
2
Alyana Purdy
$200
3
Jacob Heitmann
$150
4
Jacob McGough
$140
5
Josh Karney
$160
6
Stephanie Hong
$75
7
Aiden Othic
$75
8
Hailey Shepherd
$65
9
Lindsay Greim
$55
10
Cameron Criss
$70
11
Tanner Ferguson
$15
12
Ryland Pimentel
$15
13
Timothy LeCount
14
Katelyn Abigania
15
Ronnie Castillo
16
Lawrence Buhain
17
Dewine Moore Jr
18
Haylee Carlos
19
Emily Cheesman
$60
20
Timothy Kessler
21
Kendall Bollea
22
Tyler Weitzman
23
Gavin Holter
$15
24
Zian Sasaki
$14
25
Ryland Gregorich
26
Cyruss Tehrani
27
Autumn Barnes
28
Afton Lords
$15
29
Ava McLaughlin
30
Lathan Chin
31
Lexi Cassman
32
Caleb Rothstein
$15
33
Raeden Pimentel
34
Amanda Hanson
35
Justyce McCoy
36
Secilia Kalvelage
37
Madison Wellman
38
Miya Greene
39
Zack Othic
40
James Estey
41
Connor Steelmon-Hill
42
Emily Schrider
43
Alexis Lee
44
Avery Domaguin
45
Young Cho
46
Noel Gregorich
47
Josh Williams
48
Kayden O'Dell
49
Yael Salama
50
Akayla Orosco
51
Preston Carrasco
52
BraydenCaress
53
Jonathan Hall
54
Ian Fiel
55
Dan Cho
56
Brandon Criss
High Games
Scratch
Handicap
1
O'Hollaren 299
B Heitzmann 337
2
R Lee 289
Karney 322
3
Rock 279
H Shepherd 314
4
Geronimo 279
Karney 300
5
A Howard, Pope 279
L Greim 298
High Female
1
Conti +129*
2
J Lampkin +79
3
K Abigania +49
4
A Howard +47
5
Cheesman -10
Qualifying Leaders
Scratch
Handicap
1
Marmolejo +276
Karney +328
2
Rock +230
O Hollaren +317
3
R Lee +216
J Heitzmann +229
U-17
1
Rock +239*
2
Karney +218
3
K Orosco +175
4
O'Hollaren +166
5
Z Greim +155
Round Leaders
Scratch
Handicap
1
A Howard
B Heitzmann
2
R Lee
Karney
3
R Lee
Karney
4
R Lee
Karney
5
Marmolejo
Karney
Total Awarded This Event: $2,534