WINNETKA BOWL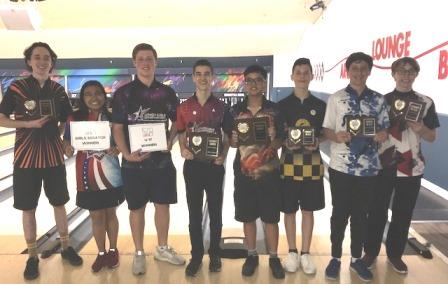 champs Solomon Salama & Yairi Lubag with finalists
Solomon Salama and Yairi Lubag capture JBT titles in exciting Southern California Conference action at the JBT Memorial Events hosted by Winnetka Bowl.
Bowlers competed in head to head matchplay after a high scoring qualifying round. In the scratch division semifinal matches, Justin Phillips ousted Joe Grondin 225-216, while the other one was an all-time thriller, with superstar lefties Harley Sweugart and Solomon Salama tying at 202, then tying at 10 again in the rolloff, until Solomon finally prevailed 10-9 to advance to the final.
Justin had been great all day, but the title game was all Salama, as he rolled to the 17th title of his JBT career and a large $500 scholarship payday.
In the handicap division, Timothy Kessler beat Nathan Ginsburg in one semifinal, while Lubag ousted Jacob Johnson in the other to set up the title game. Yairi was able to pull away in the final, and with the win claimed a long awaited first career JBT title and big $500 scholarship payday.
Jennifer Loredo made a successful visit to JBT with a win over Allison Azvedo for the Priority Girls Scratch title, while Zach Greim kept his good bowling going with a win over Dawson Reese for the U17 title.
Huge thanks to the Salama family for helping make the big prize fund possible, as well as the team at Winnetka for their usual great hosting job. Want in on all the fun? Just check out our schedule and come on down!
Winnetka Bowl- final results and scholarship winners
5/18/2019
Scratch Division
rank
bowler
prize
1
Solomon Salama
$500
2
Justin Phillips
$250
3
Harley Sweigart
$252
4
Joe Grondin
$125
5
Dawson Reese
$115
6
Michael Marmolejo
$75
7
Kevin Banaag
$50
8
Costa Gastouniotis
$50
9
Cerell Cardines
10
Kyle Reed
$43
11
Zach Greim
$25
12
KJ Martinez
13
Allison Azvedo
$25
14
Kyler Orosco
15
Jennifer Loredo
$50
16
Marc Villalobos
$14
17
Nick Caner
18
Garrett Lee
$10
19
Joshua Abigania
20
Ardani Rodas
21
Lamaki Welch
22
Tim Hill
23
Jacey Opiana
24
Trevyr Geronimo
25
Kyle Gilbert
26
Allex Zieg
27
Louis Luna
28
Darin Thornton
29
Jaclyn Azvedo
30
Daniel Hong
31
JR Mehlum
32
Saralyne Nassberg
33
Mac Kaurin
34
Ryan Lee
35
Austin Sugarman
36
Sebastian Huffman
37
Devin Thornton
Handicap Division
1
Yairi Lubag
$530
2
Timothy Kessler
$250
3
Nathan Ginsburg
$150
4
Jacob Johnson
$125
5
Stephanie Hong
$100
6
Maikayla Villa
$75
7
Akayla Orosco
$50
8
Cyruss Tehrani
$50
9
Gavin Holter
$44
10
Adrian Yamanoha
11
Katekyn Abigania
12
Lindsay Greim
$15
13
Autum Barnes
14
Dante Villa
15
Josh Karney
16
Justin Johnson
17
David Waybright
18
Brandon Criss
$44
19
Patrick Sablan
20
Xavier Limon
$15
21
Secilia Kalvelage
$15
22
Young Cho
23
Kean Gatmaitan
24
Tyler Weitzman
$15
25
Justin Barriga
26
Elias Luna
27
Alexis Lee
28
Cameron Criss
29
Emily Cheesman
$15
30
Kendall Bollea
31
Ethan Chambers
32
Yael Salama
33
Hailey Shepherd
34
Aislinn Lubag
35
Josh Williams
$10
36
Matthew Hall
37
Nathan Chambers
38
Philip Hall
39
Zian Sasaki
40
Ronnie Castillo
41
Braeden Phillips
42
Nicholas Hockman
43
Ryan Ginsburg
44
Mirella Barriga
High Games
Scratch
Handicap
1
Sweigart 300
Yamanoha 318
2
J Phillips 289
K Abigania 294
3
Z Greim 288
Sablan 293
4
Marmolejo 280
L Greim 292
5
Grondin 278
Kessler 286
High Female
1
A Azvedo +139
2
J Loredo +99*
3
K Abigania +85
4
S Hong +53
5
Opiana +32
Qualifying Leaders
Scratch
Handicap
1
Sweigart +229
S Hong +243
2
Cardines +224
Holter +210
3
K reed +199
Yamanoha +190
U-17
1
Griem +195
2
Reese +183
3
A Azvedo +139
4
Holter +135
5
K Orosco +104
Round Leaders
Scratch
Handicap
1
Martinez
K Abigania
2
Reed
Holter
3
Reed
Yamanoha
4
Sweigart
Yamanoha
5
Sweigart
S Hong
Total Awarded This Event: $3,079