WINNETKA BOWL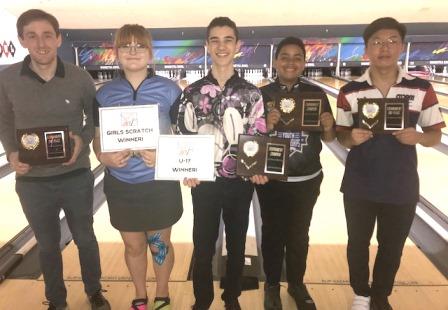 champs Solomon Salama & Brandon Criss; Joe Grondin, Saralyne Nassberg, Young Cho
Solomon Salama and Brandon Criss wrapped up an incredible weekend of JBT action at our 'Memorial' events, hosted by Winnetka Bowl.
Joe Grondin began the scratch division stepladder finals with a 244-201 win over KJ Martinez in a battle of collegiate bowlers on break. Grondin then stopped qualifying leader Ryan Lee 247-220 to reach the title match.
Top seed Salama had been unremarkable (by his standards) in qualifying, but then put it all together for one of the all-time JBT runs, blasting 296-258-290 = 844 for the semifinals to run away with the number one spot. He didn't slow down one bit in the final, firing 268 to beat Grondin for the title, the 18th of his JBT career. With the sweep of the weekend, he also earns the bonus $500 up for grabs for the weekend point leader, making it a $1,500 payday for the precocious one!
Peter Ruiz escaped from Maikayla Villa 187-184 in the first round of the handicap finals, but the fourth place finish was enough to give Villa the weekend points lead and cash in on the $500 handicap bonus for that! Brandon Criss then stopped Ruiz in the semifinal to advance against top seed Young Cho for the title.
Brandon watched big brother Cameron with the Mojave Invitational the week before, and must have been inspired, as his tenth frame spare locked up a 222-220 win over a very game Cho, earning him the second title of his JBT career.
Saralyne Nassberg earned the day's Priority Girls Scratch win with a victory over Katelyn Abigania, while Salama finished off his epic weekend with a win over Kyler Orosco for the U17 title.
Big thanks to the team at Winnetka for hosting us, as well as the contribution from the Salama family which made the weekend's huge prize funds possible, as we remembered those who we miss as the JBT road rolls along. Want in on all the excitement? Just check out our schedule and come on down!
Winnetka Bowl- final results and scholarship winners
5/19/2019
Scratch Division
rank
bowler
prize
1
Solomon Salama
$1,000
2
Joe Grondin
$250
3
Ryan Lee
$125
4
KJ Martinez
$174
5
Harley Sweigart
$75
6
Kyler Orosco
$50
7
Allex Zieg
8
Austin Sugarman
9
Michael Marmolejo
10
Tim Hill
$40
11
Garrett Lee
12
Saralyne Nassberg
$107
13
Anthony Schanen
14
Costa Gastouniotis
15
Trevyr Geronimo
16
Joshua Abigania
17
David Schneider
18
Nick Caner
19
Kyle Gilbert
$15
20
Jennifer Loredo
21
Leoj Chin
22
Mac Kaurin
23
Cerell Cardines
24
Daniel Hong
25
Ardani Rodas
26
Marc Villalobos
27
Sebastian Huffman
28
Jacey Opiana
29
Kevin Banaag
30
Louis Luna
31
Dawson Reese
32
JR Mehlum
33
Darin Thornton
34
Devin Thornton
Handicap Division
1
Brandon Criss
$515
2
Young Cho
$250
3
Peter Ruiz
$125
4
Maikayla Villa
$600
5
Cyruss Tehrani
$75
6
Rafael Bartolome
$60
7
Katelyn Abigania
$119
8
Ethan Chambers
$40
9
Yael Salama
$30
10
Theresa Miller
$10
11
Kaitlynn Martin
12
Stephanie Hong
13
Gavin Holter
14
Zian Sasaki
15
Timothy Kessler
16
Ronnie Castillo
17
Lindsay Greim
$45
18
Akayla Orosco
19
Trenton Gibbs
20
Josh Williams
$10
21
Cameron Criss
22
Dante Villa
23
Avery Domaguin
24
Emily Cheesman
25
Lathan Chin
$15
26
Ryland Pimentel
27
Kendall Bollea
$29
28
David Waybright
29
Raeden Pimentel
30
Alexis Lee
31
Secilia Kalvelage
32
Hailey Shepherd
$15
33
Philip Hall
34
Robert Coulon
35
Josh Karney
36
Adrian Yamanoha
37
Tyler Weitzman
38
Matthew Hall
39
Nathan Chambers
High Games
Scratch
Handicap
1
Salama 296
B Criss 278
2
Salama 290
Tehrani 274
3
Salama 268
J Williams 266
4
Grondin 268
P Ruiz 264
5
Martinez 268
Y Cho 263
High Female
1
Nassberg +12*
2
K Abigania -51
3
Loredo -59
4
T Miller -86
5
Opiana -97
Qualifying Leaders
Scratch
Handicap
1
R Lee +213
P Ruiz +112
2
Grondin +100
T Miller +54
3
Martinez +100
Cho +35
U-17
1
K Orosco +71
2
Salama +69*
3
Gastouniotis -6
4
G Lee -8
5
J Abigania -26
Round Leaders
Scratch
Handicap
1
Sweigart
J Williams
2
R Lee
J Williams
3
R Lee
J Williams
4
R Lee
P Ruiz
5
R Lee
P Ruiz
6
Salama
P Ruiz
7
Salama
Cho
8
Salama
Cho
Total Awarded This Event: $3,769