YOUTH NEW MEXICO OPEN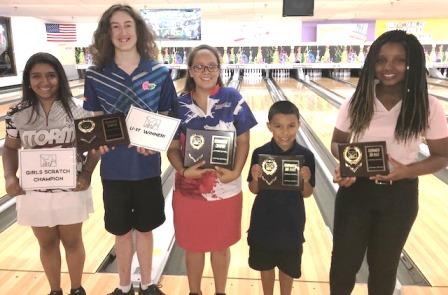 champs Deo Benard & Faith Pinter; Aileen Linares, Shaiden Raymond, Robin Prioleau
What is it with New Mexico Opens and one-pin wins? Faith Pinter joined none other than Chris Barnes in that category, while Deo Benard rocketed to the scratch title, at the Youth New Mexico Open, hosted and sponsored by Tenpins & More at Rio Rancho.
After twelve games on an extremely demanding lane pattern, Harley Sweigart began the stepladder finals with a 200-172 win over Christian Apolonio. Sweigart then defeated Robin Prioleau 211-169 to reach the title game.
Top seed Deo Benard had been brilliant all weekend, continuing a meteoric rise through the ranks. He and Harley have already had an entertaining set of title matches together, but this one was all business at the start with $1,000 for first place on the line. However, the mood changed as Deo was able to string the strikes and pull away mid-game. The 234-195 was good for the 8th title of his JBT career already!
The handicap stepladder had all three matches go down to the final frame. In round one, Angela Romero edged past Arizona's CJ Todeschi 179-178. Romero looked good in the next game, finishing at 171 against Faith Pinter, who had yet to even mark in the match. Needing 19 pins in the tenth to win, Faith came up with a double, beating Romero 182-171 to move on to the finals.
Her finals opponent was top seed Shaiden Raymond, who at just 6 years old, dominated the event from almost the beginning- we mean it when we say ANY age and ANY average! Raymond built a decent lead, but a pocket 7-10 in the ninth combined with late marks from Pinter made things interesting, and then, incredibly, another pocket 7-10 in the tenth forced Shaiden to get one pin to tie. Raymond was unable to do so, and so Faith pulled out a crazy 203-202 win for the title, her first JBT win, and $1,000 payday, again courtesy of Tenpins and More.
Aileen Linares won the weekend's Priority Girls Scratch event with a 197-176 win over Prioleau. Robin made a third final match, this time in the U17 subdivision, but Deo stopped her there 187-134.
Big thanks as always to Steve Mackie and their team for their support of our Tour. Want in on all this fun? Just check out our schedule and come on down!
Youth New Mexico Open- final results and scholarship winners
9/30/2018
Scratch Division
rank
bowler
prize
1
Deo Benard
$1,073
2
Harley Sweigart
$545
3
Robin Prioleau
$275
4
Christian Apolonio
$150
5
Aileen Linares
$175
6
William Robbins
$100
7
Yarelis Alvarez
$120
8
Chris Ortega
9
Zach Harvey
$19
10
Zach Wojciechowski
$42
11
John Green
$100
12
Lauren Jaramillo
13
Nathan Sippel
14
Elizabeth Romero
15
Clifford Robbins
16
Jonah Seawright
17
Ryan Perry
18
Mariano Garcia
19
Chris Robles
$54
20
Kaitlinn Joslin
21
Nathan Nguyen
22
Morgan Ellis
23
Mathew Adragna
24
Kallista Fritts
$100
25
Alex Harmon
26
Toby Cdebaca
$5
27
Brandyn MacPhee
28
Hayden Hull
$60
29
Montana Cdebaca
$5
30
Will Davis
31
Michael Goodman
32
Jayden Martinez
Handicap Division
1
Faith Pinter
$1,000
2
Shaiden Raymond
$500
3
Angela Romero
$300
4
CJ Todeschi
$155
5
George Sandoval
$137
6
Gerilynn Delegarito
$100
7
Mikailah Larimore
8
Justin Weddige
$5
9
Tyler Doucett
10
Isaiah Sandoval
11
Lucas Naaz
12
Alex Thompson
13
Kara Thompson
14
Jeremy Bittner
15
Taylor Herson
$100
16
Tylor MacPhee
17
Jay Heffer
$60
18
Christopher Bennett
19
Kloey Kielich
20
Conner Ziska
21
Silas Phillips
$5
22
Montana Cdebaca*
23
Michael Newlon
$50
24
Eric Gauna
25
Josie Herson
$40
26
Michael Jamael
27
Bryce Jensen
28
Preston Hughes
29
Taylor Ross
High Games
Scratch
Handicap
1
Benard 256
T Herson 297
2
Benard 256
G Sandoval 254
3
Benard 255
L Naaz 250
4
Benard 254'
Weddige 251
5
Prioleau 242
A Thompson 249
Girls Scratch side event
1
Linares -48*
2
Prioleau -51*
3
Alvarez -88*
4
E Romero -98
5
L Jaramillo -161
U-17 scratch side event
1
Benard -15*
2
Prioleau -51
3
Green -79
4
Alvarez -88
5
Todeschi -119
Round Leaders
Scratch
Handicap
1
R Perry
G Sandoval
2
Benard
Todeschi
3
Benard
Raymond
4
Benard
Raymond
5
Benard
Raymond
6
Benard
Raymond
TOTAL AWARDED THIS EVENT: $5,245
Semifinals begin 9 AM
Consolation event begins 9:30 AM
YOUTH NEW MEXICO OPEN- scratch overall
32 FIRST-TIME BOWLERS; 16 WILL QUALIFY FOR SUNDAY
RANK
BOWLER
gm 1
gm 2
gm 3
gm 4
gm 5
gm 6
TOTAL
+ / -
1
Benard, Deo
201
255
210
179
149
191
1185
-15
2
Benard, Deo
128
214
246
176
213
195
1172
-28
3
Sweigart, Harley
223
169
184
203
210
179
1168
-32
4
Sweigart, Harley - R
198
192
226
140
172
229
1157
-43
5
Linares, Aileen
185
225
194
200
155
193
1152
-48
6
Prioleau, Robin
177
167
227
221
154
203
1149
-51
7
Harvey, Zach- R
169
196
182
212
202
181
1142
-58
8
Robbins, Clifford
174
185
166
184
237
176
1122
-78
9
Green, John - R
168
188
178
220
166
201
1121
-79
10
Linares, Aileen- R
187
199
186
159
202
186
1119
-81
11
Robbins, William- R
202
180
192
199
154
191
1118
-82
12
Alvarez, Yarelis
207
191
204
173
168
169
1112
-88
13
Robbins, William
168
199
184
186
188
179
1104
-96
14
Romero, Elizabeth - R
180
157
235
209
175
146
1102
-98
15
Wojo, Zach- R
148
198
201
216
179
158
1100
-100
16
Sippel, Nathan
172
220
185
128
192
190
1087
-113
17
Apolonio, Christian- R
156
165
189
162
243
169
1084
-116
18
Harvey, Zach - R
172
187
199
199
178
149
1084
-116
19
Robbins, Clifford- R
213
194
163
178
175
156
1079
-121
20
Harvey, Zach
199
175
166
164
215
159
1078
-122
21
Ortega, Chris- R
145
158
169
184
199
192
1047
-153
22
Sweigart, Harley- R
146
170
157
189
175
208
1045
-155
23
Jaramillo, Lauren
178
168
194
146
193
160
1039
-161
above bowlers qualify and
bowl at 9 AM tomorrow
24
Perry, Ryan
244
147
173
155
143
173
1035
-165
25
Seawright, Jonah
148
176
163
153
204
191
1035
-165
Ryan and Jonah TIED for the final
spot and will rolloff at 8:30 AM
26
Garcia, Mariano
150
226
162
132
164
182
1016
-184
27
Robles, Chris- R
161
183
189
153
191
138
1015
-185
28
Wojo, Zach
144
155
152
198
153
209
1011
-189
29
Joslin, Kaitlinn
170
186
171
159
165
158
1009
-191
30
Nguyen, Nathan
167
168
144
169
137
220
1005
-195
31
Ortega, Chris
164
168
185
170
167
151
1005
-195
32
Alvarez, Yarelis - R
155
141
175
145
166
214
996
-204
33
Romero, Elizabeth- R
122
188
197
183
145
161
996
-204
34
Perry, Ryan - R
178
170
139
142
189
176
994
-206
35
Ellis, Morgan
165
136
203
160
133
193
990
-210
36
Adragna, Mathew
151
186
205
138
155
138
973
-227
37
Robles, Chris
159
147
191
150
170
154
971
-229
38
Joslin, Kaitlinn- R
155
153
170
171
155
166
970
-230
39
Fritts, Kallista
189
126
172
177
167
135
966
-234
40
Harmon, Alex
121
168
203
167
141
164
964
-236
41
Cdebaca, Toby- R
149
156
191
163
147
147
953
-247
42
MacPhee, Brandyn
137
174
125
192
168
157
953
-247
43
Green, John
165
159
131
184
155
150
944
-256
44
Romero, Elizabeth
165
166
139
145
179
145
939
-261
45
Garcia, Mariano- R
136
179
168
150
174
131
938
-262
46
Cdebaca, Toby
141
145
135
168
157
187
933
-267
47
Hull, Hayden
146
151
122
173
156
183
931
-269
48
Apolonio, Christian
127
134
168
178
161
162
930
-270
49
Cdebaca, Montana
178
138
125
133
149
195
918
-282
50
Davis, Will
142
128
162
214
139
130
915
-285
51
Perry, Ryan- R
162
139
125
153
147
182
908
-292
52
Seawright, Jonah- R
143
201
134
171
140
111
900
-300
53
Adragna, Mathew- R
141
118
169
141
176
152
897
-303
54
Goodman, Michael
126
165
177
150
122
136
876
-324
55
Goodman, Michael - R
147
133
126
133
152
143
834
-366
56
Martinez, Jayden- R
132
158
155
131
137
116
829
-371
57
Martinez, Jayden
133
105
107
115
146
160
766
-434
YOUTH NEW MEXICO OPEN - handicap overall
RANK
BOWLER
gm 1
gm 2
gm 3
gm 4
gm 5
gm 6
TOTAL
total +/-
1
Raymond, Shaiden
242
226
246
211
203
213
1341
141
2
Sandoval, George
254
200
174
201
172
215
1216
16
3
Pinter, Faith- R
204
202
196
215
186
212
1215
15
4
Romero, Angela
189
217
194
206
187
206
1199
-1
5
Sandoval, George- R
187
174
238
153
217
229
1198
-2
6
Sandoval, Isaiah
187
219
208
171
202
203
1190
-10
7
Naaz, Lucas
169
250
196
184
170
218
1187
-13
8
Todeschi, CJ
208
271
178
206
157
163
1183
-17
9
Weddige, Justin - R
212
217
196
184
159
200
1168
-32
10
Delegarito, Gerilynn- R
212
159
201
177
213
198
1160
-40
11
Thompson, Alex
249
176
178
174
184
198
1159
-41
12
Larimore, Mikailah
178
182
188
190
217
203
1158
-42
13
Pinter, Faith
179
180
237
167
181
203
1147
-53
14
Doucett, Tyler
149
207
180
215
181
211
1143
-57
above bowlers qualify and
bowl at 9 AM tomorrow
15
Weddige, Justin
172
200
171
147
227
201
1118
-82
16
Thompson, Kara
188
182
167
178
233
169
1117
-83
17
Bittner, Jeremy
196
191
199
175
171
178
1110
-90
18
Todeschi, CJ - R
176
183
197
160
182
207
1105
-95
19
Herson, Taylor - R
205
189
149
186
183
192
1104
-96
20
MacPhee, Tylor
203
163
135
154
199
244
1098
-102
21
Heffer, Jay - R
183
199
150
154
223
184
1093
-107
22
Herson, Taylor
181
181
176
163
204
188
1093
-107
23
Delegarito, Gerilynn
180
164
176
183
187
199
1089
-111
24
Bennett, Christopher- R
187
205
169
160
152
211
1084
-116
25
Kielich, Kloey
169
210
183
194
172
155
1083
-117
26
Ziska, Conner
197
206
176
122
203
167
1071
-129
27
Phillips, Silas
150
183
129
193
206
204
1065
-135
28
Cdebaca, Montana
207
185
167
166
165
174
1064
-136
29
Heffer, Jay
165
202
151
173
170
197
1058
-142
30
Bennett, Christopher
164
180
192
170
165
185
1056
-144
31
Newlon, Michael
132
191
218
188
152
174
1055
-145
32
Gauna, Eric - R
163
183
159
213
154
182
1054
-146
33
Herson, Josie - R
150
169
195
192
154
179
1039
-161
34
Herson, Josie
190
127
162
155
184
179
997
-203
35
Phillips, Silas - R
153
171
156
174
168
156
978
-222
36
Jamael, Michael
141
181
175
145
156
175
973
-227
37
Gauna, Eric
166
166
109
140
147
224
952
-248
38
Jensen, Bryce
146
160
189
158
147
143
943
-257
39
Hughes, Preston
138
138
186
135
172
156
925
-275
40
MacPhee, Tylor- R
174
139
121
172
144
165
915
-285
41
Kielich, Kloey- R
157
186
182
181
1
0
707
-493
42
Ross, Taylor
178
147
181
0
0
0
506
-694