LET IT ROLL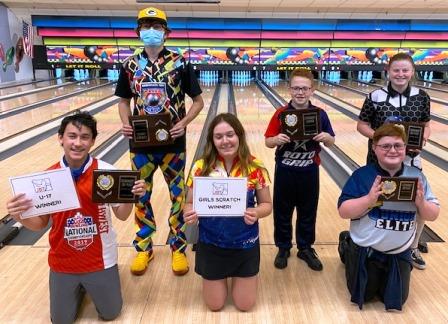 champs Clifford Robbins & Jason Gootzeit, with finalists
Clifford Robbins and Jason Gootzeit claimed JBT titles in exciting Arizona Conference action at Let It Roll in Phoenix.
Scores were good throughout the day, but all four scratch finalists struggled on the stepladder pair, beginning with Cerell Cardines' 179-156 win over Chris Mayes. Robbins then came on and edged Cardines 189-192 to advance to the title match. Elias O'Hollaren, who already beat Cesar Padilla for the U17 title, was hoping to sweep the day, but couldn't get anything going in the final. Clifford is one of the best frame-fillers on Tour, and was able to just enough to win the match 172-156, good for his first scratch and fourth career JBT title.
Jason Gootziet, conversely, had no trouble in the handicap stepladder, giving his three opponents little chance in a roar up the rungs. He beat newcomer Harrison Cole in round one 227-201, and followed with a 255-215 win over first time finalist Conner Pendergrass to get to the final. Top seed Kaitlin Pennington had been great all day and bowled a fine 227 win the final, but Gootziet saved his best for last, coming up with a huge 279 for the win and first career JBT title.
Madison Holman continued her hot run with a win over first time finalist Lindsay Griem 215-194 for the Priority Girls scratch win.
Big thanks to the team at Let It Roll for allowing us to host a fun and safety-oriented event. Top bowlers now move on to the Arizona Invitational, featuring a $1,000 top scholarship!
Let It Roll-final results and scholarship winners
6/27/2020
Scratch Division
rank
bowler
prize
1
Clifford Robbins
$250
2
Elias O'Hollaren
$155
3
Cerell Cardines
$75
4
Chris Mayes
$70
5
Zach Greim
$170
6
Cesar Padilla
7
Lucas Rabb
$15
8
Gavin Holter
9
Josh Molloy
$14
10
Matthew Garrett
$15
11
Keith Ylvisaker
12
Max Premeau
13
Brock Bivins
14
Hayden Hull
15
KJ Martinez
16
Rene Canez
17
CJ Todeschi
18
Tim Hill
19
Josh Williams
$50
20
Emily Cheesman
21
Ryan Zent
22
Rachael Berg
23
Hunter Mayes
24
Payton Workman
25
Ryan Perry
26
William Robbins
27
Kyle Lawrence
Handicap Division
1
Jason Gootzeit
$225
2
Kaitlyn Pennington
$125
3
Conner Pendergrass
$100
4
Harrison Cole
$75
5
Mike McQuisten
$60
6
Lindsay Greim
$150
7
Jacob Ellis
8
Alisabeth Rich
9
Harper Schmidt
$15
10
Kaitlyn Hammer
11
Jaden Workman
12
Madison Holman
$50
13
Noel Hernandez
$59
14
Josh Brown
15
Baylee Snow
16
Kendall Bollea
$33
17
Silas Phillips
18
Hannah Holt
19
Caden Meliska
20
Kieran Roth
$14
21
Jake Creek
22
Mackenzie Hammer
23
Bailey Knight
$29
24
Peyton Lee
25
Monroe Holt
26
AJ Imperial
27
Eric Gauna
28
Joanna Molloy
29
Corbin Reid-Hirsch
30
James Burke
31
Brockton Scotford
32
Emily Rohrbacker
33
Miya Greene
34
Mackenzie Ickes
35
RJ Pointon
36
Koryn Marquez
High Games
Scratch
Handicap
C Mayes 277
McQuisten 316
O'Hollaren 276
Gootzeit 279
O'Hollaren 265
Schmidt 276
C Mayes 263
Pennington 271
Padilla 259
Gootzeit 270
High Female
1
Greim +28
2
Holman -5*
3
Cheesman -12
4
Berg -30
5
K Hammer -85
Qualifying Leaders
Scratch
Handicap
1
C Mayes +214
Pendergrass +205
2
C Robbins +182
Pennington +200
3
O'Hollaren +159
Greim +195
U-17
1
Ohollaren +159*
2
Padilla +146
3
Z Greim +137
4
Holter +87
5
Ylvisaker +52
Round Leaders
Scratch
Handicap
1
C Mayes
Schmidt
2
Padilla
McQuisten
3
Padilla
McQuisten
4
C Robbins
McQuisten
5
C Mayes
Pendergrass
6
C Mayes
Pennington
7
C Robbins
Pennington
8
O'Hollaren
Pennington
Total Awarded This Event: $1,749
Field size and / or formats may be further limited / changed due to social distancing regulation. Please visit here for any posted changes (refresh your browser!)
Date: Saturday, June 27, 2020
Start Times: 11 AM, one squad only (re-combined from two squads) Please contact us (again, sorry) to let us know you got word of this change. Semifinals and finals follow the 11 AM squad.
Max bowlers: 80. This number may change according to any covid restrictions. Please email director@bowljbt.com to reserve a spot. You can prepay (not required) at the 'Sign Me Up!' section of this website. Reservations (paid or unpaid) must check in no later than 30 minutes before start time. At that time, all bowlers will be taken on a first come, first serve basis until the field is full.
This is a one day event. This is your last chance to qualify for or improve your position in the following day's AZ Invitational. You get in the Invitational by finishing in the top 4 in TWO AZ Conference events this season, or by being in the top 32 in the season-long AZ Conference points. **If you were in position to qualify for the Invitational as of the COVID stoppage, your Invitational spot is secure. You can still 'jump into' the Invitational pending the results of this event. Points are updated after this event as soon as possible; check the website for this update if you hope to qualify via points.
Divisions: Scratch or handicap. It is the bowlers' choice of division. Also, everyone age 16 or under as of 8/1/19 is automatically entered in the U-17 side event. Also, every female is automatically entered in the Girls Scratch side event.
Points: This event counts for double AZ and All-Conference points.
Entry fee: $40 handicap; $50 scratch. Scholarship brackets are available for $2 each. Raffle tickets for Ebonite bowling balls, and our PowerBowl and 24 jackpots, are available on-site.
Scholarships: 1:6 in each division earn scholarships, scratch and handicap. Minimum prizes in scratch are $250, $125, $75, $50. In handicap, $200, $100, $60, $40. Bowlers must finish in the top 4 twice in a conference to qualify for that conference's Invitational, which features $1,000 for first place. Bowlers who finish in the top 20 in a conference's points race, or the top 100 in all-conference points, qualify for the Touring Players Championship, featuring $2,000 for first.
Lane conditions: conditions vary from event to event, and are not posted prior to the event (unless otherwise announced). Some events do not post the pattern until after qualifying. Be ready for anything- it makes you a better bowler! Check out previous patterns and corresponding cut scores at the 'lane conditions' section of this website.
RESERVED BOWLERS:
At the center's request, this event has been re-combined into one qualifying squad, starting at 11 AM. Please contact us to let us know you got word of this change.
| | | | |
| --- | --- | --- | --- |
| no. | bowler | orig. squad | conf. 11 AM |
| 1 | Berg, R | A | yes |
| 2 | Bivins, B | A | yes |
| 3 | Bollea, K | B | yes |
| 4 | Brown, J | B | yes |
| 5 | Burke, J | B | yes |
| 6 | Canez, R | B | yes |
| 7 | Cardines, Cerell | B | yes |
| 8 | Cheesman, E | B | yes |
| 9 | Creek, J | B | yes |
| 10 | Ellis, J | A | yes |
| 11 | Garrett, M | A | yes |
| 12 | Gauna, E | A | yes |
| 13 | Goodman, M | B | no |
| 14 | Gootzeit, J | A | yes |
| 15 | Greene, M | B | yes |
| 16 | Greim, L | B | yes |
| 17 | Greim, Z | B | yes |
| 18 | Haines, Jack | A | yes |
| 19 | Hammer, K | B | yes |
| 20 | Hammer, M | B | yes |
| 21 | Harrison, Cole | A | yes |
| 22 | Hernandez, N | A | yes |
| 23 | Hill, T | B | yes |
| 24 | Holman, M | A | yes |
| 25 | Holt, Hannah | A | yes |
| 26 | Holt, Monroe | B | yes |
| 27 | Holter, G | B | yes |
| 28 | Hull, H | A | yes |
| 29 | Ickes, M | B | yes |
| 30 | Imperial, AJ | A | |
| 31 | Knight, B | B | yes |
| 32 | Lee, P | A | yes |
| 33 | Linares, A | A | no |
| 34 | Mabry, J | B | yes |
| 35 | Marquez, K | B | yes |
| 36 | Mayes, C | A | yes |
| 37 | Mayes, H | A | yes |
| 38 | McQuisten, M | A | yes |
| 39 | Meliska, C | B | yes |
| 40 | Molloy, J | A | yes |
| 41 | Molloy, j (2) | A | yes |
| 42 | Morgan, Tyler | A | no |
| 43 | O'Hollaren, E | B | yes |
| 44 | Padilla, Cesar | A | yes |
| 45 | Pendergrass, C | A | yes |
| 46 | Pennington, K | none | yes |
| 47 | Perry, Ryan | A | yes |
| 48 | Phillips, S | B | yes |
| 49 | Pointon, RJ | B | yes |
| 50 | Premeau, M | A | yes |
| 51 | Rabb, L | B | yes |
| 52 | Reese, D | B | no |
| 53 | Reid-Hirsch, C | A | yes |
| 54 | Rich, A | A | yes |
| 55 | Robbins, C | B | yes |
| 56 | Robbins, W | B | yes |
| 57 | Roth, K | A | yes |
| 58 | Schenck, C | B | no |
| 59 | Schmidt, H | B | yes |
| 60 | Scotford, B | B | yes |
| 61 | Todeschi, CJ | A | yes |
| 62 | Williams, J | B | yes |
| 63 | Workman, J | A | yes |
| 64 | Lawrence, K | none | yes |
| 65 | Snow, B | none | yes |
| 66 | Workman, P | A | yes |
| 67 | Ylvisaker, K | B | yes |
| 68 | Zent, R | A | yes |
| 69 | Martinez, KJ | none | yes |
| 70 | Smith, Shane | none | yes |
| 71 | Rohrbacker, Emily | none | yes |
| 72 | | | |
| 73 | | | |
| 74 | | | |
| 75 | | | |
| 76 | | | |
| 77 | | | |
| 78 | | | |
| 79 | | | |
| 80 | | | |