RIVERSIDE LANES Friday Night Scratch Battle Bag!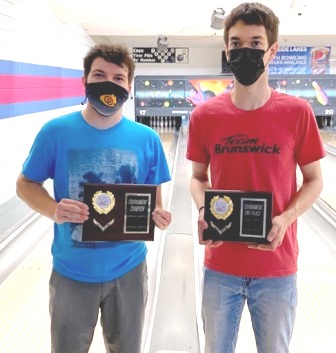 champ Jerry Jennings & runner-up Preston Craig
Jerry Jennings outlasted a tough field and a tough lane pattern to win the 'Battle Bag' JBT event at Riverside Lanes.
After qualifying, bowlers re-declared three balls and went into matchplay, where a loss cost you the use of one of the balls, until you were out of equipment and out of the tournament. Jennings got past Colt Jance and Duke Knudsen, while top seed Craig, filling frames better than anyone, beat Aiden Wong and Mac Kaurin to get to the final. The title match was one game, with the leader after five frames removing one of two balls. Jennings had a big early lead, and shrewdly removed the ball Preston wasn't using, giving him nothing to adjust to and preventing a comeback. Jerry stayed comfortably ahead and won the match for the fifth title of his JBT career.
Huge thanks to Chris and the team at Riverside for hosting the event on a busy Friday night. Want in on exciting formats and challenge events like these provide? Just check out our schedule and come on down!
Riverside Lanes- final results and scholarship winners
6/4/2021
Scratch Division
rank
bowler
prize
1
Jerry Jennings
$200
2
Preston Craig
$100
3
Duke Knudsen
$50
4
Mac Kaurin
$25
5
Colt Jance
$15
6
Michael Strothman
$15
7
Amdrew Martin
$15
8
Aiden Wong
$15
9
Makana Wong
10
Cosmo Castellano
11
Ewan Oester
12
Liam Hardman
13
Nevaeh Hull
14
Joleigh Murphy
15
Vianne Daniels
16
Toby Wills
Date: Friday June 4 (This tournament uses all-scratch scoring but is open to any JBT eligible bowler. Higher average handicap bowlers often 'test the waters' in JBT events like this).
Start Time: 7 PM, one squad only.
Reservations: Please email director@bowljbt.com to reserve a spot. You can prepay (not required) at the 'Prepaying' section of this website. Reservations (paid or unpaid) must check in no later than 15 minutes before start time. At that time, all bowlers will be taken on a first come, first serve basis until the field is full.
Format: Qualifying round is 3 games. Bowlers choose up to 3 balls as their arsenal. In each of those games, if you are the low bowler on the pair, the others on the pair choose one of your balls to be taken out of play. The top 8 bowlers then advance to 'battle bag' matches. Bowlers start with 3 balls and bowl single game matches, with the loser losing a ball, until one bowler is left with no equipment, and thus eliminated. Semifinalists start with 2 balls, and the title match is one game starting with two balls, with the low score as of the 5th frame losing a ball at that point.
Note: Music may be on during this event, and any lanes we're not using may be in 'cosmic bowl' form (it's Friday night). Please be aware of this environment.
Divisions/ Averages: Scratch only.
Points: This event does not count for points.
Entry fee: $30.
Covid details: JBT events follow- at least- all local Covid safety protocols, which you must be prepared for. This will likely include but not be limited to wearing masks at all times, and maintaining 6 feet of social distancing from non-family members. Please stay posted so you're not surprised about anything required of you. A maximum of one guardian per bowler is allowed.
Scholarships: Top 8 earn scholarships. $200 is guaranteed 1st place. Based on 32 entries, prizes would be $200, $100, $60, $60, and $30 for 5th-8th.
Lane conditions: conditions vary from event to event, and are not posted prior to the event (unless otherwise announced). Some events do not post the pattern until after qualifying. Be ready for anything- it makes you a better bowler! Check out previous patterns and corresponding cut scores at the 'lane conditions' section of this website.
Dress code: Dress code is casual for this event.
RESERVED BOWLERS:
PLEASE do not forget to contact us if you need to cancel or adjust your reservation.
| | | |
| --- | --- | --- |
| no. | bowler | 7 PM Fri |
| 1 | | |
| 2 | Wills, Toby | x |
| 3 | Daniels, Vianne | x |
| 4 | Jance, Colt | x |
| 5 | Oester, Ewan | x |
| 6 | Hall, Maranda | x |
| 7 | Theophilus, Mackenzie | x |
| 8 | Strothman, Michael | x |
| 9 | Hardman, Liam | x |
| 10 | Kaurin, Mac | x |
| 11 | Sullivan, Spencer | x |
| 12 | Bower, Hunter | x |
| 13 | Knudsen, Duke | x |
| 14 | Bower, Paytom | x |
| 15 | Rosales, Paul | x |
| 16 | Craig, Preston | x |
| 17 | Jennings, Jerry | x |
| 18 | Murphy, Joleigh | x |
| 19 | Martin, Andrew | x |
| 20 | Castellano, Cosmo | x |
| 21 | Wong, Makana | x |
| 22 | Wong, Aiden | x |
| 23 | | |