THE 2021 JBT TOURING PLAYERS' CHAMPIONSHIP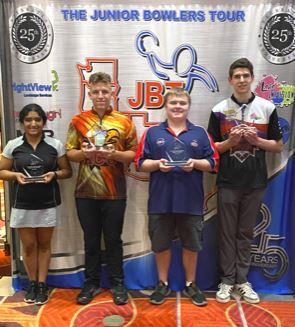 champs Aileen Linares (Girls Scratch), Brock Bivins (scratch), Logan Winchell (handicap), Bud Sicard (U17)
Click here or scroll below for complete TPC scores
Brock Bivins, Phoenix AZ, and Logan Winchell, Auburn WA, earned $2,000 scholarships each as champions of the 2021 JBT Touring Players' Championship, the most prestigious and final event of the 25th season of JBT competition, hosted by Strike Zone at Sunset Station in Henderson NV.
The best of the best from all four JBT conferences had to outlast their fellow qualifiers over 23 games on four different lane patterns to advance to the stepladder finals. In the scratch division, Bivins' 'brockets to the pocket' proved to be the answer on the very tough fourth pattern, as he mowed down three opponents in the stepladder finals. He began with a 180-162 win over Allex Zieg, and followed with a 202-175 win over Gael Egana to reach the final.
Top seed Makana Wong began the event with one of two 300s fired on the weekend (Louis Luna had the other), and held his lead through most of matchplay to gain the number one spot and need just one win to finally capture his first career JBT title. Unfortunately for Wong, an arm cramp early in the final hobbled him, but so did Brock, who relentlessly kept filling frames to not give his opponents a chance to recover from their mistakes. It was over early as Bivins cruised to the 203-157 win, first career major, and 4th career JBT title.
The handicap stepladder finals began with a thriller, as Benjamin Lang had just enough to squeeze by fan favorite DoHoon Kwon 214-213. Winchell then halted Lang 210-197 to advance to the title match against top seed Akayla Orosco.
Logan's week couldn't have started worse, as his father had a medical issue, but the story had a happy ending as not only was he able to quickly recover, but Winchell appeared to use the experience as motivation, putting up the best numbers of his JBT career. Akayla was rebounding from medical issues of her own, as a snowboarding accident and the covid shutdowns prevented her from getting anywhere near the practice she would have had heading into TPC, but you wouldn't know it as she was spectacular all week en route to the top seed. In the end, Logan made the shots he needed for the win, first career JBT title, and a total of $2,185 in scholarships on the week.
Our subdivisions had their own simultaneous TPC events. In U17, Oregon's Bud Sicard beat Arizona's Cesar Padilla, and in Girls Scratch it was Aileen Linares of Albuquerque repeating the 2019 TPC result with a win over San Diego's Katelyn Abigania. Each earned a $400 bonus for the wins.
Huge thanks goes to Jerry Francomano and the team at Sunset for another amazing job, as well as all our sponsors, vendors, and volunteers for making it a smooth and memorable week.
It all starts over again with season 26 of JBT competition beginning with the popular Desert Open- check out our schedule and be a part of it!
Touring Players Championship- top finishers and scholarship winners
7/25/2021
Scratch Division
rank
bowler
prize
1
Brock Bivins, Phoenix AZ
$2,000
2
Makana Wong, Tacoma WA
$1,030
3
Gael Egana, Chula Vista CA
$500
4
Allex Zieg, Placentia CA
$400
5
Cesar Padilla, Phoenix AZ
$515
6
Andrew Guba, Las Vegas NV
$450
7
Sebastian Huffman, Las Vegas NV
$175
8
Duncan Whitaker, Oak Harbor WA
$355
9
Bud Sicard, Milwaukie OR
$575
10
Cerell Cardines, Las Vegas NV
$803
11
Brad Harvey, Albuquerque NM
$269
12
Michael Marmolejo, Los Angeles CA
$160
13
Kenji London, Longview WA
$185
14
Elias O'Hollaren, San Diego CA
$252
15
Brandon Howard, Los Angeles CA
$100
16
Kyler Orosco, Agoura Hills, CA
$150
Handicap Division
1
Logan Winchell, Auburn WA
$2,185
2
Akayla Orosco, Agoura Hills CA
$1,020
3
Benjamin Lang, Bellevue WA
$575
4
DoHoon Kwon, Portland OR
$400
5
Caden Meliska, Phoenix AZ
$300
6
Peyton Lee, Mesa AZ
$384
7
Brockton Scotford, Mesa AZ
$275
8
Aiden Ruiz-Jimenez, Albuquerque NM
$150
9
Seth Martinez, Lubbock TX
$317
10
Carlos Estrada, Lubbock TX
$110
11
Aiden Wong, Tacoma WA
$115
12
Shelby Unger, Portland OR
$160
13
Jessica Curette, Federal Way WA
$350
14
Nathan Chambers, San Diego CA
$100
15
Tyler Castronova, Las Vegas NV
$100
16
Kieran Roth, Phoenix AZ
$100
TOTAL AWARDED THIS EVENT:
$21,470
FULL TPC EARNINGS:
| | | | | | | | | | | | | |
| --- | --- | --- | --- | --- | --- | --- | --- | --- | --- | --- | --- | --- |
| Bowler | TOTAL | TPC | Girls | U17 | brax | cons. | Dawg | Fri sweep | Thu sweep | Thx NV | Sports. | raffle |
| Abigania, Joshua | 125 | | | | | | | 125 | | | | |
| Abigania, Katelyn | 200 | | 200 | | | | | | | | | |
| Aczon-Kawamura, Kelcey | 20 | | | | | | | | | 20 | | |
| Alo, Daryus | 135 | | | | 15 | | | | 20 | 100 | | |
| Bardol, Jason | 250 | | | | | | | | 250 | | | |
| Bivins, Brock | 2000 | 2000 | | | | | | | | | | |
| Bollea, Kendall | 150 | | 100 | | 45 | | | | | | | 5 |
| Bower, Payton | 155 | | | | 30 | | | 125 | | | | |
| Cardines, Cerell | 803 | 100 | | | | | | 80 | 60 | 30 | 500 | 33 |
| Castronova, Tyler | 100 | 100 | | | | | | | | | | |
| Cdebaca, Toby | 15 | | | | 15 | | | | | | | |
| Chambers, Nathan | 100 | 100 | | | | | | | | | | |
| Cheesman, Emily | 20 | | | | | | | | 20 | | | |
| Craig, Preston | 100 | | | | | | | 100 | | | | |
| Curette, Jessica | 350 | 100 | | | | | | 250 | | | | |
| Delegarito, Gerilynn | 50 | | | | | | | | 50 | | | |
| Egana, Gael | 500 | 500 | | | | | | | | | | |
| Estrada, Carlos | 110 | 100 | | | | | | | | | | 10 |
| Fernandez, Gavin | 105 | | | | | | | | | 100 | | 5 |
| Fernandez, Hayden | 150 | | | | | 30 | 100 | | | 20 | | |
| Fuzie, Vanessa | 50 | | | | | | | | | 50 | | |
| Gatlin, Anna | 135 | | | | | | 75 | | 60 | | | |
| Gerencser, Joe | 110 | | | | | | 40 | | 70 | | | |
| Gootzeit, Jason | 294 | | | | 74 | 75 | | 20 | 125 | | | |
| Greim, Zach | 450 | | | | 60 | | 200 | | 190 | | | |
| Guba, Andrew | 450 | 200 | | | | | 100 | 50 | 80 | 20 | | |
| Hall, Maranda | 200 | | | | | | | | | | | 200 |
| Harvey, Brad | 269 | 100 | | | 149 | | | | | | | 20 |
| Harvey, Zach | 45 | | | | 45 | | | | | | | |
| Hill, Tim | 200 | | | | | | | 200 | | | | |
| Holman, Madison | 15 | | | | 15 | | | | | | | |
| Hong, Daniel | 40 | | | | | | | 40 | | | | |
| Hong, Stephanie | 230 | | | | | | | 225 | | | | 5 |
| Howard, Brandon | 100 | 100 | | | | | | | | | | |
| Huffman, Sebastian | 175 | 175 | | | | | | | | | | |
| Jance, Colt | 65 | | | | 15 | 50 | | | | | | |
| Jennings, Jerry | 20 | | | | | | 20 | | | | | |
| Kaurin, Mac | 20 | | | | | | | | 20 | | | |
| Kwon, DoHoon | 400 | 400 | | | | | | | | | | |
| Lampkin, Olivia | 20 | | | | | | | | | 20 | | |
| Lang, Benjamin | 575 | 500 | | | 75 | | | | | | | |
| Lee, Alexis | 40 | | | | | | 40 | | | | | |
| Lee, Garrett | 150 | | | | | | | 150 | | | | |
| Lee, Peyton | 384 | 200 | | | 59 | | 125 | | | | | |
| Linares, Aileen | 400 | | 400 | | | | | | | | | |
| London, Kenji | 185 | 100 | | | | | 80 | | | | | 5 |
| Mabry, Jadeyn | 45 | | | | 45 | | | | | | | |
| Marmolejo, Michael | 160 | 100 | | | | | | 60 | | | | |
| Martin, Halie | 500 | | | | | | | | | | 500 | |
| Martinez, Seth | 317 | 125 | | | 132 | | | 60 | | | | |
| Mayes, Chris | 8 | | | | 8 | | | | | | | |
| McDugle, Alena | 35 | | | | 15 | | | 20 | | | | |
| Meliska, Caden | 300 | 300 | | | | | | | | | | |
| Meyer, Max | 100 | | | | | 100 | | | | | | |
| Molloy, Josh | 240 | | | | 30 | | 60 | 50 | 100 | | | |
| Morgan, Tyler | 75 | | | | | 75 | | | | | | |
| Najera, Desiree | 30 | | | | | | | | | 30 | | |
| Nakunz, Bryce | 65 | | | | | | | 40 | | | | 25 |
| Nash, Austin | 20 | | | | | | | | | 20 | | |
| O'Hollaren, Elias | 252 | 100 | | 100 | 52 | | | | | | | |
| Orosco, Akayla | 1020 | 1000 | | | | | | | 20 | | | |
| Orosco, Kyler | 150 | 100 | | | | | | | 50 | | | |
| Padilla, Cesar | 515 | 300 | | 200 | 15 | | | | | | | |
| Paige, Mackenzie | 80 | | | | | | | | 80 | | | |
| Pendergrass, Conner | 175 | | | | | | | | 175 | | | |
| Purugganan, Brent | 305 | | | | | | 225 | 80 | | | | |
| Purugganan, Kaili | 15 | | | | 15 | | | | | | | |
| Rabb, Lucas | 70 | | | | | | | 70 | | | | |
| Raymond, Shaiden | 50 | | | | | | | 50 | | | | |
| Reed, Kyle | 49 | | | | 29 | | | 20 | | | | |
| Reid, Faythe | 20 | | | | | | | | | 20 | | |
| Romero, Angela | 40 | | | | | | 40 | | | | | |
| Roth, Kieran | 100 | 100 | | | | | | | | | | |
| Rother, Brandon | 85 | | | | 15 | 50 | | 20 | | | | |
| Ruiz-Jimenez, Aiden | 150 | 150 | | | | | | | | | | |
| Schmidt, Harper | 150 | | | | 90 | | | 30 | 30 | | | |
| Scotford, Brockton | 275 | 175 | | | | | | | 100 | | | |
| Sicard, Bud | 575 | 125 | | 400 | | | | | 50 | | | |
| Sicard, Mary | 20 | | | | | | | | 20 | | | |
| Simmons, Chase | 29 | | | | 29 | | | | | | | |
| Snow, Mason | 70 | | | | | | | | 20 | 50 | | |
| Strothman, Michael | 150 | | | | | 150 | | | | | | |
| Todeschi, CJ | 50 | | | | | 50 | | | | | | |
| Unger, Shelby | 160 | 100 | | | 60 | | | | | | | |
| Wallin, Lailani | 150 | | | | | 150 | | | | | | |
| Whitaker, Duncan | 355 | 150 | | | | | | | 200 | | | 5 |
| Wilcox, Kailee | 20 | | | | | | | | 20 | | | |
| Wilcox, Kierra | 85 | | | | 15 | | | | 70 | | | |
| Wills, Toby | 100 | | | | | | | 100 | | | | |
| Winchell, Logan | 2185 | 2000 | | | 75 | | | 70 | 40 | | | |
| Wong, Aiden | 115 | 100 | | | 15 | | | | | | | |
| Wong, Makana | 1030 | 1000 | | | 30 | | | | | | | |
| Ylvisaker, Keith | 100 | | | | | 100 | | | | | | |
| Zeutenhorst, Bryan | 20 | | | | | | | 20 | | | | |
| Zieg, Allex | 400 | 400 | | | | | | | | | | |
| TOTALS | 21470 | 11100 | 700 | 700 | 1267 | 830 | 1105 | 2055 | 1920 | 480 | 1000 | 313 |
SCRATCH SEMIFINALS:
| | | | | | | | | | | | | | |
| --- | --- | --- | --- | --- | --- | --- | --- | --- | --- | --- | --- | --- | --- |
| | 2021 TPC- scratch | | | | | | | | | | | | |
| | semifinals | | | | | | | | | | | | |
| | | | | | | | | | | | | | |
| started | BOWLER | total | gm 1 | gm 2 | gm 3 | gm 4 | gm 5 | gm 6 | gm 7 | gm 8 | wins | TOTAL | score |
| 1 | Wong, Makana | 3593 | 214 | 136 | 171 | 206 | 181 | 140 | 176 | 241 | 3 | 5148 | 548 |
| 2 | Whitaker, Duncan | 3573 | 171 | 184 | 184 | 137 | 145 | 180 | 148 | 167 | 2 | 4949 | 349 |
| 3 | Guba, Andrew | 3504 | 181 | 171 | 183 | 118 | 171 | 191 | 199 | 143 | 5 | 5011 | 411 |
| 4 | Egana, Gael | 3425 | 175 | 204 | 201 | 218 | 219 | 186 | 173 | 161 | 6 | 5142 | 542 |
| 5 | Padilla, Cesar (ex) | 3424 | 240 | 171 | 145 | 178 | 209 | 187 | 173 | 173 | 4 | 5020 | 420 |
| 6 | Cardines, Cerell (ex) | 3424 | 173 | 196 | 194 | 150 | 156 | 188 | 165 | 154 | 3 | 4890 | 290 |
| 7 | Harvey, Brad | 3375 | 174 | 188 | 160 | 197 | 202 | 167 | 146 | 187 | 2 | 4856 | 256 |
| 8 | Huffman, Sebastian (ex) | 3352 | 182 | 183 | 195 | 203 | 158 | 177 | 216 | 190 | 4 | 4976 | 376 |
| 9 | Bivins, Brock (ex) | 3349 | 203 | 167 | 204 | 182 | 214 | 184 | 190 | 180 | 6 | 5053 | 453 |
| 10 | Sicard, Bud (ex) | 3349 | 162 | 201 | 195 | 172 | 170 | 148 | 169 | 202 | 5 | 4918 | 318 |
| 11 | Zieg, Allex | 3339 | 209 | 198 | 189 | 189 | 180 | 191 | 157 | 201 | 6 | 5033 | 433 |
| 12 | Marmolejo, Michael | 3333 | 171 | 140 | 205 | 176 | 144 | 176 | 189 | 137 | 2 | 4731 | 131 |
HANDICAP SEMIFINALS:
| | | | | | | | | | | | | | |
| --- | --- | --- | --- | --- | --- | --- | --- | --- | --- | --- | --- | --- | --- |
| | 2021 TPC - handicap | | | | | | | | | | | | |
| | semifinals | | | | | | | | | | | | |
| | | | | | | | | | | | | | |
| started | BOWLER | TOTAL | gm 1 | gm 2 | gm 3 | gm 4 | gm 5 | gm 6 | gm 7 | gm 8 | wins | TOTAL | score |
| 1 | Orosco, Akayla | 3464 | 250 | 241 | 232 | 208 | 224 | 217 | 223 | 233 | 4 | 5412 | 812 |
| 2 | Winchell, Logan | 3448 | 212 | 251 | 211 | 199 | 221 | 228 | 178 | 219 | 4.5 | 5302 | 702 |
| 3 | Wong, Aiden | 3392 | 207 | 187 | 198 | 210 | 178 | 192 | 202 | 187 | 3.5 | 5058 | 458 |
| 4 | Lang, Benjamin | 3391 | 201 | 203 | 216 | 200 | 233 | 241 | 240 | 219 | 4 | 5264 | 664 |
| 5 | Martinez, Seth | 3360 | 228 | 181 | 175 | 239 | 199 | 270 | 197 | 233 | 3 | 5172 | 572 |
| 6 | Estrada, Carlos | 3347 | 169 | 146 | 214 | 192 | 261 | 228 | 179 | 221 | 4 | 5077 | 477 |
| 7 | Ruiz-Jimenez, Aiden (ex) | 3347 | 212 | 228 | 202 | 204 | 238 | 194 | 233 | 243 | 2.5 | 5176 | 576 |
| 8 | Kwon, DoHoon (ex) | 3337 | 217 | 194 | 173 | 244 | 241 | 225 | 244 | 235 | 6 | 5290 | 690 |
| 9 | Lee, Peyton | 3337 | 224 | 184 | 198 | 218 | 248 | 216 | 192 | 237 | 4.5 | 5189 | 589 |
| 10 | Meliska, Caden | 3336 | 204 | 208 | 240 | 224 | 268 | 209 | 168 | 223 | 4 | 5200 | 600 |
| 11 | Scotford, Brockton | 3332 | 197 | 189 | 239 | 238 | 177 | 230 | 204 | 229 | 5 | 5185 | 585 |
| 12 | Unger, Shelby | 3327 | 214 | 162 | 202 | 204 | 210 | 228 | 195 | 207 | 3 | 5039 | 439 |
SCRATCH QUARTERFINALS:
2021 TPC- scratch
Sunday 9 AM quarterfinals
scores include 30 pin bonus for matchplay wins
RANK
BOWLER
rd 2 total
gm 11
gm 12
gm 13
gm 14
gm 15
total
+ / -
1
Wong, Makana
2310
287
248
256
246
246
3593
593
2
Whitaker, Duncan
2254
266
249
251
267
286
3573
573
3
Guba, Andrew
2230
296
277
264
160
277
3504
504
4
Egana, Gael
2277
226
222
203
234
263
3425
425
5
Cardines, Cerell (ex)
2368
202
274
217
169
194
3424
424
6
Padilla, Cesar (ex)
2234
256
201
175
297
261
3424
424
7
Harvey, Brad
2183
256
255
231
185
265
3375
375
8
Huffman, Sebastian (ex)
2076
253
288
238
222
275
3352
352
9
Bivins, Brock (ex)
2183
212
284
261
233
176
3349
349
10
Sicard, Bud (ex)
2183
288
196
218
200
264
3349
349
11
Zieg, Allex
2201
285
156
222
244
231
3339
339
12
Marmolejo, Michael
2151
286
217
253
246
180
3333
333
13
London, Kenji
2200
201
235
230
203
261
3330
330
14
O'Hollaren, Elias (ex)
2205
171
240
275
225
190
3306
306
15
Howard, Brandon
2070
212
310
247
203
262
3304
304
16
Orosco, Kyler
2216
181
242
185
245
224
3293
293
17
Hong, Daniel (ex)
2107
202
245
212
287
222
3275
275
18
Chin, Leoj
2076
241
249
200
228
255
3249
249
19
Greim, Zach (ex)
2201
155
278
185
185
223
3227
227
20
Molloy, Joshua
2091
200
277
267
182
206
3223
223
21
Luna, Louis
2158
244
205
237
168
208
3220
220
22
Reed, Kyle
2130
213
213
206
254
203
3219
219
23
Harvey, Zach
2159
214
243
255
168
175
3214
214
24
Kaurin, Mac
2174
192
163
160
308
205
3202
202
25
Uribarri, Daunte
2064
260
159
192
258
254
3187
187
26
Abigania, Katelyn
2068
220
214
224
190
253
3169
169
27
Mayes, Chris (ex)
2121
171
210
210
189
255
3156
156
28
Rodas, Ardani
1998
276
204
266
188
220
3152
152
29
Adragna, Mathew
1943
257
252
230
183
277
3142
142
30
Mayes, Hunter (ex)
1964
201
166
238
309
246
3124
124
31
Hull, Hayden
2060
180
261
191
200
230
3122
122
32
Abigania, Joshua
1976
276
202
256
227
178
3115
115
33
McGowan, Skyler (ex)
2069
316
168
152
215
183
3103
103
34
Lee, Garrett
2035
194
264
184
213
210
3100
100
35
Linares, Aileen
1955
188
289
256
189
223
3100
100
36
Cdebaca, Toby
1926
232
268
224
230
199
3079
79
37
Greene, Miya
1972
239
219
221
199
226
3076
76
38
Reese, Dawson
2095
182
117
250
242
179
3065
65
39
Craig, Preston
1992
260
242
161
205
203
3063
63
40
Chin, Elijah
1941
190
287
215
256
166
3055
55
41
Stovall, Seth
1916
204
194
243
234
264
3055
55
42
Hernandez, Noel
1988
235
250
179
188
214
3054
54
43
Davis, Will
2061
237
178
202
196
177
3051
51
44
Hill, Tim
2054
158
146
245
173
267
3043
43
45
Jennings, Jerry
2119
252
178
141
170
181
3041
41
46
Coates, Tyler (ex)
1915
277
253
200
209
133
2987
-13
47
Holman, Madison
1974
213
201
136
225
223
2972
-28
48
Alo, Daryus
1979
204
173
158
262
181
2957
-43
49
Kaboli, Jamison
2019
165
254
164
137
172
2911
-89
50
Cheesman, Emily
1909
181
134
221
183
172
2800
-200
HANDICAP QUARTERFINALS:
| | | | | | | | | |
| --- | --- | --- | --- | --- | --- | --- | --- | --- |
| | 2021 TPC - handicap | | | | | | | |
| | Sunday 9 AM quarterfinals | | | | | | | |
| | scores include 30 bonus pins for matchplay wins | | | | | | | |
| | | | | | | | | |
| RANK | BOWLER | gm 11 | gm 12 | gm 13 | gm 14 | gm 15 | TOTAL | + / - |
| 1 | Orosco, Akayla | 263 | 252 | 212 | 261 | 273 | 3464 | 464 |
| 2 | Winchell, Logan | 252 | 198 | 187 | 236 | 203 | 3448 | 448 |
| 3 | Wong, Aiden | 240 | 187 | 237 | 291 | 259 | 3392 | 392 |
| 4 | Lang, Benjamin | 280 | 256 | 268 | 207 | 262 | 3391 | 391 |
| 5 | Martinez, Seth | 203 | 284 | 268 | 225 | 164 | 3360 | 360 |
| 6 | Estrada, Carlos | 256 | 228 | 175 | 253 | 260 | 3347 | 347 |
| 7 | Ruiz-Jimenez, Aiden (ex) | 262 | 199 | 225 | 271 | 295 | 3347 | 347 |
| 8 | Kwon, DoHoon (ex) | 255 | 204 | 286 | 255 | 168 | 3337 | 337 |
| 9 | Lee, Peyton | 236 | 284 | 253 | 242 | 240 | 3337 | 337 |
| 10 | Meliska, Caden | 183 | 269 | 280 | 190 | 245 | 3336 | 336 |
| 11 | Scotford, Brockton | 252 | 191 | 259 | 197 | 239 | 3332 | 332 |
| 12 | Unger, Shelby | 268 | 221 | 185 | 242 | 187 | 3327 | 327 |
| 13 | Curette, Jessica | 198 | 268 | 230 | 269 | 250 | 3321 | 321 |
| 14 | Chambers, Nathan | 198 | 288 | 195 | 216 | 283 | 3310 | 310 |
| 15 | Castronova, Tyler (ex) | 174 | 161 | 265 | 241 | 176 | 3295 | 295 |
| 16 | Roth, Kieran | 298 | 247 | 259 | 250 | 179 | 3289 | 289 |
| 17 | Lee, Alexis | 184 | 290 | 226 | 226 | 192 | 3281 | 281 |
| 18 | Bove, Cuzack | 270 | 180 | 248 | 189 | 244 | 3278 | 278 |
| 19 | Bower, Payton | 238 | 241 | 283 | 235 | 185 | 3273 | 273 |
| 20 | Bollea, Kendall (ex) | 237 | 261 | 274 | 199 | 263 | 3271 | 271 |
| 21 | Dickson, Coy | 173 | 285 | 140 | 274 | 244 | 3225 | 225 |
| 22 | Hall, Maranda | 188 | 216 | 205 | 180 | 251 | 3205 | 205 |
| 23 | Schmidt, Harper | 219 | 257 | 186 | 151 | 233 | 3201 | 201 |
| 24 | McDugle, Alena | 201 | 194 | 251 | 203 | 233 | 3195 | 195 |
| 25 | Marquez, Koryn | 215 | 252 | 229 | 185 | 269 | 3190 | 190 |
| 26 | Sicard, Mary | 241 | 211 | 213 | 274 | 229 | 3189 | 189 |
| 27 | Luna, Elias | 194 | 237 | 233 | 232 | 239 | 3175 | 175 |
| 28 | Raymond, Shaiden | 209 | 202 | 249 | 265 | 183 | 3173 | 173 |
| 29 | McGough, Jacob | 202 | 230 | 189 | 223 | 202 | 3163 | 163 |
| 30 | Carlson, Joshua (ex) | 187 | 273 | 258 | 239 | 185 | 3146 | 146 |
| 31 | Delegarito, Gerilynn | 236 | 197 | 178 | 285 | 193 | 3145 | 145 |
| 32 | Pimentel, Ryland (ex) | 219 | 252 | 261 | 180 | 222 | 3138 | 138 |
| 33 | Chin, Lathan | 238 | 177 | 232 | 208 | 239 | 3137 | 137 |
| 34 | Ellis, Jacob (ex) | 213 | 257 | 216 | 218 | 225 | 3133 | 133 |
| 35 | Meyer, Quintin | 224 | 212 | 296 | 200 | 173 | 3125 | 125 |
| 36 | Wilcox, Kierra | 230 | 232 | 169 | 220 | 186 | 3122 | 122 |
| 37 | Zeutenhorst, Bryan | 190 | 167 | 249 | 177 | 252 | 3121 | 121 |
| 38 | Pendergrass, Conner | 233 | 219 | 157 | 273 | 204 | 3117 | 117 |
| 39 | Bell, Connor | 180 | 195 | 262 | 179 | 284 | 3112 | 112 |
| 40 | Chalmers, Danny | 180 | 211 | 231 | 260 | 182 | 3096 | 96 |
| 41 | Purugganan, Brent | 156 | 182 | 280 | 196 | 238 | 3081 | 81 |
| 42 | Nakunz, Bryce | 163 | 156 | 165 | 175 | 228 | 3072 | 72 |
| 43 | Purugganan, Kaili | 161 | 183 | 241 | 171 | 191 | 3039 | 39 |
| 44 | Baker, Gage | 170 | 261 | 170 | 239 | 143 | 3035 | 35 |
| 45 | Chalmers, Piper | 199 | 211 | 201 | 179 | 189 | 3035 | 35 |
| 46 | Hammer, Kaitlyn (ex) | 220 | 188 | 233 | 165 | 223 | 3033 | 33 |
| 47 | Silva, Ian | 217 | 154 | 195 | 219 | 181 | 3032 | 32 |
| 48 | Mabry, Jadeyn (ex) | 181 | 223 | 209 | 233 | 154 | 3031 | 31 |
| 49 | O'Dell, Kayden | 166 | 263 | 218 | 190 | 168 | 3021 | 21 |
| 50 | Fernandez, Gavin (ex) | 206 | 167 | 202 | 244 | 196 | 3019 | 19 |
| 51 | Kielich, Kloey (ex) | 187 | 229 | 194 | 214 | 190 | 3018 | 18 |
| 52 | Wilcox, Kailee | 158 | 190 | 192 | 246 | 217 | 3018 | 18 |
| 53 | Greim, Lindsay (ex) | 257 | 159 | 215 | 183 | 192 | 3010 | 10 |
| 54 | Theophilus, Mackenzie (ex) | 187 | 143 | 154 | 193 | 246 | 2927 | -73 |
SCRATCH QUALIFYING:
2021 TPC- scratch
38 bowlers plus the 12 exempt qualify for Sunday 9 AM quarterfinals
RANK
BOWLER
gm 6
gm 7
gm 8
gm 9
gm 10
TOTAL
+ / -
1
Cardines, Cerell (ex)
243
192
240
248
220
2368
368
2
Wong, Makana
204
204
254
226
279
2310
310
3
Egana, Gael
222
232
226
254
203
2277
277
4
Whitaker, Duncan
248
175
192
256
245
2254
254
5
Padilla, Cesar (ex)
232
218
204
187
179
2234
234
6
Guba, Andrew
216
252
171
218
175
2230
230
7
Orosco, Kyler
226
255
298
189
245
2216
216
8
O'Hollaren, Elias (ex)
209
248
246
208
195
2205
205
9
Greim, Zach (ex)
214
225
214
245
169
2201
201
10
Zieg, Allex
230
235
218
215
178
2201
201
11
London, Kenji
212
225
192
236
189
2200
200
12
Harvey, Brad
225
199
222
216
216
2183
183
13
Sicard, Bud (ex)
242
214
234
191
238
2183
183
14
Bivins, Brock (ex)
233
191
257
178
269
2183
183
15
Kaurin, Mac
226
234
163
183
172
2174
174
16
Harvey, Zach
178
237
224
159
242
2159
159
17
Luna, Louis
300
214
195
166
199
2158
158
18
Marmolejo, Michael
212
268
203
216
194
2151
151
19
Reed, Kyle
227
237
223
223
211
2130
130
20
Mayes, Chris (ex)
228
182
192
277
196
2121
121
21
Jennings, Jerry
181
190
200
246
197
2119
119
22
Hong, Daniel (ex)
206
258
183
204
202
2107
107
23
Reese, Dawson
237
206
224
169
232
2095
95
24
Molloy, Joshua
198
226
203
223
197
2091
91
25
Huffman, Sebastian (ex)
161
205
158
248
195
2076
76
26
Chin, Leoj
230
210
162
180
232
2076
76
27
Howard, Brandon
160
163
209
165
175
2070
70
28
McGowan, Skyler (ex)
236
183
224
232
170
2069
69
29
Abigania, Katelyn
196
224
166
174
199
2068
68
30
Uribarri, Daunte
215
182
225
264
211
2064
64
31
Davis, Will
184
192
171
267
212
2061
61
32
Hull, Hayden
194
172
202
194
234
2060
60
33
Hill, Tim
214
191
224
195
211
2054
54
34
Lee, Garrett
221
183
231
223
183
2035
35
35
Kaboli, Jamison
269
213
212
165
163
2019
19
36
Rodas, Ardani
145