2023 TOURING PLAYERS CHAMPIONSHIP
(scroll below for full scores and everything else!)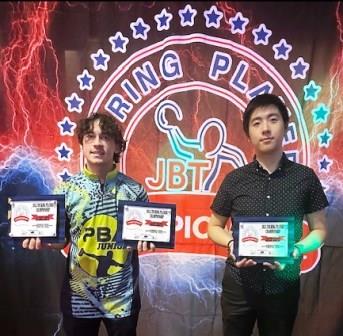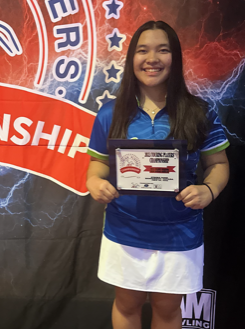 champs Elias O'Hollaren, Benjamin Lang, & Avery Domaguin
Elias O'Hollaren and Avery Domaguin, both of San Diego CA, and Benjamin Lang of Bellevue WA, captured our most prestigious titles at the 2023 JBT Touring Players Championship, hosted by Strike Zone at Sunset Station in Henderson, NV.
After twenty games of grueling bowling on four different patterns, four scratch and handicap bowlers, and three U17 and girls scratch bowlers, advanced to their stepladder finals. In the scratch division, Andrew Guba won round one over Sebastian Huffman in a battle of Las Vegans 212-179. In the semifinal, O'Hollaren not only ended Guba's run but his JBT career, as he beat him 221-197. Andrew finishes with a dominant 11-win season Tour-wide, coasting to scratch All-Conference Bowler of the Year in his final season of eligibility.
Top qualifier and fellow Californian Michael Marmolejo had edged Elias by just eight pins for the number one spot, and was looking to consolidate his So Cal Invitational win with back to back majors. However, he could not consistently find the carry he needed on the tough pattern, while O'Hollaren's late string was plenty for a 213-179 final decision and the TPC title, the 11th of his still-young JBT career.
Another California bowler, Ezekiel De Guzman, began the handicap finals with a win over Arizona's Evelynn Bollea. British Columbia's Annabelle Chui brought the international flair to the finals, but could not find the carry, as De Guzman won that match to advance to the finals. Benjamin Lang has gone a few years since his last win, but had a breakout tournament to qualify first for the semifinals, and hang on to that spot for the stepladder. The title match was lower scoring and came down to the final frame. When Ezekiel did not convert his tenth frame spare, it was heartbreak for De Guzman and elation for Lang, who claimed the TPC crown and $2,500 scholarship prize.
Defending champion Koryn Marquez looked to make it two in a row in Girls Scratch with a semifinal win over rapidly rising star Tamia Yeager. Top seed Avery Domaguin had other ideas though, as the spectacular San Diegan beat Koryn for the title and $400 top scholarship prize in addition to her many other accolades.
U17 was often redundant in a good way this year as some of our best Tour-wide happened to be in this age bracket, and the TPC was no exception as all three U17 finalists made the regular scratch top 12. O'Hollaren beat Bud Sicard in a rematch from last year, to get to top seed Daryus Alo. Elias beat Daryus in a well-bowled final, and the extra $400 sent O'Hollaren into a cosmic level, earning a gigantic $3,245 total on the weekend!
Our Celebration Dinner- aka 'bowling Prom'- was another night to remember. Along with all the other honors, Toby Wills was presented the Jon Baker Sportsmanship Award, and Tamia Yeager and Ian Silva earned the "You Are Bowling" scholarship from title sponsor IAM bowling.
A TPC record $25,930 was awarded at TPC, bringing the total awarded during our huge season 27 to a record $300,000+ to bowlers of ALL skill levels and ages from all over the western United States. Thanks again to the Brands of Brunswick and all our sponsors for making this possible, and the bowlers and families that attend for making the Tour what it is. An even bigger and better season 28 is just around the corner- check out our schedule and come on down!
2023 TPC- Final Standings
7/30/23
| | | | | | | | | | | | | | |
| --- | --- | --- | --- | --- | --- | --- | --- | --- | --- | --- | --- | --- | --- |
| rank | bowler | | TPC | U17 | Girls | Brax. | Thu. | Fri. | Dawg | Cons. | Baker | Elite | TOTAL |
| 1 | O'Hollaren, Elias | CA | 2500 | 400 | | 45 | 200 | | 80 | | | 20 | 3245 |
| 2 | Marmolejo, Michael | CA | 1300 | | | | | | | | | | 1300 |
| 3 | Guba, Andrew | NV | 800 | | | | 90 | | 40 | | | 100 | 1030 |
| 4 | Huffman, Sebastian | WV | 600 | | | 105 | | | | | | 20 | 725 |
| 5 | Sicard, Bud | OR | 400 | 100 | | | | 100 | | | | 20 | 620 |
| 6 | Padilla, Cesar | AZ | 300 | | | 60 | 80 | | | | | 30 | 470 |
| 7 | London, Kenji | WA | 200 | | | | | | 60 | | | | 260 |
| 8 | Stovall, Seth | NV | 150 | | | | 30 | | | | | | 180 |
| 9 | Kaurin, Mac | WA | 125 | | | | | | | | | | 125 |
| 10 | Ylvisaker, Keith | AZ | 100 | | | | | | | | | 20 | 120 |
| 11 | Alo, Daryus | NV | 100 | 200 | | | | | | | | 20 | 320 |
| 12 | Hardman, Liam | WA | 100 | | | | 40 | | | | | 200 | 340 |
| 13 | Jodoin, Adam | BC | 100 | | | | | 150 | | | | 20 | 270 |
| 14 | Tidball, Nathan | CA | 100 | | | 105 | | | | | | 20 | 225 |
| 15 | Rother, Brandon | CA | 100 | | | | | | | | | 40 | 140 |
| 16 | Uribarri, Daunte | TX | 100 | | | | | | | | | | 100 |
| 17 | Domaguin, Avery | CA | | | 400 | | 60 | 50 | 150 | | | 20 | 680 |
| 18 | Abigania, Josh | CA | | | | | | | 100 | | | 50 | 150 |
| 19 | Erickson, Justin | CA | | | | 30 | | | | | | | 30 |
| 20 | Orosco, Kyler | CA | | | | | | | | | | | 0 |
| 21 | Hong, Daniel | CA | | | | | | 200 | | | | | 200 |
| 22 | Matherly, Cayden | AZ | | | | | | | | | | | 0 |
| 23 | Fernandez, Gavin | NV | | | | | | | 50 | | | | 50 |
| 24 | Estrada, Carlos (X) | TX | | | | | | | 300 | | | | 300 |
| 25 | Bryant, Amarr | AZ | | | | | | 20 | | | | | 20 |
| 26 | Griffin, JP | NV | | | | | | | | | | | 0 |
| 27 | Bell, Quinten | AZ | | | | | | | | | | | 0 |
| 28 | Chalmers, Danny | WA | | | | | | | | | | | 0 |
| 29 | Wills, Toby | WA | | | | | 70 | 20 | | | 500 | | 590 |
| 30 | Bobersky, Brendan | AZ | | | | 15 | | | | | | | 15 |
| 31 | Simperman, Charlie | WA | | | | | 200 | | | | | | 200 |
| 32 | Sicard, Noah | OR | | | | | | | | | | | 0 |
| 33 | Nakunz, Bryce | CA | | | | | | | | | | | 0 |
| 34 | Richardson, Dmitri | CO | | | | | | | | | | | 0 |
| 35 | Montoya, Dominic | NV | | | | | 20 | 80 | | | | | 100 |
| 36 | Calica, Aaron | CA | | | | | | | | | | | 0 |
| 37 | Fernandez, Hayden | NV | | | | | | | | | | | 0 |
| 38 | Molloy, Joshua | AZ | | | | | | | | | | 30 | 30 |
| 39 | Sexton, Braxton | AZ | | | | | | | | | | | 0 |
| 40 | Castronova, Tyler | NV | | | | | | 40 | | | | 20 | 60 |
| 41 | Bivins, Brock | AZ | | | | | | | | | | 30 | 30 |
| 42 | Lellos, Chris | NV | | | | | | | | | | | 0 |
| 43 | Keller, Grant | AZ | | | | | | | | | | | 0 |
| 44 | Bollea, Kendall | AZ | | | | 30 | | | | | | 40 | 70 |
| 45 | McElroy, Benaiah | CA | | | | | | | | | | | 0 |
| 46 | Schmidt, Harper | AZ | | | | | | | | | | 20 | 20 |
| 47 | Davis, Will | NM | | | | 15 | | | | | | | 15 |
| 48 | Jance, Colt | WA | | | | | | | | | | | 0 |
| 49 | Lawrence, Thomas | CO | | | | | | | | | | | 0 |
| 50 | Workman, Payton | AZ | | | | | | | | | | | 0 |
| 51 | Chalmers, Piper | WA | | | | | | | | | | | 0 |
| 52 | Mabry, Jadeyn | AZ | | | | | | | | | | | 0 |
| 53 | Sicard, Mary | OR | | | | | | | | 100 | | | 100 |
| 54 | Lawrence, Robert | CO | | | | | | | | | | | 0 |
| 55 | Barczyszyn, JR | NV | | | | 45 | | 60 | | | | 20 | 125 |
| 56 | Coleman, Aaron | TX | | | | | | | | 60 | | | 60 |
| 57 | Romero, Derick | NM | | | | | | | | | | | 0 |
| 58 | Sager, Andrew | AZ | | | | | | | | | | | 0 |
| 59 | Silva, Ian | NM | | | | | | | | | | | 0 |
| 60 | Ruehlen, Joshua | CO | | | | | | | | 20 | | | 20 |
| 61 | Snow, Mason | NV | | | | | | | | 40 | | | 40 |
| 62 | Ruiz-Jimenez, Aiden | NM | | | | | | | | 200 | | | 200 |
| 63 | Wong, Aiden | WA | | | | | | | | | | | 0 |
| 64 | Purugganan, Brent | CA | | | | | | | | | | | 0 |
| 65 | Gootzeit, Jason | AZ | | | | | | | | | | | 0 |
| 66 | Donahue, Dylan | AZ | | | | | | 50 | | | | 20 | 70 |
| 67 | Zeutenhorst, Bryan | WA | | | | | | | | | | | 0 |
| 68 | Burnett, Joshua | NM | | | | | | | | | | | 0 |
| 69 | Alo, Gyrus | NV | | | | | | | | | | | 0 |
| 70 | Zent, Ryan | AZ | | | | | | | | | | | 0 |
| 71 | Romine, Tyler | NM | | | | | | | | | | | 0 |
| 72 | Romero, Donovan | NM | | | | | | | | | | | 0 |
| x | Marquez, Koryn | | | | 200 | | 25 | | | | | | 225 |
| x | King, Hayden | | | | | | | 20 | | | | | 20 |
| | | | | | | | | | | | | | |
| rank | bowler | | TPC | U17 | Girls | Brax. | Thu. | Fri. | Dawg | Cons. | Baker | Elite | TOTAL |
| 1 | Lang, Benjamin | WA | 2500 | | | | | | | | | | 2500 |
| 2 | De Guzman, Ezekiel | CA | 1300 | | | | 38 | 300 | | | | | 1638 |
| 3 | Chui, Anabelle | BC | 800 | | | | | 60 | | | | | 860 |
| 4 | Bollea, Evelynn | AZ | 600 | | | 15 | | 80 | | | | 40 | 735 |
| 5 | Kankariya, Jai | CA | 400 | | | 299 | 120 | 38 | 70 | | | 20 | 947 |
| 6 | Trevethan, Charles | WA | 300 | | | 60 | | | | | | | 360 |
| 7 | Roth, Kieran | AZ | 200 | | | | 55 | | | | | 20 | 275 |
| 8 | Weed, Jason | CA | 150 | | | 30 | | | | | | | 180 |
| 9 | Sham, Caden | CA | 125 | | | 75 | | | | | | 20 | 220 |
| 10 | Strange, Eddie | WA | 100 | | | | 180 | 150 | | | | 20 | 450 |
| 11 | Yeager, Tamia | WA | 100 | | 100 | 75 | | | | | | | 275 |
| 12 | Toberer, Asher | AZ | 100 | | | | | | | | | | 100 |
| 13 | Kankariya, Neel | CA | 100 | | | | 70 | 20 | 100 | | | 20 | 310 |
| 14 | Torres, Eddie | CA | 100 | | | | | 20 | | | | | 120 |
| 15 | McDugle, Alena | WA | 100 | | | 15 | | | | | | | 115 |
| 16 | Todacheenie, Xaden | NM | 100 | | | | 20 | | 60 | | | 30 | 210 |
| 17 | Pino, Isaiah | AZ | | | | | | | | | | | 0 |
| 18 | Tiquia, Jazel | WA | | | | 44 | | | | | | | 44 |
| 19 | Montoya, Devin | NV | | | | | | | 50 | | | | 50 |
| 20 | Nash, Austin | NV | | | | | 55 | | | | | 20 | 75 |
| 21 | Chambers, Ethan | CA | | | | | | | | | | 20 | 20 |
| 22 | Torres, Max | CA | | | | | | 45 | | | | | 45 |
| 23 | Massengale, Tasia | NV | | | | | | | | | | | 0 |
| 24 | Lee, Peyton | AZ | | | | 45 | | | | | | 200 | 245 |
| 25 | Bowman-Brinar, Hannah | WA | | | | | | | | | | | 0 |
| 26 | Gutierrez, Jesus | CA | | | | | | | | | | | 0 |
| 27 | Winemiller, Samuel | AZ | | | | | | | | | | | 0 |
| 28 | Unger, Shelby | WA | | | | 60 | 75 | | | | | | 135 |
| 29 | Vandeventer, Mason | CO | | | | | 30 | | | | | | 30 |
| 30 | Thompson, Austin | WA | | | | | | 25 | 40 | | | 20 | 85 |
| 31 | Coates, Terrell | AZ | | | | | | | | | | | 0 |
| 32 | Purugganan, Garrett | CA | | | | 30 | | | | | | | 30 |
| 33 | Tiquia, Laelah | WA | | | | 15 | 45 | | | | | | 60 |
| 34 | Curette, Jessica | WA | | | | | | | | | | | 0 |
| 35 | McGough, James | CA | | | | | | | | | | | 0 |
| 36 | Hunt, Araceli | AZ | | | | | | | | | | | 0 |
| 37 | Harnit, Nathan | CA | | | | | | | | | | 40 | 40 |
| 38 | Garcia, Anthony | CA | | | | | | | | | | | 0 |
| 39 | Purugganan, Kaili | CA | | | | 30 | 90 | 30 | 30 | | | | 180 |
| 40 | London, Abigail | AZ | | | | | | | | | | | 0 |
| 41 | Gaines, Paityn | AZ | | | | | | | | | | | 0 |
| 42 | Smith, Sterling | NV | | | | | | | | | | | 0 |
| 43 | Kielich, Kloey | TX | | | | 15 | | | | | | 30 | 45 |
| 44 | Pointon, RJ | AZ | | | | | | | | | | 20 | 20 |
| 45 | Lopes, Tyson | NV | | | | | | | | | | | 0 |
| 46 | Gregson, Bryan | NV | | | | | | | | | | | 0 |
| 47 | Abigania, Jon | CA | | | | | | | | | | 50 | 50 |
| 48 | Evans, Zackary | AZ | | | | | | | | | | 20 | 20 |
| 49 | Harnit, Nicholas | CA | | | | | | | | | | 50 | 50 |
| 50 | Baker, Gage | CA | | | | | 100 | | | | | 100 | 200 |
| 51 | Sager, Cameron | AZ | | | | | | | | | | 20 | 20 |
| 52 | DeMerritt, Peyton | NM | | | | | 20 | | | | | 20 | 40 |
| 53 | John, Ivan | NM | | | | | | | | | | | 0 |
| 54 | Tang, Nathan | BC | | | | 15 | | | | | | | 15 |
| 55 | Hunt, Abigail | AZ | | | | | | | | | | | 0 |
| 56 | Lucas, Lyle | WA | | | | | | | | | | | 0 |
| 57 | King, Jake | AZ | | | | | | | | | | 30 | 30 |
| 58 | Wilson, Rebacca | TX | | | | | | | | | | | 0 |
| 59 | Nickolson, Dayton | WA | | | | | | 225 | | | | | 225 |
| 60 | Richards, Kaitlyn | WA | | | | | | | | | | | 0 |
| 61 | Chin, Lathan | CA | | | | | | | | 40 | | | 40 |
| 62 | McGough, Hannah | CA | | | | | | | | | | | 0 |
| 63 | Doolin, Braeden | NV | | | | | | | | | | | 0 |
| 64 | John, Isaac | NM | | | | | | | | | | | 0 |
| 65 | Macias, Jayden | CA | | | | 44 | | | | | | | 44 |
| 66 | Tonelete, Regis | CA | | | | | | | | | | | 0 |
| 67 | Cabanting, Kobe | OR | | | | | | 70 | | | | | 70 |
| 68 | Walters, Jade | WA | | | | | | | | 60 | | | 60 |
| 69 | McDugle, Thomas | WA | | | | | 80 | | | 100 | | | 180 |
| 70 | Clark, Mackenzi | OR | | | | | | | 325 | | | | 325 |
| 71 | Jones, Sawyer | WA | | | | | | | | | | | 0 |
| 72 | Wisthoff,Jordan | CO | | | | | 23 | | | | | | 23 |
| 73 | Enright, Jakob | NV | | | | | | | | | | | 0 |
| 74 | Belnap, Carson | NM | | | | | | | 175 | | | 20 | 195 |
| 75 | Lelli, Megan | WA | | | | 15 | | | | 20 | | | 35 |
| 76 | Abarca, Steve | NV | | | | | 38 | | | 200 | | | 238 |
| 77 | Pendergrass, Conner | AZ | | | | | | | | | | 30 | 30 |
| 78 | Glass, Thomas | AZ | | | | | | | | | | | 0 |
| 79 | Winemiller, Lily | AZ | | | | | | | | | | | 0 |
| 80 | Depew, Brenden | NM | | | | | | 20 | | 30 | | | 50 |
| 81 | Matthies, Land | NM | | | | | 400 | | | | | | 400 |
| 82 | Miric, Sara | NV | | | | | | | | | | | 0 |
| 83 | Cabanting, Keiden | OR | | | | | 65 | | | | | | 65 |
| 84 | Krause, Matthew | AZ | | | | | | | | | | | 0 |
| 85 | Williams, Hunter | CO | | | | | | | | | | | 0 |
| 86 | Coleman, Cameron | AZ | | | | | | | | | | | 0 |
| 87 | Rowe, Maddie | WA | | | | | | | | | | | 0 |
| 88 | Degenstein, Alaina | WA | | | | | | | | | | | 0 |
| 89 | Clark, Ryann | NV | | | | | 23 | | | | | | 23 |
| 90 | Simmons, Chase | CA | | | | | | | | | | 20 | 20 |
| 91 | Bravo, Nathan | AZ | | | | | | | | | | | 0 |
| 92 | Raymond, Shaiden | NM | | | | | | | | | | | 0 |
| 93 | Schillinger, Finn | CO | | | | | | 20 | | | | | 20 |
| 94 | Romero, Angela | NM | | | | | | | | | | | 0 |
| 95 | Espinoza, Miguel | AZ | | | | | | | | | | | 0 |
| 96 | Herson, Josie | NM | | | | | | | | | | | 0 |
| 97 | Walters, Kaden | WA | | | | | | | | | | | 0 |
| x | Mead, Kaipo | NV | | | | | 55 | | 80 | | | | 135 |
| x | McGough, Jacob | | | | | | | 38 | | | | | 38 |
2023 TPC- scores
Scratch semifinals:
2023 TPC- SCRATCH

4 qualify for finals

scores include matchplay bonuses

rank

bowler

state

scr fwd

gm 16

gm 17

gm 18

gm 19

gm20

gm 21

Total

1

Marmolejo, Michael

CA

3344

223

243

170

255

273

244

4752

2

O'Hollaren, Elias (X)

CA

3382

241

285

176

230

223

208

4745

3

Guba, Andrew (X)

NV

3371

271

250

198

155

214

173

4632

4

Huffman, Sebastian

WV

3205

241

256

252

245

149

251

4599

5

Sicard, Bud (X)

OR

3220

248

181

211

233

258

204

4555

6

Padilla, Cesar (X)

AZ

3188

175

209

255

277

276

149

4529

7

London, Kenji

WA

3155

168

193

218

251

257

223

4465

8

Stovall, Seth

NV

3184

261

190

219

197

159

244

4454

9

Kaurin, Mac

WA

3171

216

266

236

188

211

163

4451

10

Ylvisaker, Keith

AZ

3379

204

217

194

109

149

168

4420

11

Alo, Daryus (X)

NV

3335

177

189

183

147

169

200

4400

12

Hardman, Liam

WA

3216

202

246

140

167

167

206

4344
Handicap Semifinals:
2023 TPC- HANDICAP

4 qualify for finals

scores include matchplay bonuses and handicap

rank

Bowler

state/prov

TOTAL

gm 16

gm 17

gm18

gm19

gm20

gm 21

total

+/-

1

Lang, Benjamin

WA

3538

196

234

247

248

190

217

4870

670

2

Chui, Annabelle

BC

3435

227

190

201

263

235

257

4808

608

3

De Guzman, Ekeziel

CA

3383

249

226

252

254

229

181

4774

574

4

Bollea, Evelynn (X)

AZ

3474

183

231

231

174

208

232

4733

533

5

Kankariya, Jai

CA

3523

230

222

185

193

201

161

4715

515

6

Trevethan, Charles

WA

3392

166

254

202

225

257

196

4692

492

7

Roth, Kieran (X)

AZ

3381

195

262

195

265

213

165

4676

476

8

Weed, Jason

CA

3416

226

222

161

188

225

218

4656

456

9

Sham, Caden (x)

CA

3332

221

196

207

218

179

257

4610

410

10

Strange, Eddie (X)

WA

3336

164

201

282

178

187

251

4599

399

11

Yeager, Tamia

WA

3343

141

188

173

177

233

239

4494

294

12

Toberer, Asher

AZ

3389

198

170

202

175

167

1

4302

102
Scratch Quarterfinals:
2023 TPC- SCRATCH

12 advance to semifinals

scores include matchplay win bonuses

rank

bowler

state

scr fwd

gm 11

gm 12

gm 13

gm 14

gm 15

TOTAL

+/-

1

O'Hollaren, Elias (X)

CA

2257

240

223

266

191

205

3382

382

2

Ylvisaker, Keith

AZ

2097

275

264

234

255

254

3379

379

3

Guba, Andrew (X)

NV

2138

222

273

231

254

253

3371

371

4

Marmolejo, Michael

CA

2160

216

255

266

200

247

3344

344

5

Alo, Daryus (X)

NV

2178

246

215

258

267

171

3335

335

6

Sicard, Bud (X)

OR

1950

251

231

268

265

255

3220

220

7

Hardman, Liam

WA

2091

191

252

226

255

201

3216

216

8

Huffman, Sebastian

WV

2077

242

180

221

254

231

3205

205

9

Padilla, Cesar (X)

AZ

2144

213

200

186

191

254

3188

188

10

Stovall, Seth

NV

2106

219

252

163

241

203

3184

184

11

Kaurin, Mac

WA

2078

262

161

200

218

252

3171

171

12

London, Kenji

WA

1961

229

236

215

270

244

3155

155

13

Jodoin, Adam

BC

2007

209

308

223

196

196

3139

139

14

Tidball, Nathan

CA

2044

181

203

248

215

241

3132

132

15

Rother, Brandon (X)

CA

2057

172

186

253

191

272

3131

131

16

Uribarri, Daunte

TX

1933

256

277

252

230

182

3130

130

17

Domaguin, Avery

CA

1995

263

246

206

194

196

3100

100

18

Abigania, Josh (X)

CA

2001

167

234

265

199

233

3099

99

19

Erickson, Justin

CA

1974

256

251

182

245

162

3070

70

20

Orosco, Kyler

CA

2124

177

153

181

262

170

3067

67

21

Hong, Daniel

CA

2018

254

191

256

149

181

3049

49

22

Matherly, Cayden (X)

AZ

1930

187

199

234

210

259

3019

19

23

Fernandez, Gavin

NV

1855

245

228

187

274

221

3010

10

24

Estrada, Carlos (X)

TX

1733

218

174

243

231

241

3009

9

25

Bryant, Amarr

AZ

1910

203

178

191

268

237

2987

-13

26

Griffin, JP

NV

1940

183

231

280

162

185

2981

-19

27

Bell, Quinten

AZ

1885

222

209

186

232

245

2979

-21

28

Chalmers, Danny

WA

1853

163

191

233

289

244

2973

-27

29

Wills, Toby

WA

1952

174

235

178

172

262

2973

-27

30

Bobersky, Brendan

AZ

1960

155

214

231

176

232

2968

-32

31

Simperman, Charlie

WA

1966

191

222

192

212

169

2952

-48

32

Sicard, Noah

OR

1918

174

167

297

239

155

2950

-50

33

Nakunz, Bryce

CA

1997

210

212

148

171

203

2941

-59

34

Richardson, Dmitri

CO

1952

193

185

196

181

231

2938

-62

35

Montoya, Dominic

NV

1871

234

204

233

170

225

2937

-63

36

Calica, Aaron

CA

1887

202

233

234

174

168

2913

-87

37

Fernandez, Hayden

NV

1943

156

204

254

181

170

2908

-92

38

Molloy, Joshua (X)

AZ

1905

210

187

175

200

221

2898

-102

39

Sexton, Braxton

AZ

1972

171

156

188

264

140

2891

-109

40

Castronova, Tyler (X)

NV

1925

178

261

192

144

176

2876

-124

41

Bivins, Brock (X)

AZ

1815

190

153

214

214

192

2865

-135

42

Lellos, Chris

NV

1890

154

136

297

207

178

2862

-138

43

Keller, Grant

AZ

1855

223

203

186

214

177

2858

-142

44

Bollea, Kendall (X)

AZ

1894

160

169

192

229

197

2849

-151

45

McElroy, Benaihah

CA

1987

122

164

169

142

255

2839

-161

46

Schmidt, Harper (X)

AZ

1886

225

141

231

189

163

2835

-165

47

Davis, Will

NM

1941

130

200

230

154

156

2811

-189

48

Jance, Colt

WA

1852

234

200

163

188

136

2773

-227
Handicap Quarterfinals:
2023 TPC- HANDICAP

12 advance to the semifinals

Scores include matchplay win bonuses and handicap

rank

bowler

ScrFwd

gm 11

gm 12

gm 13

gm 14

gm 15

TOTAL

+/-

1

Lang, Benjamin

2150

292

288

237

293

278

3538

538

2

Kankariya, Jai

2400

164

231

273

237

218

3523

523

3

Bollea, Evelynn (X)

2249

194

275

267

242

247

3474

474

4

Chui, Annabelle

2136

250

236

285

266

262

3435

435

5

Weed, Jason

2242

197

209

255

240

273

3416

416

6

Trevethan, Charles

2204

234

252

251

204

247

3392

392

7

Toberer, Asher

2110

270

299

242

270

198

3389

389

8

De Guzman, Ekeziel

2297

231

200

195

213

247

3383

383

9

Roth, Kieran (X)

2141

243

283

275

237

202

3381

381

10

Yeager, Tamia

2151

218

251

242

236

245

3343

343

11

Strange, Eddie (X)

2150

278

222

243

171

272

3336

336

12

Kankariya, Neel

2080

266

275

187

246

278

3332

332

13

Sham, Caden (x)

2085

185

244

264

263

291

3332

332

14

Torres, Eddie

2053

216

171

267

329

274

3310

310

15

McDugle, Alena

2051

232

252

221

253

294

3303

303

16

Todacheenie, Xaden (X)

1967

241

266

300

194

290

3298

298

17

Pino, Isaiah

2102

210

290

247

234

189

3272

272

18

Tiquia, Jazel

2081

179

233

212

290

254

3249

249

19

Montoya, Devin

2033

254

202

220

271

260

3240

240

20

Nash, Austin

2002

253

286

254

167

254

3216

216

21

Chambers, Ethan (X)

2036

248

231

264

230

204

3213

213

22

Torres, Max

2068

259

192

194

240

260

3213

213

23

Massengale, Tasia (X)

2067

256

208

228

201

250

3210

210

24

Lee, Peyton (X)

2004

177

300

229

228

266

3207

207

25

Bowman-Brinar, Hannah

2046

219

215

208

273

240

3201

201

26

Gutierrez, Jesus

2077

193

168

262

287

211

3198

198

27

Winemiller, Samuel

2026

258

245

228

214

223

3194

194

28

Unger, Shelby

1995

235

278

248

220

215

3191

191

29

VanDeventer, Mason

2108

258

209

185

186

228

3174

174

30

Thompson, Austin

2088

162

267

190

269

196

3172

172

31

Coates, Terrell

2095

192

169

180

264

270

3170

170

32

Purugganan, Garrett

2064

237

247

205

169

244

3166

166

33

Tiquia, Laelah

2148

231

191

191

174

216

3151

151

34

Curette, Jessica

2089

199

265

192

158

235

3138

138

35

McGough, James

1964

244

257

281

208

180

3134

134

36

Hunt, Araceli

2021

279

223

180

215

215

3133

133

37

Harnit, Nathan (X)

1991

254

211

183

276

199

3130

130

38

Garcia, Anthony

2137

170

178

268

187

188

3128

128

39

Purugganan, Kaili

2003

179

195

199

263

284

3123

123

40

London, Abigail

2043

191

213

211

279

184

3121

121

41

Gaines, Paityn

2042

144

218

230

248

238

3120

120

42

Smith, Sterling

2086

185

208

171

199

267

3116

116

43

Kielich, Kloey (X)

2007

201

240

191

264

212

3115

115

44

Pointon, RJ (X)

1805

226

182

226

221

252

3114

114

45

Lopes, Tyson

1958

208

201

276

181

244

3068

68

46

Gregson, Bryan

1958

252

225

220

170

233

3058

58

47

Abigania, Jon (X)

1902

172

200

247

188

233

3047

47

48

Evans, Zackary

1971

225

220

159

291

176

3042

42

49

Harnit, Nicholas (X)

2058

168

171

185

277

171

3030

30

50

Baker, Gage (X)

2035

229

243

198

139

177

3021

21

51

Sager, Cameron

1963

160

246

244

213

193

3019

19

52

DeMerritt, Payton (X)

1941

263

213

163

168

190

3004

4

53

John, Ivan

1967

182

187

248

232

184

3000

0

54

Tang, Nathan

1993

209

209

197

219

170

2997

-3

55

Hunt, Abigail

1957

187

219

164

254

212

2993

-7

56

Lyle, Lucas

1960

146

177

226

295

170

2974

-26

57

King, Jake (X)

1789

191

217

179

172

172

2938

-62

58

Wilson, Rebecca

2025

175

180

206

161

190

2937

-63

59

Nickolson, Dayton

1984

198

137

167

224

204

2914

-86

60

Richards, Kaitlyn

1973

165

173

190

157

198

2856

-144
Scratch qualifying:
2023 TPC- SCRATCH

34 bowlers plus the 14 exempt (x) bowlers qualify for the quarterfinals

rank

bowler

state

ln

gm 1

gm 2

gm 3

gm 4

gm 5

gm 6

gm 7

gm 8

gm 9

gm 10

TOTAL

+/-

1

O'Hollaren, Elias (X)

CA

27

194

210

267

238

182

191

226

229

276

244

2257

257

2

Alo, Daryus (X)

NV

17

195

177

237

186

249

255

232

224

211

212

2178

178

3

Marmolejo, Michael

CA

5

259

200

225

173

194

231

201

246

177

254

2160

160

4

Padilla, Cesar (X)

AZ

13

187

166

248

172

220

279

234

203

169

266

2144

144

5

Guba, Andrew (X)

NV

23

216

177

267

277

202

187

205

183

242

182

2138

138

6

Orosco, Kyler

CA

15

175

227

170

214

190

229

258

234

269

158

2124

124

7

Stovall, Seth

NV

7

226

216

234

198

200

169

204

214

224

221

2106

106

8

Ylvisaker, Keith

AZ

25

172

235

197

224

235

159

162

211

278

224

2097

97

9

Hardman, Liam

WA

13

206

208

218

263

189

185

215

194

188

225

2091

91

10

Kaurin, Mac

WA

23

179

251

213

141

169

195

191

279

257

203

2078

78

11

Huffman, Sebastian

WV

19

202

207

203

171

206

192

194

233

211

258

2077

77

12

Rother, Brandon (X)

CA

17

256

191

142

194

299

255

147

167

223

183

2057

57

13

Tidball, Nathan

CA

21

146

225

215

207

224

183

165

256

193

230

2044

44

14

Hong, Daniel

CA

7

150

190

275

170

158

243

207

201

235

189

2018

18

15

Jodoin, Adam

BC

25

188

204

193

196

194

201

234

213

166

218

2007

7

16

Abigania, Josh (X)

CA

3

193

223

156

188

167

202

217

216

226

213

2001

1

17

Nakunz, Bryce

CA

3

172

148

234

218

205

224

174

202

236

184

1997

-3

18

Domaguin, Avery

CA

7

210

174

171

151

201

192

216

205

208

267

1995

-5

19

McElroy, Benaihah

CA

9

222

177

177

176

213

184

210

174

234

220

1987

-13

20

Erickson, Justin

CA

29

218

190

209

159

192

182

205

190

181

248

1974

-26

21

Sexton, Braxton

AZ

27

198

242

161

181

191

152

186

248

221

192

1972

-28

22

Simperman, Charlie

WA

27

205

201

185

211

190

168

162

219

206

219

1966

-34

23

London, Kenji

WA

25

207

168

225

194

210

167

184

182

201

223

1961

-39

24

Bobersky, Brendan

AZ

3

189

192

172

200

204

227

189

201

155

231

1960

-40

25

Richardson, Dmitri

CO

25

198

160

178

225

175

163

214

214

226

199

1952

-48

26

Wills, Toby

WA

23

179

203

225

188

190

193

147

210

236

181

1952

-48

27

Sicard, Bud (X)

OR

23

215

221

180

217

161

210

184

195

152

215

1950

-50

28

Fernandez, Hayden

NV

19

225

162

199

199

187

145

212

174

244

196

1943

-57

29

Davis, Will

NM

19

202

163

195

156

172

212

200

179

228

234

1941

-59

30

Griffin, JP

NV

19

140

171

216

225

236

202

174

195

195

186

1940

-60

31

Uribarri, Daunte

TX

17

230

180

193

233

185

181

193

180

159

199

1933

-67

32

Matherly, Cayden (X)

AZ

15

197

223

225

156

184

139

213

224

211

158

1930

-70

33

Castronova, Tyler (X)

NV

27

220

225

191

177

164

179

162

155

205

247

1925

-75

34

Sicard, Noah

OR

3

193

193

148

180

225

199

190

189

192

209

1918

-82

35

Bryant, Amarr

AZ

27

201

198

253

158

188

172

182

186

177

195

1910

-90

36

Molloy, Joshua (X)

AZ

9

172

204

162

192

209

211

182

184

174

215

1905

-95

37

Bollea, Kendall (X)

AZ

21

172

225

189

187

147

218

185

222

185

164

1894

-106

38

Lellos, Chris

NV

15

203

202

224

179

180

196

217

180

153

156

1890

-110

39

Calica, Aaron

CA

13

201

181

186

223

178

169

216

154

202

177

1887

-113

40

Schmidt, Harper (X)

AZ

15

235

210

224

167

157

160

170

189

208

166

1886

-114

41

Bell, Quinten

AZ

11

170

236

171

202

213

175

218

189

139

172

1885

-115

42

Montoya, Dominic

NV

25

166

162

223

135

146

165

235

222

213

204

1871

-129

43

Fernandez, Gavin

NV

21

190

199

163

203

183

172

178

156

185

226

1855

-145

44

Keller, Grant

AZ

11

213

184

190

172

203

182

143

188

154

226

1855

-145

45

Chalmers, Danny

WA

7

182

113

202

162

216

188

184

148

233

225

1853

-147

46

Jance, Colt

WA

5

141

136

182

200

191

184

205

243

220

150

1852

-148

47

Lawrence, Thomas

CO

3

182

179

168

185

155

238

164

165

203

200

1839

-161

48

Workman, Payton

AZ

27

196

213

158

182

156

222

187

175

144

198

1831

-169

49

Chalmers, Piper

WA

9

205

199

156

194

173

184

180

157

176

205

1829

-171

50

Bivins, Brock (X)

AZ

5

183

207

204

178

160

146

187

191

171

188

1815

-185

51

Mabry, Jadeyn

AZ

21

212

149

169

182

208

181

172

204

143

194

1814

-186

52

Sicard, Mary

OR

29

172

180

181

150

158

148

237

174

236

177

1813

-187

53

Lawrence, Robert

CO

5

169

141

217

179

156

193

182

203

198

146

1784

-216

54

Barczyszyn, JR

NV

23

141

236

168

138

167

166

176

217

173

200

1782

-218

55

Coleman, Aaron

TX

11

189

172

166

167

186

175

181

161

226

155

1778

-222

56

Romero, Derick

NM

5

147

164

182

159

210

185

215

175

169

170

1776

-224

57

Sager, Andrew

AZ

11

197

242

190

163

165

173

199

141

140

166

1776

-224

58

Silva, Ian

NM

29

162

209

164

177

135

188

201

202

165

163

1766

-234

59

Ruehlen, Joshua

CO

13

176

162

197

216

148

201

199

128

156

180

1763

-237

60

Snow, Mason

NV

17

183

198

180

191

185

136

200

159

158

161

1751

-249

61

Ruiz-Jimenez, Aiden

NM

9