(full permission is given by the author to copy this and any other information on this website. We would like a copy of anything reprinted sent to us though- contact us at jbtsouthwest@aol.com for more info!)
FOR IMMEDIATE RELEASE
Panaligan, Kamiyama, Schilling Capture 2005 Storm Main Event Titles; $38,000+ in Scholarships Awarded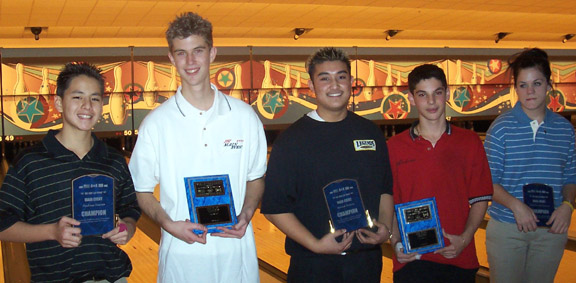 handicap champ Micah Kamiyama and runner-up Logan Kennedy; scratch champ Nathan Panaligan and runner-up Andrew Koff; girls scratch champ Danielle Schilling
After three exhausting days of competition, bowlers from Nevada, Hawaii, and California were crowned as champions of the 2005 Storm Las Vegas Main Event, hosted by Texas Station Bowling Center and presented by the Junior Bowlers Tour Southwest. Over $38,000 in scholarships were awarded to a 700+ bowler field from 21 states and Canada.
Bowlers in all divisions rolled eight qualifying games, followed by a grueling six-game matchplay portion, after which eight finalists bowled a modified stepladder finals to decide the crown. Of the approximately 5,000 games bowled, only five honor scores were shot on the demanding lane conditions: 298 games from BJ Baker, Tempe AZ, and Kevin Valmonte, La Verne, CA, a 299 from Andrew Koff, Miami FL, and perfect 300s from Matt O'Grady, South Amboy NJ, and Brandon McGinnes, La Crescenta CA.
In the scratch division, youth was truly served, with Koff, all of 14 years old, and "old man" 17 year-old Nathan Panaligan squaring off in the final match. After missing an easy spare in the eighth, Nathan struck out from there, and the 190-180 win was good for the $3,500 top scholarship prize. The North Las Vegas native topped the $7,500 mark in JBT SW scholarship winnings with the huge payday.
The handicap division featured the highest scoring match of the finals oddly enough, as both Hawaiian Micah Kamiyama and Vegas' Logan Kennedy responded brilliantly to the extreme pressure. Logan filled 19 pins in the tenth frame, forcing Micah to double. Kamiyaya stepped calmly up and did just that, flushing two hits in the 1-2 pocket for a 241-238 win and a $2,200 scholarship windfall.
The girls scratch division produced a heartstopping finish for the very vocal crowd. Top seed Bryanna Caldwell and #2 seed Danielle Schilling had been battling all day for the lead, and their battle came down to a tense tenth frame in the title match. Schilling left a 4-pin on the first ball, and unfortunately just skidded by the pin on the spare attempt, apparently handing the match to Caldwell. Bryanna, the JBT SW's most decorated female star all-time, then threw what appeared to be a good shot until the very last second, leaving a 4-6 split which she could not convert, giving a 183-180 win back to the stunned Schilling, who claimed a $1,500 scholarship for the triumph.
Huge thanks goes out to everyone who participated, our title sponsor Storm, blanket sponsors Etonic, BowlersDream.com, and Cody's Sportswear, Jerry Francomano and everyone at Texas Station, and all the Main Event staff and volunteers. The Junior Bowlers Tour SW runs approximately 70 events annually in six states, awarding over $200,000 in scholarships this season alone. The Main Event will return to Texas Station in December 2006, with entry blanks available in June.
Open Scratch division- final results and scholarship winners
14 game
rank
finalists
City
State
tot. + bonus
prize
1
Panaligan, Nathan
N. Las Vegas
NV
3093
$3,746
2
Koff, Andrew
Miami
FL
3165
$2,716
3
Sambueno, Toby
Aiea
HI
3342
$1,600
4
Keily, Michael
Brighton
CO
3193
$1,200
5
Richards, Dean
Tacoma
WA
3156
$1,266
6
Nask, Jonathan
Jupiter
FL
3124
$880
7
O'Grady, Matt
South Amboy
NJ
3143
$700
8
Hiyane, Cy
Honolulu
HI
3097
$600
HANDICAP DIVISION FINAL STANDINGS & SCHOLARSHIPS
14-gm.
rank
Finalists
City
State
tot. + bonus
prize
1
Kamiyama, Micah
Honolulu
HI
3245
$2,200
2
Kennedy, Logan
Las Vegas
NV
3305
$1,750
3
Schmehel, Jake
Fairchild AFB
WA
3230
$1,200
4
Truong, Kevin
San Francisco
CA
3198
$1,000
5
Waddle, Chris
Bakersfield
CA
3218
$920
6
Brown, Trevor Allen
Layton
UT
3195
$800
7
Nagamine, Casey
Kaneohe
HI
3191
$896
8
Akau, Landon
Honolulu
HI
3187
$560
GIRLS SCRATCH- official results and scholarship winners
14 game
rank
Finalists
City
State
tot. + bonus

prize

1
Schilling, Danielle
Littlerock
CA
3031
$1544
2
Caldwell, Bryanna
Tucson
AZ
3073
3
Ocasio, Noel
East Meadow
NY
2958
$1000
4
Garcia, Brittany
Chico
CA
2801
$822
5
McGinnes, Alyse
La Crescenta
CA
2992
$500
6
Urban, April
Laguna Hills
CA
2786
$400
7
Guerrero, Savannah
Riverside
CA
2910
$300
8
Genova,Nicole
Chico
CA
2833
$200