2004 Storm Las Vegas Main Event- Girls Scratch Division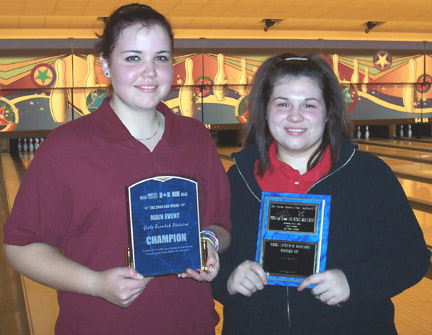 champ Alyse McGinnes and runner-up Jennifer Wright
In a final round filled with collegiate superstars, the only high-schooler in the field schooled them all on the way to the championship of the 2004 Storm Las Vegas Main Event, presented by the Junior Bowlers Tour Southwest.
Fourteen games over 3 days wasn't enough to determine our top 8 girls, as April Lemieux and Karen Rosprim tied for the 8th spot. Lemieux won the rolloff, and then rolled on with a 200-194 victory over #5 seed Erin Benson in round one of the modified bracket finals. In the other first round match, #7 seed Brandy Silva, a two-time scratch JBT SW winner, held off #6 Kaleena Henning, 206-192.
In round two, #4 seed Emily Maier stopped Lemieux's run by a 201-181 score, while #3 Bryanna Caldwell, the JBT SW's all-time most decorated female bowler, defeated Silva 245-163. The 245 was the high game by any bowler in any division of the finals.
In the penultimate round, both top seeds held their ground. #1 McGinnes convincingly defeated Maier 213-179, while #2 Jennifer Wright snuck past Caldwell 186-177.
In the finale, the tough, changing conditions and the pressure of a major title reduced the scores a bit, but also produced a tense, entertaining match. Needing an 18 fill to win the tournament, McGinnes struck on her first ball in the tenth, wrapping up a 1 159-156 victory, good for her first JBT SW title and a big $1500 scholarship payday.
Final Standings and Scholarship Winnings
| | | | | | | | |
| --- | --- | --- | --- | --- | --- | --- | --- |
| no. | name | city | state | position | brackets | squad ldr. | total won |
| 1 | McGinnes, Alyse | La Crescenta | CA | 1500 | | | $1,500 |
| 2 | Wright, Jennifer | West Columbia | SC | 1000 | | 50 | 1050 |
| 3 | Caldwell, Bryanna | Tucson | AZ | | | | |
| 4 | Maier, Emily | Sparks | NV | 750 | | | 750 |
| 5 | Silva, Brandy | Albuquerque | NM | 500 | 30 | | 530 |
| 6 | Lemieux, April | Sacramento | CA | 400 | | | 400 |
| 7 | Benson, Erin Marie | Colorado Springs | CO | 300 | | | 300 |
| 8 | Henning, Kaleena | North Platte | NE | 200 | | | 200 |
| 9 | Rosprim, Karen | | | 150 | 75 | | 225 |
| 10 | Agee, Brittany | Winchester | OR | 125 | | 50 | 175 |
| 11 | Miller, Kristen | Petaluma | CA | 100 | 60 | | 160 |
| 12 | Wass, Meaghan | Carson City | NV | | | | |
| 13 | Wallace, Michelle | Bend | OR | | | | |
| 14 | McCaw, Caitlin | West Hartford | CT | | 15 | | 15 |
| 15 | Buenaventura, Krystal | Boise | ID | | 75 | | 75 |
| 16 | Alvarado, Krystal | Corona | CA | | | | |
| 17 | Pestel, Christy | Tulsa | OK | | 60 | | 60 |
| 18 | Vadnais, Amanda | Prescott | AZ | | | | |
| 19 | Chi, Tiffany | Prescott | AZ | | | 50 | 50 |
| 20 | Bonifacini, Kacy | San Diego | CA | | | | |
| 21 | Pestel, Veronica | Tulsa | OK | | 15 | 50 | 65 |
| 22 | Keily, Mandy | Brighton | CO | | | | |
| 23 | Sulligan, Becky | Travelers Rest | SC | | | | |
| 24 | Katsura, Jennifer | Norwalk | CA | | | | |
| 25 | Schilling, Danielle | Littlerock | CA | | | | |
| 26 | Forgash, Falisha | Lakewood | WA | | | | |
| 27 | Brown, Heather | Las Vegas | NV | | | | |
| 28 | Leuthold, Cassie | Black Hawk | SD | | | | |
| 29 | Carity, Sarah | Flagstaff | AZ | | | | |
| 30 | Carnate, Shaina | Kapolei | HI | | | | |
| 31 | Davis, Rachelle | Tucson | AZ | | | | |
| 32 | Landers, Caycee | Mission Hills | CA | | | | |
| 33 | Wong, Felicia | Calgary | Alberta | | | | |
| 34 | Miller, Nicole | | | | | | |
| 35 | Beickman, Penny Ann | Lakewood | CO | | | | |
| 36 | Cervinski, Brittney | Clinton | UT | | | | |
| 37 | Lofthouse, Casey | Wellsville | UT | | | | |
| 38 | Falk, Amanda | Tucson | AZ | | | | |
| 39 | Page, Brittany | Los Angeles | CA | | | | |
| 40 | Cox, Jenea | Camarillo | CA | | | | |
| 41 | Davis, Dary Lynn | Los Angeles | CA | | | | |
| 42 | Garcia, Brittany | Amherst | NH | | | | |
| 43 | Carrillo, Deanna | | | | | | |
| 44 | Keily, Amanda | | | | | | |
| 45 | Miller, Erika | Puyallup | WA | | | | |
| 46 | Schofield, Stacey | Las Vegas | NV | | | | |
| 47 | Guerrero, Savannah | Riverside | CA | | | | |
| 48 | Kautz, Whitney | Salem | OR | | | | |
| 49 | Ward, Sadia | Lakewood | CA | | | | |
| 50 | Genova, Nicole | Chico | CA | | | | |
| 51 | Urban, April | Rancho Santa Margarita | CA | | | | |
| 52 | Wainner, Jenifer | Santa Paula | CA | | | | |
| 53 | Dias, Leslie | Lafayette | CO | | | | |
| 54 | Hetkowski, Jessica | Las Vegas | NV | | | | |
| 55 | Castro, Melissa | Las Vegas | NV | | | | |
| 56 | Cervinski, Casey | Layton | UT | | | | |
| 57 | Carr, Rachel | Chandler | AZ | | | | |
| 58 | Schiffelbein, Amanda | Topeka | KS | | | | |
| 59 | Kawaja, Ayesha | | | | | | |
| 60 | DeGreif, Devin | Las Vegas | NV | | | | |