2004 Storm Las Vegas Main Event- Handicap Division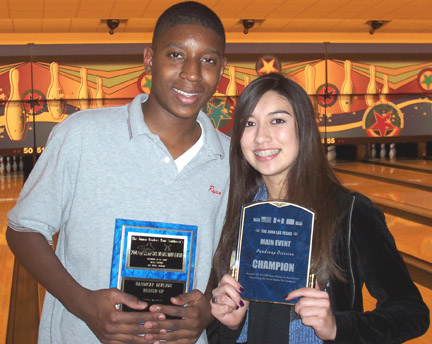 Handicap division runner-up Ryan Briggs, and champion Erika Mox
Any bowler knows that in a tournament format, the person who dominated all previous rounds can end up not winning in the finals. Erika Mox wanted no part of that thought, rolling through the field for the handicap division championship of the 2004 Storm Las Vegas Main Event, presented by the Junior Bowlers Tour Southwest.
In round one of the modified bracket finals, #5 seed Casey Nagamine took out the #8 qualifier by a 230-133 score. In the simultaneous round one match, #7 seed Allie Ijams upset #6 qualifier Robert Page by a 197-164 margin.
In round two, Nagamine advanced over #4 David Pendleton by the slimmest of margins, in a thrilling 206-205 match. In the other match, Ijams remained ed hot, getting by #3 seed Kevin Truong 238-206.
In the semifinal round, both top seeds won their matches, just as they did in both scratch divisions. #1 Erika Mox stopped Nagamine's run 199-171, while #2 seed Ryan Briggs took out Ijams in another close match, 196-187.
Mox easily led her qualifying squad, then topped all qualifying squads, and never fell out of the lead in semifinal matches. The title match proved to be no different, as some late opens by Briggs turned a close match into a 201-163 victory for Mox. Erika picked up a cool $2,135 scholarship for her win, while Ryan was consoled handsomely with a $1,490 scholarship payday.
Final Standings and Scholarship Winnings
| | | | | | | | |
| --- | --- | --- | --- | --- | --- | --- | --- |
| no. | name | city | state | position | brackets | squad ldr. | total $ |
| 1 | Mox, Erika | Henderson | NV | 2000 | 60 | 75 | $2,135 |
| 2 | Briggs, Ryan | Antioch | CA | 1250 | 165 | 75 | 1490 |
| 3 | Nagamine, Casey | Kaneohe | HI | 1000 | | | 1000 |
| 4 | Ijams, Allie | Mission Viejo | CA | 750 | | | 750 |
| 5 | Pendleton, David | Livermore | CA | 500 | | | 500 |
| 6 | Truong, Kevin | San Francisco | CA | 400 | | | 400 |
| 7 | Page, Robert | Los Angeles | CA | 300 | 60 | 75 | 435 |
| 8 | Sanchez, Abraham | Nogales | AZ | 200 | | | 200 |
| 9 | Schmehl, Jacob | Fairchild AFB | WA | 165 | | | 165 |
| 10 | Page, Brittany | Los Angeles | CA | 125 | 30 | | 155 |
| 11 | Lim, Brian | San Francisco | CA | 100 | | | 100 |
| 12 | Houston, Elizabeth | Tucson | AZ | 100 | 15 | | 115 |
| 13 | Martinez, Annalicia | Roswell | NM | 100 | 45 | | 145 |
| 14 | Uyehara, Shawnna | Aiea | HI | 100 | 10 | | 110 |
| 15 | Ward, Michael | Loveland | CO | | 30 | | 30 |
| 16 | Uyehara, Sky | Aiea | HI | | 15 | | 15 |
| 17 | Ortiz, Jonathan | Nogales | AZ | | | | |
| 18 | Bolton, Blanche Elise | Merritt Island | FL | | 10 | | 10 |
| 19 | Lai, Douglas | San Francisco | CA | | | | |
| 20 | Ward, Matthew | Loveland | CO | | 30 | 75 | 105 |
| 21 | Jeong, Matt | San Francisco | CA | | | | |
| 22 | Madrid, Alyssa | Las vegas | NV | | | | |
| 23 | Geering, Greg | Phoenix | AZ | | | | |
| 24 | Morrison, Kyle | | | | | | |
| 25 | Mayall, Kaitlin | Chula Vista | CA | | 30 | | 30 |
| 26 | Thompson, Rachel | Albuquerque | NM | | | | |
| 27 | Conn, Jaymes | El Cajon | CA | | 15 | | 15 |
| 28 | Sandberg, Corey | Prescott | AZ | | | | |
| 29 | Larcome, Jason | Chula Vista | CA | | 15 | | 15 |
| 30 | Kautz, Kassandra | Salem | OR | | | | |
| 31 | Allen, Joey | Fresno | CA | | | | |
| 32 | Snyder, Patrick | Covina | CA | | | | |
| 33 | Pendleton, Michael | Livermore | CA | | | | |
| 34 | Mares, Mark | Los Lunas | NM | | 30 | | 30 |
| 35 | Waddle, Christopher | | | | 15 | | 15 |
| 36 | Shelton, Wendy | Albuquerque | NM | | 60 | | 60 |
| 37 | Garbera, Greg | Glendale | AZ | | | | |
| 38 | Kolcazk, Kraig | Ogden | UT | . | 60 | . | 60 |
| | | | | |
| --- | --- | --- | --- | --- |
| 39 | Meehan, John | Santa Barbara | CA | |
| 40 | White, Mikey | Spring Valley | CA | 15 |
| 41 | Ngo, Melinda | San Francisco | CA | |
| 42 | Anicete, Lawrence | San Francisco | CA | |
| 43 | Black, Sasha | Fort Mohave | AZ | 45 |
| 44 | Yoshida, Akira | San Francisco | CA | 15 |
| 45 | Wong, Jadine | San Francisco | CA | |
| 46 | Adan, Kara | San Diego | CA | |
| 47 | Ono, Jordan | Pearl City | HI | |
| 48 | Payne, Matt | Phoenix | AZ | |
| 49 | Jaramillo, Jared | Albuquerque | NM | |
| 50 | Bermudes, Anthony Seth | Goleta | CA | 15 |
| 51 | Andrade, Cesar | Nogales | AZ | |
| 52 | Seghetti, Nick | Las Vegas | NV | |
| 53 | Jenner, Kirstin | Layton | UT | |
| 54 | Seeto, Justin | San Francisco | CA | |
| 55 | Tang, Michael | San Francisco | CA | |
| 56 | Stewart, Tristin | Sandy | UT | |
| 57 | Jaramillo, Briana | Los Lunas | NM | |
| 58 | Waldron, Christina | Albuquerque | NM | 15 |
| 59 | Griffith, Melanie | Las Vegas | NV | 30 |
| 60 | Garchitorena, Carlo | San Francisco | CA | |
| 61 | White, Justin | Phoenix | AZ | |
| 62 | Brooks, Zac | | | |
| 63 | Reggie, Tyler | Las Vegas | NV | 15 |
| 64 | Foley, Ryan | Sparks | NV | |
| 65 | Pacumio, Nicholas | San Francisco | CA | |
| 66 | Lyon, Ross | | | |
| 67 | Wu, Jason | Sacramento | CA | 30 |
| 68 | Green, Shelby | Clovis | CA | |
| 69 | Choi, Darrin | Las Flores | CA | |
| 70 | Divis, Samantha | Valencia | CA | |
| 71 | Pellegrino, Maddie | Las Vegas | NV | |
| 72 | Chipman, Hannah | Las vegas | NV | |
| 73 | Gong, Simon | San Francisco | CA | |
| 74 | Wong, Melissa | Hercules | CA | 15 |
| 75 | Williams, Kristina | Tucson | AZ | 15 |
| 76 | Ferrer, Jordan | Henderson | NV | |
| 77 | Mandell, Mark | Queen Creek | AZ | |
| 78 | Staggs, Darcie | Bullhead City | AZ | 15 |
| 79 | Holmes, Blake | Albany | CA | |
| 80 | Tatum, Jake | Prescott | AZ | 60 |
| 81 | Wagner, Aaron | Brentwood | CA | 15 |
| 82 | Perdew, Seth | Ingram | TX | 15 |
| 83 | Wong, Jason | San Francisco | CA | |
| 84 | Dutton, Courtney | Chandler | AZ | |
| 85 | Williams, Antonio | Yuma | AZ | |
| 86 | Bratton, Beryl | Voncalla | OR | |
| 87 | Jones, Jason | Taylorsville | UT | |
| 88 | Barber, Brittani | Del Valle | TX | |
| 89 | Fraijo, Christina | Covina | CA | 30 |
| 90 | King, Kyle | Glendale | AZ | |
| 91 | Barragan, Louis | Burbank | CA | |
| 92 | Kurzeka, Susan | Albuquerque | NM | |
| 93 | Jackson, Shirley | Layton | UT | |
| 94 | Griffith, Ray | Las Vegas | NV | 30 |
| 95 | Ellis, Alex | Tempe | AZ | |
| 96 | Morrison, Kyle | Draper | UT | |
| 97 | Fuller, Stephen | Riverside | CA | |
| 98 | Cruz, Anthony | San Diego | CA | 30 |
| 99 | Daniels, Amanda | Glendora | CA | |
| 100 | Gonzalez, Manuel | Albany | CA | |
| 101 | Renslow, Robyn | Brentwood | CA | |
| 102 | Gould, Brooks | Gilbert | AZ | |
| 103 | McColley, Michael | Ogden | UT | 15 |
| 104 | Warschauer, Justin | Riverside | CA | |
| 105 | Sekara, Justin | Albany | CA | |
| 106 | Andrade, Victor Jr. | Nogales | AZ | |
| 107 | Dubovik, Willie | Las Vegas | NV | |
| 108 | Prather, Taylor | Sparks | NV | |
| 109 | Udell, Stephanie | Santee | CA | |
| 110 | Martinez, Wendy | Clovis | CA | |
| 111 | Myrick, Christie | Vista | CA | |
| 112 | Bolton, Babe | Merritt Island | FL | |
| 113 | Grinfelds, Dzintars | San Francisco | CA | |
| 114 | Baca, Jeremy | Los Lunas | NM | |
| 115 | Lamek, Nicholas | Las Vegas | NV | |
| 116 | Udell, Todd | Santee | CA | 30 |
| 117 | Utt, Casandra | Spokane | WA | |
| 118 | Tang, Darren | San Francisco | CA | |
| 119 | Brennan, Taylor | Prescott | AZ | 15 |
| 120 | Reynoso, Andy | Las Vegas | NV | |
| 121 | Kolczak, Kasey | Ogden | UT | |
| 122 | Domingo, Julian | San Francisco | CA | |
| 123 | Soltero, Emir | Nogales | AZ | |
| 124 | Bejar, Rodolfo Jr. | Rio Rico | AZ | |
| 125 | Jones, Kyle | Taylorsville | UT | |
| 126 | Reyes, Andres | Nogales | AZ | |
| 127 | Smith, Cameron | Santee | CA | |
| 128 | Korenic, Cale | Escondido | CA | |
| 129 | Millmier, Jeff | Phoenix | AZ | |
| 130 | Brown, Amanda | Simi Valley | CA | |
| 131 | McKenrick, Taylor | Henderson | NV | 45 |
| 132 | Sanchez, Dominic | Nogales | AZ | |
| 133 | Fix, Andrew | Camarillo | CA | |
| 134 | Schnayer, David | Laval | Quebec | |
| 135 | Phandanouvong, Foster | San Diego | CA | |
| 136 | Arellano, Dalton | Palmdale | CA | |
| 137 | Paris, Blake | Brentwood | CA | |
| 138 | Reyes, Lorena | Nogales | AZ | |
| 139 | Morrison, Lisa | Draper | UT | |
| 140 | Kawaye, Julie | Sacamento | CA | |
| 141 | Danforth, Justen | Laguna Hills | CA | |
| 142 | Pajala, Heaven | Albuquerque | NM | |