2011 Main Event Ebonite Big Dawg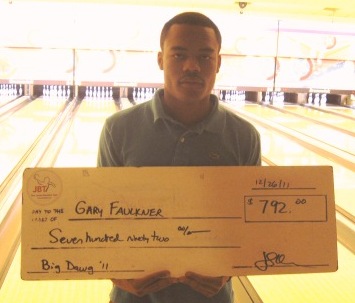 champ Gary Faulkner
Gary Faulkner, Memphis TN, outlasted 21 others to be crowned the 'Big Dawg' champ at the 2011 Las Vegas Main Event, presented by Ebonite International and the Junior Bowlers Tour.
Faulkner, the current Junior Gold champ, defeated fellow Junior Team USA member AJ Champan 189-167 in one semifinal. The second semi featured a pair of top-flight females, with Jessica Spires striking on the fill ball to beat Correen Lieber 158-157.
In the title match Faulkner looked locked in on the demanding condition, and he defeated Spires 222-189 for the title. 100 percent of the $60 entry fee went to the prize fund, thanks to Ebonite, our terrific title sponsor, picking up the linage check, resulting in a $792 payday for the talented lefty.
1. Gary Faulkner, $792
2. Jessica Spires, $264
3. Correen Lieber, $132
3. AJ Chapman, $132