2011 Main Event Handicap Singles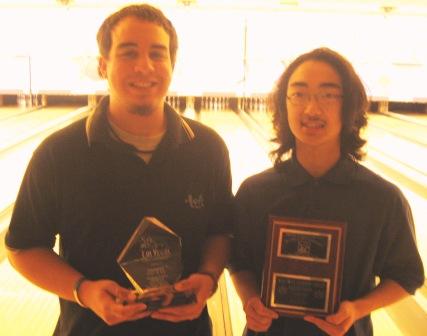 champ Brandon Pekins & runner-up Brandon Teragawa
Brandon Pekins of Gardena CA defeated Brandon Teragawa of San Francisco CA 228-184 to capture the Handicap Singles title at the 2011 Las Vegas Main Event, presented by Ebonite International and the Junior Bowlers Tour.
#10 Pekins won four matches, defeating seven total bowlers, in the bracket-style stepladder finals to reach the title match while Teragawa, seeded 3rd, had to beat his brother Blake in the semifinals to reach the championship game. In the finale, Pekins remained in control the whole time, winning the game 227-183 for the title and the $2,000 top prize, while Teragawa raked in a cool $1,000 for second.
In total, over $34,000 in scholarships were earned by bowlers age 21 and under from 21 states, as well as Mexico and Costa Rica. Big thanks to Shawn Morris and Ebonite International for their continued title sponsorship of the Main Event, Jerry Francomano and the staff at Texas Star Lanes for their usual phenomenal job hosting the tournament, all of our other terrific season-long sponsors, and every bowler and parent who took the time to participate in this tremendous tournament. Be sure to visit www.bowljbt.com for complete final standings, stats, videos, and so much more!
| | | | | |
| --- | --- | --- | --- | --- |
| Rank | Last | First | State | Prize |
| 1 | Pekins | Brandon | CA | $2,000 |
| 2 | Teragawa | Brandon | CA | $1,000 |
| 3 | Torrence | Eric | CA | $700 |
| 4 | Teragawa | Blake | CA | $600 |
| 5 | Dryer | Kyle | CA | $500 |
| 6 | Masuoka | Timothy | CA | $400 |
| 7 | Cruz | Jerimiah | NM | $300 |
| 8 | Sweigart | Harley | CA | $200 |
| 9 | Berkley | Ethan | TX | $100 |
| 10 | Dempsey | Shelby | AZ | $100 |
| 11 | Kalaf | Blake | AZ | |
| 12 | Yamasaki | Kaycie | HI | |
| 13 | Duffy | Brandon | NV | |
| 14 | Cluff | Haylee | AZ | |
| 15 | Vanni | David | AZ | |
| 16 | Koyanagi | Cory | CA | |
| 17 | Speiler | Randi | CA | |
| 18 | Evans | Marguerite | CA | |
| 19 | Martinez | KJ | AZ | |
| 20 | Dennis | Troy | AZ | |
| 21 | Pellegrino | Alex | AZ | |
| 22 | Thompson | Austin | CA | |
| 23 | Rock | TJ | NV | |
| 24 | Williams | Alyssa | NM | |
| 25 | Pappas | Jason | NV | |
| 26 | Torres | Elias | CA | |
| 27 | Boniecki | Courtney | TX | |
| 28 | Carlson | Megan | AZ | |
| 29 | Grupe | Brian | NV | |
| 30 | Schleicher | Veronica | NV | |
| 31 | Lieber | Kara | WA | |
| 32 | Lim | Robert | CA | |
| 33 | Hemming | Zach | WA | |
| 34 | Martinez | Brooke | AZ | |
| 35 | Phandanouvong | Jenny | CA | |
| 36 | McLeavy | Chad | CA | |
| 37 | Watkins | Aaron | NV | |
| 38 | Shepard | Toby | WA | |
| 39 | Stevenson | Misha | CA | |
| 40 | Acuff | Steven | AZ | |
| 41 | Zweig | Leah | CA | |
| 42 | Gerencser | Joe | NV | |
| 43 | Crockett | Madison | WA | |
| 44 | Selley | Kyli | CA | |
| 45 | Cosby | Samm | WA | |
| 46 | Corwin | Katelyn | CA | |
| 47 | Batt | David | AZ | |
| 48 | Malouf | Nicole | CA | |
| 49 | Schultz | Shauna | | |
| 50 | Thompson | Trevor | | |
| 51 | Harlan | BJ | | |
| 52 | Posada | Geny | | |
| 53 | Sanchez | Tyra | | |
| 54 | Atkin | Alexis | | |
| 55 | Seawright | Jonah | | |
| 56 | Proshchuk | Olga | | |
| 57 | Shishima | Kylie | | |
| 58 | Nakazaki | Cody | | |
| 59 | Baker | Keith | | |
| 60 | Andrews | Kennison | | |
| 61 | Hemming | Bri | | |
| 62 | Pekins | Ryan | | |
| 63 | Singletary | Mia | | |
| 64 | Quan | Kevin | | |
| 65 | Bock | Dylan | | |
| 66 | Carr | Savannah | | |
| 67 | Marticio | Vanessa | | |
| 68 | Corwin | Jozef | | |
| 69 | Fierro | Ernesto | | |
| 70 | Ray | Taylor | | |
| 71 | Wu | Jessica | | |
| 72 | Dragovich | Matt | | |
| 73 | Acma | Kyle | | |
| 74 | Canchola | Joshua | | |
| 75 | Patten | Justin | | |
| 76 | Luke | Holden | | |
| 77 | Hendrickson | Talon | | |
| 78 | Takahata | Lauren | | |
| 79 | Holliday | Isaac | | |
| 80 | Villa | Justin | | |
| 81 | Tanaka | Naomi | | |
| 82 | Mercado | Adrian | | |
| 83 | Chui | Carol | | |
| 84 | Andrews | Kyle | | |
| 85 | Stearns | Louis | | |
| 86 | Denaro | Matthew | | |
| 87 | Moss | Skyler | | |
| 88 | Moss | Ryan | | |
| 89 | Walls | Megan | | |
| 90 | Salazar | William | | |
| 91 | Adler | Greg | | |
| 92 | Gray | Cassidy | | |
| 93 | Gabour | James | | |
| 94 | Baker | Isabel | | |
| 95 | Martinez | Carlos | | |