FOR IMMEDIATE RELEASE to all press outlets- if you do copy and paste this we ask that you please send us the printed article so we can add it to our scrapbook!
GASN, RIGGIN, PEKINS CAPTURE MAIN EVENT TITLES;
$34,000 IN SCHOLARSHIPS AWARDED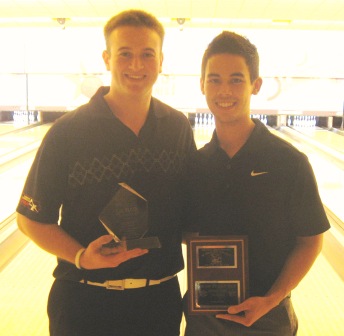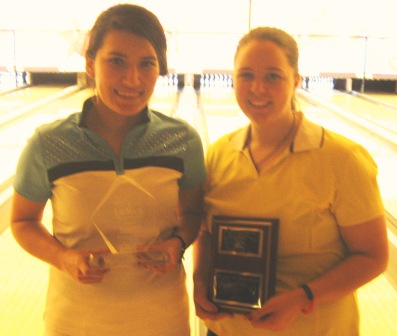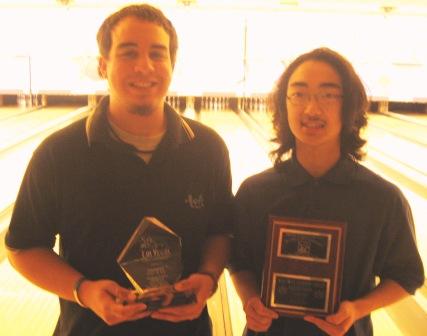 champs Gasn, Riggin, & Pekins with runners-up Kevin Tatrow, Holly Harris, & Brandon Teragawa
Matt Gasn of Laurel MD, Valerie Riggin of San Diego, and Brandon Pekins of Gardena CA captured singles titles in the 2011 Las Vegas Main Event, presented by Ebonite International and the Junior Bowlers Tour.
Gasn, a star on the east coast version of the JBT, turned the city into "Las Ve-Gasn" with a monster stepladder performance in the Open Scratch division. Qualifying 5th, he beat 2010 Handicap Singles champ Jerome Jordan 241-147, and followed with a 246-224 victory over top seed and current Junior Gold champ Gary Faulkner to advance to the title match. Against #2 seed and Wichita State star Kevin Tatrow, Gasn maintained the furious pace, beating Kevin 248-214 for the win and the enormous $5,000 first place scholarship prize.
Riggin qualified #2 for the Girls Scratch division finals, and defended her seed with a tough 223-213 win over Correen Lieber to reach the title match. Her opponent, #8 Holly Harris, had roared up the stepladder, but unfortunately for the talented WSU bowler, Riggin was locked in and determined. Valerie's 207-169 win was good for the title, and a whopping $1,500 scholarship windfall.
It was an all-Brandon title match in the handicap division, as #10 Pekins climbed up the handicap stepladder, while #3 Teragawa beat his brother Blake for his title match ticket. In the finale, it was So Cal's Pekins who had the better game against San Francisco's Teragawa, winning 218-184 for the title and a $2,000 scholarship payday.
1458 was the winning score in both doubles divisions, as Eric Hatchett of Las Vegas and Derek Acuff of Phoenix won in scratch, and Washingtonians Zach Hemming and Josh Mullen captured the handicap title.
In total, over $34,000 in scholarships were earned by bowlers age 21 and under from 21 states, as well as Mexico and Costa Rica. Big thanks to Shawn Morris and Ebonite International for their continued title sponsorship of the Main Event, Jerry Francomano and the staff at Texas Star Lanes for their usual phenomenal job hosting the tournament, all of our other terrific season-long sponsors, and every bowler and parent who took the time to participate in this tremendous tournament. Be sure to visit www.bowljbt.com for complete final standings, stats, videos, and so much more!
Scratch finalists:
| | | | | |
| --- | --- | --- | --- | --- |
| rank | name | | state | prize |
| 1 | Gasn | Matthew | MD | $5,000 |
| 2 | Tatrow | Kevin | KS | $2,600 |
| 3 | Faulkner | Gary | TN | $1,300 |
| 4 | King | Kyle | AZ | $700 |
| 5 | Lavery-Spahr | Sean | TX | $600 |
| 6 | Jordan | Jerome Jr | CA | $500 |
| 7 | Miller | Brad | MO | $400 |
| 8 | Adams | Nick | CA | $300 |
| 9 | Chuo | Joey | CA | $200 |
| 10 | Myers | Mark | CA | $150 |
| 11 | Hewitt | Travis | CA | $100 |
| 12 | Lavery-Spahr | Anthony | TX | $100 |
| 13 | Gonzales | Michael | CA | $100 |
| 14 | Jones | Kevin | CA | $100 |
| 15 | Booker | DeeRonn | CA | $100 |
| 16 | Paris | Blake | CA | $100 |
Handicap finalists:
| | | | | |
| --- | --- | --- | --- | --- |
| Rank | Last | First | State | Prize |
| 1 | Pekins | Brandon | CA | $2,000 |
| 2 | Teragawa | Brandon | CA | $1,000 |
| 3 | Torrence | Eric | CA | $700 |
| 4 | Teragawa | Blake | CA | $600 |
| 5 | Dryer | Kyle | CA | $500 |
| 6 | Masuoka | Timothy | CA | $400 |
| 7 | Cruz | Jerimiah | NM | $300 |
| 8 | Sweigart | Harley | CA | $200 |
| 9 | Berkley | Ethan | TX | $100 |
| 10 | Dempsey | Shelby | AZ | $100 |
Girls Scratch finalists:
| | | | | |
| --- | --- | --- | --- | --- |
| Rank | Last | First | State | Prize |
| 1 | Riggin | Valerie | CA | $1,500 |
| 2 | Harris | Holly | MN | $800 |
| 3 | Ijams | Allie | KS | $500 |
| 4 | Lieber | Correen | WA | $400 |
| 5 | Shelton | Wendy | NM | $300 |
| 6 | Alvarez | Pamela | KS | $200 |
| 7 | Muther | Kelsey | KS | $100 |
| 8 | Hiraoka | Nichole | CA | $100 |