2011 Main Event Open Scratch Singles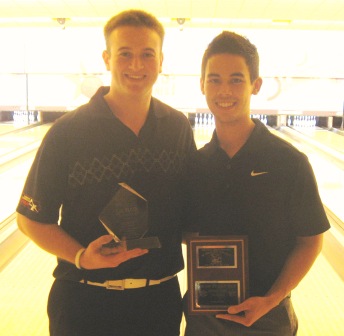 champ Matt Gasn & runner-up Kevin Tatrow
Matt Gasn of Laurel MD defeated Kevin Tatrow of Bel Aire KS 248-214 to capture the $5,000 first place scholarship prize as champion of the Open Scratch Singles division of the 2011 Las Vegas Main Event, presented by Ebonite International and the Junior Bowlers Tour, and hosted by Texas Star Lanes.
After eight games of qualifying and six games of matchplay, the top 16 bowlers advanced to a bracket-style stepladder finals. Gasn, the #5 seed, had a bye in the first round, and won a three-way second round with a 225 game that eliminated #7 Nick Adams and #14 Mark Myers. Down to head to head matches, Gasn then roared by #4 seed and 2010 Handicap Singles champ Jerome Jordan Jr 227-141. In the semifinals, Matt stopped top qualifier Gary Faulkner, who had a brilliant tournament to that point, 246-224, to reach the finals.
Meanwhile, #13 Tatrow, one of the very few bowlers who has bowled in every Main Event since the 2004 inaugural, made a fantastic climb up the ladder, winning four matches against a total of seven other high quality bowlers, including 2008 champ Brad Miller, and 2010 champ Kyle King in the semifinals, to advance against Matt for the championship.
A mid-game split from Gasn allowed some question as to the eventual winner, but Matt recovered from that with another big string to put the match away. The final score of 248-214 earned him the victory and the first place windfall, while Tatrow cashed for a whopping $2,600 himself.
In total, over $34,000 in scholarships were earned by bowlers age 21 and under from 21 states, as well as Mexico and Costa Rica. Big thanks to Shawn Morris and Ebonite International for their continued title sponsorship of the Main Event, Jerry Francomano and the staff at Texas Star Lanes for their usual phenomenal job hosting the tournament, all of our other terrific season-long sponsors, and every bowler and parent who took the time to participate in this tremendous tournament. Be sure to visit www.bowljbt.com for complete final standings, stats, videos, and so much more!
| | | | | |
| --- | --- | --- | --- | --- |
| rank | name | | state | prize |
| 1 | Gasn | Matthew | MD | $5,000 |
| 2 | Tatrow | Kevin | KS | $2,600 |
| 3 | Faulkner | Gary | TN | $1,300 |
| 4 | King | Kyle | AZ | $700 |
| 5 | Lavery-Spahr | Sean | TX | $600 |
| 6 | Jordan | Jerome Jr | CA | $500 |
| 7 | Miller | Brad | MO | $400 |
| 8 | Adams | Nick | CA | $300 |
| 9 | Chuo | Joey | CA | $200 |
| 10 | Myers | Mark | CA | $150 |
| 11 | Hewitt | Travis | CA | $100 |
| 12 | Lavery-Spahr | Anthony | TX | $100 |
| 13 | Gonzales | Michael | CA | $100 |
| 14 | Jones | Kevin | CA | $100 |
| 15 | Booker | DeeRonn | CA | $100 |
| 16 | Paris | Blake | CA | $100 |
| 17 | Chapman | AJ | IA | |
| 18 | Del Cerro | Mark | CA | |
| 19 | Tang | Michael | CA | |
| 20 | Benoit | Kenny | KS | |
| 21 | Earle | Alex | WA | |
| 22 | Madriz Masis | Rodolfo | Costa Rica | |
| 23 | Geering | Greg | AZ | |
| 24 | Fujita | Ronnie | CA | |
| 25 | Lindeman | Curtis | AZ | |
| 26 | Fujita | Mike | CA | |
| 27 | Dubia | Adam | CA | |
| 28 | Nadeau | Chase | NV | |
| 29 | Berry | Kyle | MD | |
| 30 | Chin | Riely | CA | |
| 31 | Schenck | Cortez | AZ | |
| 32 | Mullen | Josh | WA | |
| 33 | Douglas | Anthony | WA | |
| 34 | Hatchett | Eric | NV | |
| 35 | Robbins | Matthew | CA | |
| 36 | Kawada | Ethan | HI | |
| 37 | Svoren | Andrew | CA | |
| 38 | Chan | Oscar | CA | |
| 39 | Monnette | Brian | WA | |
| 40 | Spacey | Tanner | WA | |
| 41 | Manier | Steven | CA | |
| 42 | Tang | Darren | CA | |
| 43 | Oshiro | Kevin | HI | |
| 44 | Kanda | Justin | HI | |
| 45 | Smith | Cameron | AZ | |
| 46 | Fujimoto | Evan | HI | |
| 47 | Arakaki | Sean | HI | |
| 48 | Takara | Ray | HI | |
| 49 | Low | Wesley | CA | |
| 50 | Cruz | Tyler | WA | |
| 51 | Lewandowski | Joe | AZ | |
| 52 | Idzerda | Mark | CA | |
| 53 | Carroll | Shawn | CA | |
| 54 | Dempsey | Riley | AZ | |
| 55 | Godoy | Armando | CA | |
| 56 | Hattori | Zach | NV | |
| 57 | Kritzer | Forrest | CA | |
| 58 | Duplan | Nick | CA | |
| 59 | Peck | Shane | CA | |
| 60 | Hatchett | Eric | NV | |
| 61 | Hansen | Brad | | |
| 62 | Johnson | Raheem | | |
| 63 | Kamiyama | Micah | | |
| 64 | Lucente | Teddy | | |
| 65 | Bravo | Vincent | | |
| 66 | Thiedke | Adam | | |
| 67 | Jacob | Timothy | | |
| 68 | Luke | Holden | | |
| 69 | Acuff | Derek | | |
| 70 | Butturff | Jacob | | |
| 71 | Holley | Luke | | |
| 72 | Lemus | Keyon | | |
| 73 | Wong | Curt | | |
| 74 | Ragland | Lance | | |
| 75 | Stearns | Isaac | | |
| 76 | Leong | Dallas | | |
| 77 | Page | Robert | | |
| 78 | Karpovich | Kyle | | |
| 79 | Curtis | Mark | | |
| 80 | Lee | Nick | | |
| 81 | Raymond | Aaron | | |
| 82 | Chui | Kirk | | |
| 83 | Ferrer | Jordan | | |
| 84 | Sims | Justin | | |
| 85 | Duster | Kyle | | |
| 86 | Yoshida | Landan | | |
| 87 | Young | Collin | | |
| 88 | Camacho | Jacob | | |
| 89 | Kinzler Jr | Randy | | |
| 90 | Gordon | Casey | | |
| 91 | Edgerton | Zakary | | |
| 92 | Inafuku | Keene | | |
| 93 | Sartain | Robert | | |
| 94 | Nakagawa | Jonathan | | |
| 95 | Wong | Brock | | |
| 96 | Lazear | Jacob | | |
| 97 | Nakanishi | Robert | | |
| 98 | Hansen | Dan | | |
| 99 | Tsuchida | Eric | | |
| 100 | Yoneshige | Kyle | | |
| 101 | Tajiri | Josh | | |
| 102 | Yamamoto | Aaron | | |
| 103 | Boe | Tyler | | |
| 104 | Carlson | Tristan | | |
| 105 | Cooper | Austin | | |
| 106 | Ross | Reed | | |
| 107 | Ono | Jordan | | |
| 108 | Marchais | Chaplin | | |
| 109 | Stanley | Marcus | | |
| 110 | Satter | Tyler | | |
| 111 | Varholdt | Danny | | |
| 112 | Fukumoto | Gabriel | | |
| 113 | Yamamoto | Andrew | | |
| 114 | Williams | Ahkeen | | |
| 115 | Chapman | Andrew | | |
| 116 | Van Sickle | Bryan | | |
| 117 | Trudel | Brandon | | |
| 118 | Johnson | Skyler | | |
| 119 | Nagamine | Casey | | |
| 120 | Nelson | Mason | | |
| 121 | Iozzio | Derek | | |
| 122 | Ma | Michael | | |
| 123 | Matsuzaki | Joel | | |
| 124 | Coleman | Darius | | |
| 125 | Zweig | Matthew | | |
| 126 | Bousman | Dylan | | |
| 127 | Schumacher | Danny | | |