2011 Main Event Team Championship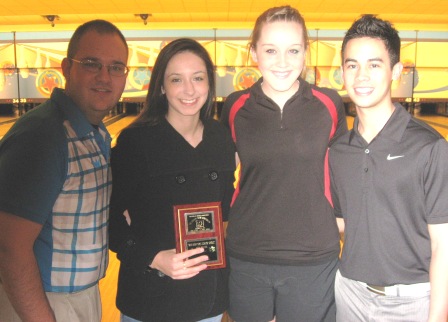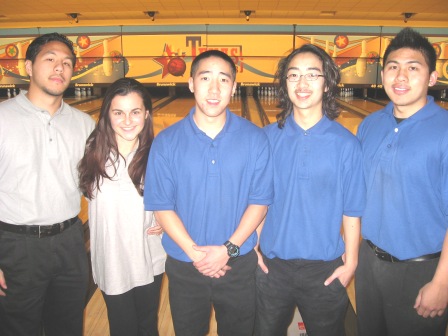 scratch champs Greg Geering, Elise Bolton, Allie Ijams, Kevin Tatrow and Mark Idzerda; handicap champs David Espinda, Olga Proschchuk, Blake Teragawa, Brandon Teragawa, and Tim Masuoka
Two talented teams came up big with wins in the 2011 Las Vegas Main Event Team Championship, presented by Ebonite International and the Junior Bowlers Tour.
Lots of stacked teams were put together for the scratch division, but the team pictured above outscored them all. Plenty of Main Event experience surely helped, as Greg Geering ('10 singles runner-up), Elise Bolton ('10 singles champ), Allie Ijams ('10 singles runner-up), Kevin Tatrow ('11 singles runner-up), and Mark Idzerda (heck of a nice guy) teamed for a 3243 three-game team total to capture the crown and split $800.
The perenially successful crew from San Francisco was back at it again, teaming up for a 3419 total to cruise to the crown. Blake Teragawa, Tim Masuoka, Olga Proshchuk, David Espinda, and eventual singles runner-up Brandon Teragawa all bowled well over average to secure the victory, splitting $500 between them.
Teams earning prizes are listed below. Complete final standings will be posted shortly.
Scratch
1
Ijams
Tatrow
Bolton
Geering
Idzerda
1023
1121
1099
3243
$800
2
Renslow
Tang
Tang
Fry
DelCerro
1019
1182
1028
3229
$500
3
Schenck
Robbins
Dubia
Lee
Hardy
1055
1092
1044
3191
$250
4
Acuff
Lindeman
Hatchett
Chan
Mullen
1052
973
1143
3168
$125
Handicap
1
Teragawa
Teragawa
Masuoka
Proshchuk
Espinda
813
792
857
957
3419
$500
2
Torrence
Camacho
Chui
Jones
Stubblefield
1021
1006
1028
210
3265
$250
3
Seawright
Svoren
Dennis
Andrews
Patten
966
969
894
432
3261
$100
FULL RESULTS POSTED, WELL, SOON. :-)