For Immediate Release (we'd love a copy if it gets printed somewhere!)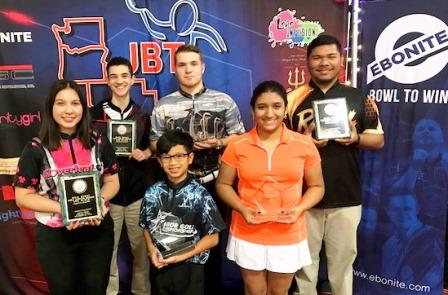 (l-r) Alyssa Alexander, Solomon Salama, Lathan Chin, Brennan Haugh, Aileen Linares, Dante Villa
HAUGH, CHIN, LINARES WIN 2018 JBT MAIN EVENT
$38,000+ in scholarships awarded!
Bowlers from California, New Mexico, and Minnesota captured the coveted singles titles at the 2018 Junior Bowlers Tour's Las Vegas Main Event, hosted at the South Point Bowling Plaza and presented by JBT South Point, and Ebonite International.
The top four Scratch division seeds survived the bracket-style stepladder to reach the final four. In those matches, Brennan Haugh defeated Lee 221-161, while in a match of premier portsiders, defending champ Solomon Salama ousted two-time champ Wesley Low 247-207.
The finale was a display of brilliance by both bowlers on the very challenging lane pattern. After Solomon finished at 237, Haugh, the 2016 runner-up, immediately stepped up and drilled ten in the pit to seal the win. The 259-237 finale earned the Minnesota native a $4,000 scholarship payday, while Salama added $2,500 to his JBT earnings for second.
In the Girls Scratch division semifinals, Aileen Linares ousted defending champion Maranda Pattison 224-217. In the other semifinal, Alyssa Alexander defeated Kaylee Am-Khong to set up the finale. Linares, who won her first open scratch title (boys and girls combined) on the year-round JBT Tour this fall, rolled a clean game that proved to be enough, defeating Alexander 204-165 for the championship. The New Mexico star earned $1,500 for the victory, while Alyssa tallied $750.
In the Handicap semifinals, top seed Dante Villa rolled past Gerilynn Delegarito 267-206, while 10 year-old Lathan Chin also put on a big show in a 254-210 win over Jason Gee. In the title match between two regulars in the JBT's So Cal Conference, Villa had a comfortable early lead, but Chin came up with a five-bagger (!) to win over the crowd as well as the match. The 238-201 finals earned Lathan $2,500, while $1,400 went Dante's way.
More champs include Californians Zack Long and Kyle Reed winning with 1462 in scratch doubles for $1,000, while Hawaii's Cayden Agena and Kaipo Chun's 1409 won $1,000 for the handicap doubles win. Northern California and Hawaii groups won the always-fun 4-person team event. Nine bowlers earned their spots at Junior Gold finals this summer by winning that qualifier. Deo Beanrd threw the event's only 300 game en route to a win in the warm-up sweepers.
Ebonite balls were raffled off all week long, and a fantastic on-lane clinic was hosted by Adam Ishman and Jake Peters, who shared their extensive knowledge with the participants.
The near-sellout field resulted in a whopping $38,757 in scholarships awarded to bowlers from all over North America. Thanks again to everyone who competed, the families who brought them there, and our sponsors, volunteers, and vendors for making it all happen!
2018 JBT Las Vegas Main Event- final results (details at www.bowljbt.com)
Scratch singles:
| | | | |
| --- | --- | --- | --- |
| Rank | Bowler | state | prize |
| 1 | Haugh, Brennan | MN | $4,000 |
| 2 | Salama, Solomon | CA | $2,500 |
| 3 | Low, Wesley | CA | $1,500 |
| 4 | Lee, Ryan | CA | $1,250 |
| 5 | Yadao, Kris | HI | $1,000 |
| 6 | Schenck, Cortez | AZ | $800 |
| 7 | Gilbert, Kyle | CA | $700 |
| 8 | Burton, Ryan | CA | $600 |
| 9 | Cardines, Cerell | NV | $500 |
| 10 | Rock, TJ | NV | $400 |
| 11 | Gilbert, Austin | CA | $300 |
| 12 | Long, Zack | CA | $200 |
| 13 | Gerencser, Joe | NV | $150 |
| 14 | Green, John | TX | $100 |
Handicap singles:
| | | | |
| --- | --- | --- | --- |
| Rank | Bowler | state | prize |
| 1 | Chin, Lathan | CA | $2,500 |
| 2 | Villa, Dante | CA | $1,400 |
| 3 | Gee, Jason | CA | $1,000 |
| 4 | Delegarito, Gerilynn | NM | $800 |
| 5 | Yamanoha, Adrian | CA | $700 |
| 6 | Palmer, Roy | CA | $600 |
| 7 | Fletcher, Darren | AZ | $500 |
| 8 | Faro, Christopher | NV | $450 |
| 9 | McCoy, Justyce | NV | $400 |
| 10 | Bechelli, Joey | CA | $350 |
| 11 | Shepard, Hailey | CA | $300 |
| 12 | Cho, Younghun | CA | $250 |
| 13 | Kessler, Timothy | CA | $200 |
| 14 | Severe, Payton | AZ | $150 |
| 15 | Yu, Jonathan | CA | $100 |
Girls singles:
| | | | |
| --- | --- | --- | --- |
| Rank | Bowler | state | prize |
| 1 | Linares, Aileen | NM | $1,500 |
| 2 | Alexander, Alyssa | CA | $750 |
| 3 | Pattison, Maranda | CA | $500 |
| 4 | Am-Khong, Kaylee | AZ | $400 |
| 5 | Wahner, Adel*** | NM | $300 |
| 6 | Abigania, Katelyn | CA | $200 |