2020 JBT Las Vegas Main Event- Girls Scratch Singles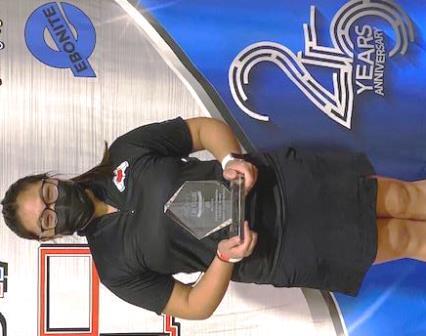 champ Jennifer Loredo
In the most amazing finish in Main Event history, if not all of JBT history, Jennifer Loredo defeated Saphyre Nofuente 10-8 in a rolloff after a 192 tie, to capture the Girls Scratch Singles division of the 2020 JBT Las Vegas Main Event, held at the beautiful South Point Bowling Plaza.
Prior to the theatrics, Faythe Reid beat Jazelle Lampkin in an all-Nevada battle, and Katelyn Abigania beat Avery Domaguin in an all-California battle, in round one of the finals. #1 and #2 then stepped up, with Loredo stopping Reid and Nofuente stopping Abgania, to set up the finale.
In the title match's tenth frame Saphyre finished strike-spare for 192, meaning Loredo could strike to win, or spare-strike to tie. Jennifer's first shot left an apparent title-losing 'greek church', but she then took a breath and did the almost impossible, converting the split! It wouldn't mean anything though if she couldn't regroup and strike on the fill ball, which she calmly did to tie at 192. Electing to go first in the rolloff, she dead-flushed her next shot as well, and when Nofuente (at all of 14 years old!) couldn't match it, Loredo had the most memorable of wins, and the coveted Main Event title. Go watch the video today- wow, wow, wow!
Huge thanks to the team at South Point for making this event possible, as well as everyone for attending. The 2021 Main Event returns to South Point December 26-30, spread the word and make your plans!
Bracket Finals results:
1. Jennifer Loredo, $1,500
2. Saphyre Nofuente, $800
3. Katelyn Abigania, $500
4. Faythe Reid, $400
5. Jazelle Lampkin, $300
6. Avery Domaguin, $200

Semifinals: (scores below include 30 bonus pins for wins)
2020 LAS VEGAS MAIN EVENT- GIRLS SCRATCH SINGLES
Rank
Bowler
total
gm 1
gm 2
gm 3
gm 4
gm 5
gm 6
TOTAL
total +/-
1
Loredo, Jennifer
1364
195
241
265
170
244
298
2777
377, adv
2
Nofuente, Saphyre
1152
184
224
217
295
220
266
2558
158, adv
3
Lampkin, Jazelle
1205
156
218
230
183
285
235
2512
112, adv
4
Domaguin, Avery
1287
223
226
158
210
172
235
2511
111, adv
5
Abigania, Katelyn
1304
173
170
228
179
178
224
2456
56, adv
6
Reid, Faythe
1177
215
257
221
167
238
174
2449
49, adv
7
Pattison, Maranda
1227
229
223
200
178
220
163
2440
40
8
Schrider, Emily
1163
237
198
234
159
243
174
2408
8
9
Fuzie, Vanessa
1168
216
154
234
228
167
240
2407
7
10
Franklin, Abby
1215
151
193
192
254
220
181
2406
6
11
Delegarito, Gerilynn
1163
230
180
153
248
215
214
2403
3
12
Cheesman, Emily
1200
147
238
220
219
187
183
2394
-6
13
Marquez, Koryn
1146
169
160
242
230
224
204
2375
-25
14
Linares, Aileen
1164
176
193
172
221
188
248
2362
-38
15
Hong, Stephanie
1279
195
154
124
155
197
230
2334
-66
16
Santos, Ashley
1141
208
181
151
148
230
263
2322
-78
17
Kiddle, Aubrey
1194
207
165
178
223
169
176
2312
-88
18
Holman, Madison
1159
164
186
213
187
169
162
2240
-160
Qualifying:
2020 LAS VEGAS MAIN EVENT- GIRLS SCRATCH SINGLES
Rank
Bowler
Squad
gm 1
gm 2
gm 3
gm 4
gm 5
gm 6
total
total +/-
1
Loredo, Jennifer
f
192
247
248
225
244
208
1364
164
2
Abigania, Katelyn
f
243
223
203
191
226
218
1304
104
3
Domaguin, Avery
d
196
217
237
177
224
236
1287
87
4
Hong, Stephanie
b
206
209
254
256
154
200
1279
79
5
Pattison, Maranda
f
193
228
179
200
182
245
1227
27
6
Franklin, Abby
f
223
199
211
197
170
215
1215
15
7
Lampkin, Jazelle
f
245
195
194
188
180
203
1205
5
Domaguin, Avery
a
193
258
210
158
199
186
1204
4
8
Cheesman, Emily
a
235
192
226
180
187
180
1200
0
9
Kiddle, Aubrey
f
174
248
160
218
234
160
1194
-6
10
Reid, Faythe
g
188
231
222
171
180
185
1177
-23
11
Fuzie, Vanessa
f
234
158
149
179
243
205
1168
-32
12
Linares, Aileen
g
197
181
258
170
167
191
1164
-36
13
Schrider, Emily
e
178
183
232
210
168
192
1163
-37
14
Delegarito, Gerilynn
a
223
184
144
213
247
152
1163
-37
15
Holman, Madison
a
139
213
173
216
241
177
1159
-41
Pattison, Maranda
c
190
180
225
164
198
199
1156
-44
Loredo, Jennifer
d
174
190
201
185
208
194
1152
-48
16
Nofuente, Saphyre
g
164
246
182
161
195
204
1152
-48
17
Marquez, Koryn
f
147
181
233
193
224
168
1146
-54
Kiddle, Aubrey
a
206
198
153
201
193
195
1146
-54
18
Santos, Ashley
g
148
188
224
163
212
206
1141
-59
Above bowlers qualify for 12 noon semi finals
(re-entries not sorted out below)
19
Franklin, Abby
b
180
227
189
179
182
182
1139
-61
20
Alexander, Alyssa
g
159
169
217
207
180
204
1136
-64
21
Sicard, Mary
a
200
166
235
177
194
159
1131
-69
22
Marquez, Koryn
b
213
174
189
177
206
171
1130
-70
23
Alvarez, Yarelis
d
182
218
174
177
190
189
1130
-70
24
Alexander, Alyssa
b
173
204
209
175
158
202
1121
-79
25
Hammer, Mackenzie
f
159
146
245
160
217
190
1117
-83
26
Greene, Miya
g
179
161
207
209
187
174
1117
-83
27
Delegarito, Gerilynn
d
148
213
192
158
213
192
1116
-84
28
Orosco, Akayla
e
136
167
221
214
192
178
1108
-92
29
Orasco, Akayla
d
163
195
190
160
192
205
1105
-95
34
Alvarez, Yarelis
g
197
175
174
157
235
167
1105
-95
35
Schrider, Emily
d
147
206
234
148
193
162
1090
-110
36
Iles, Emily Rose
b
185
205
177
195
160
167
1089
-111
37
Azvedo, Allison
d
196
210
171
155
168
188
1088
-112
38
Santos, Ashley
d
188
183
194
188
169
164
1086
-114
39
Linares, Aileen
d
158
232
179
166
177
173
1085
-115
40
Fung, Stephanie
c
186
185
184
155
216
157
1083
-117
41
Shaner, Emma
b
158
208
135
190
208
182
1081
-119
42
Schrider, Emily
a
178
172
193
211
177
147
1078
-122
43
Sicard, Mary
c
177
175
195
219
147
164
1077
-123
44
Lampkin, Olivia
f
196
217
141
172
182
168
1076
-124
45
Fung, Stephanie
g
173
176
103
217
177
226
1072
-128
46
Hammer, Mackenzie
e
189
173
159
228
167
155
1071
-129
47
Orosco, Akayla
a
130
199
199
222
145
173
1068
-132
48
Yukihiro, Kaitlynn
d
178
161
170
183
199
170
1061
-139
49
Iles, Emily Rose
g
127
192
171
191
206
174
1061
-139
50
Azvedo, Jaclyn
g
169
158
159
181
233
160
1060
-140
51
Holman, Madison
d
179
179
189
164
177
171
1059
-141
52
Hammer, Kaitlynn
f
141
178
145
204
210
180
1058
-142
53
Lords, Afton
g
194
192
155
156
167
190
1054
-146
54
Cheesman, Emily
d
185
172
182
187
179
148
1053
-147
55
Berg, Rachael
f
169
198
139
177
188
182
1053
-147
56
Emery, Miranda
b
185
157
192
198
151
169
1052
-148
57
Greene, Miya
b
171
154
171
181
193
178
1048
-152
58
Greene, Miya
d
186
166
169
128
193
205
1047
-153
59
Greim, Lindsay
b
198
189
178
183
151
145
1044
-156
60
Santos, Ashley
b
219
127
170
180
166
181
1043
-157
61
Cuartero, Cherianne
g
147
188
188
182
175
158
1038
-162
62
Azvedo, Allison
g
197
172
187
174
151
148
1029
-171
63
Yukihiro, Kaitlynn
g
195
173
184
155
146
173
1026
-174
64
Linares, Aileen
e
142
137
187
170
187
200
1023
-177
65
Reid, Faythe
d
164
158
183
193
168
156
1022
-178
66
Berg, Rachael
b
144
177
140
199
153
201
1014
-186
67
Franklin, Abby
a
159
147
172
170
188
169
1005
-195
68
Walker, Vikki
b
201
163
160
131
190
157
1002
-198
69
Alvarez, Yarelis
c
146
177
167
176
165
171
1002
-198
70
Swaisgood, Dani
b
177
130
190
174
150
171
992
-208
71
Walker, Vikki
f
211
176
141
124
173
156
981
-219
72
Purdy, Alayna
e
161
210
149
165
179
117
981
-219
73
Cdebaca, Montana
a
152
148
190
162
152
170
974
-226
74
Shaner, Emma
f
132
147
179
153
162
187
960
-240
75
Emery, Miranda
f
118
201
143
153
165
175
955
-245
76
Azvedo, Jaclyn
d
194
134
152
119
160
196
955
-245
77
Swaisgood, Dani
g
181
150
158
136
168
158
951
-249
78
Cdebaca, Montana
g
123
146
146
149
216
169
949
-251
79
Sicard, Mary
g
152
160
160
146
169
159
946
-254
80
Greim, Lindsay
g
170
142
147
157
162
163
941
-259
81
Lords, Afton
a
133
144
161
171
169
133
911
-289
82
Bustamante, Alexiz
a
137
115
127
163
199
165
906
-294
83
Hammer, Kaitlynn
e
120
166
128
150
135
173
872
-328
84
Homewood, Rachel
e
139
145
106
140
168
159
857
-343