For immediate release- please feel free to share this with all media outlets; we'd love a copy of anything published!
Schenck, Loredo, Fernandez win JBT Main Event titles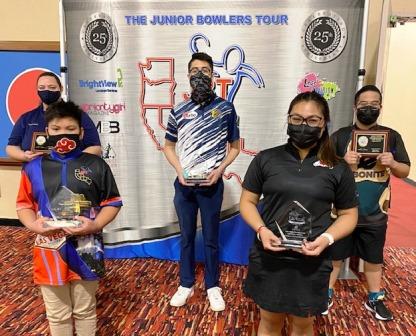 (l-r) Jessica Handa, Gavin Fernandez, Cortez Schenck, Jennifer Loredo, Cerell Cardines
Cortez Schenck of Phoenix, Jennifer Loredo of Fresno CA, and Gavin Fernandez of Henderson NV claimed the coveted singles titles of the 2020 JBT Las Vegas Main Event, hosted by the amazing South Point Bowling Plaza and presented by the JBT's title sponsor Ebonite. $27,985 in scholarships were earned by bowlers of all ages and skill levels from across the country.
Schenck filled one of the very few gaps in an unparalleled JBT career by finally winning Main Event. 17-time champ and #2 seed Cerell Cardines gave him a tough battle but couldn't string strikes, and Cortez came away with the win for the 98th (!) victory of his JBT career, far and away the all-time lead on the title list. He added another $3,000 to his career earnings while Cardines pocketed a $1,600 scholarship for second.
Hernandez is a rapidly improving youngster, and put on his best performance by climbing the ladder from the #5 seed, beating three tough opponents to get to the final, and wrapping up with a win over Jessica Handa for the $1,700 top prize and second career JBT major, while Handa settled for the $1,000 runner-up prize.
Loredo pulled off the most unlikely win in Main Event history. Playing 14 year-old wunderkind Saphyre Nofuente, she needed strike to win and spare-strike tie. A 'greek church' on her first ball appeared to seal her fate, but she came up with the miracle conversion, and somehow regrouped to follow with a strike to tie at 192. She won the ensuing rolloff 10-8 to claim the absolutely thrilling win and $1,500 top scholarship prize.
Hunter Mayes and Zach Greim won the scratch doubles crown, while Jadeyn Mabry and Kaitlyn Hammer claimed the handicap doubles win. Only two 300 games were thrown on the demanding lane conditions, by singles finalists Tyler Coates and Kyler Orosco.
Huge thanks to the entire team at South Point for being an amazing partner for this event, which will return to the spectacular Bowling Plaza Dec. 26-30, 2021 for the 18th annual edition of the JBT Las Vegas Main Event!
Scratch Finals results:
1. Cortez Schenck, $3,000
2. Cerell Cardines, $1,600
3. Bud Sicard, $1,000
4. Kyler Orosco, $800
5. Makana Wong, $600
6. Tyler Coates, $500
7. Vincent Luong, $400
8. Josh Williams, $300
Handicap Finals results:
1. Gavin Fernandez, $1,700
2. Jessica Handa, $800
3. Kelcey Aczon-Kawamura, $800
4. Sean Brackett, $600
5. Zachary Gonzalez, $500
6. Lucas Wilson, $400
7. Cora Lerma, $300
8. Audrey Andrews, $200
Girls Finals results:
1. Jennifer Loredo, $1,500
2. Saphyre Nofuente, $800
3. Katelyn Abigania, $500
4. Faythe Reid, $400
5. Jazelle Lampkin, $300
6. Avery Domaguin, $200