2022 JBT Las Vegas Main Event- Girls Scratch Singles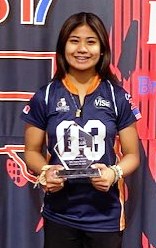 champion Katelyn Abigania
Katelyn Abigania, San Diego CA, defeated Jennifer Loredo, Fresno CA, to win the girls scratch singles division of the 2022 JBT Las Vegas Main Event, hosted by the South Point Bowling Plaza and sponsored by the Brands of Brunswick, IAM Bowling, South Point, and the Junior Bowlers Tour.
Abigania began her climb to the title by playing fellow Californian superstar Avery Domaguin for the third straight year in the finals, advancing to 2-1 in those showdowns. Simultaneously, an all-Team USA battle saw Loredo beat Mabel Cummins. Top seed Annalise O'Bryant then had a thriller with Abigania. Katelyn struck in the tenth to escape from O'Bryant 201-192. Meanwhile, Loredo, the 2020 Main Event champ, got by the defending champ, Vanessa Fuzie, to advance and play Katelyn for the title.
Both talented bowlers struggled a bit on the very demanding pattern, but in the end it was Katelyn squeezing out a 180-161 to add the Main Event title to her already fantastic season. She earned $1,800 for the win while Loredo added $1,200 for another excellent Main Event performance.
Complete results are at our website, www.bowljbt.com. Huge thanks to everyone for attending, and all our sponsors, vendors, hosts, and volunteers, who all help make an event of this scope possible. The JBT Las Vegas Main Event returns to the South Point Plaza December 26-30, 2023, please help us spread the word to all ages and skill levels!
2022 LAS VEGAS MAIN EVENT- GIRLS SCRATCH SINGLES- final results
Rank
Bowler
prize
1
Abigania, Katelyn
$1,800
2
Loredo, Jennifer
$1,200
3
O'Bryant, Annalise
$900
4
Fuzie, Vanessa
$700
5
Cummins, Mabel
$600
6
Domaguin, Avery
$500
7
Marquez, Koryn
$400
8
Aczon-Kawamura, Kelcey
9
Greene, Miya
10
Mabry, Jadeyn
11
Lampkin, Olivia
12
Reid, Faythe
13
Delegarito, Gerilynn
14
Bollea, Kendall
15
Cheesman, Emily
16
Hoyt, Ashland
17
Paige, Mackenzine
18
Emery, Miranda
19
Azvedo, Allison
20
Azvedo, Jaclyn
21
Swaisgood, Dani
22
Beck, Jazmyn
23
McLaughlin, Ava
24
Iha, Rebecca
re-entries not sorted out below:
25
Iha, Rachel
26
Delegarito, Gerilynn
27
Swaisgood, Dani
28
Nguyen, Katelyn
29
Marquez, Koryn
30
Marquez, Koryn
31
White, Caitlin
32
Bollea, Kendall
33
Hong, Stephanie
34
Greim, Lindsay
35
Hong, Stephanie
36
Lampkin, Jazelle
37
Greene, Miya
38
Swaisgood, Dani
39
Lords, Afton
40
McLaughlin, Ava
41
Holman, Madison
42
Paige, Mackenzine
43
Emery, Miranda
44
Greene, Miya
45
Hammer, Kaitlyn
46
Orosco, Akayla
47
Paige, Mackenzine
48
Hoyt, Ashland
49
Yockman, Janae
50
Holman, Madison
51
Delegarito, Gerilynn
52
Sangalang, Hana
53
Swaisgood, Dani
54
Lords, Afton
55
Hammer, Kaitlyn
56
Cheesman, Emily
57
Cheesman, Emily
58
Azvedo, Allison
59
Reid, Faythe
60
Yockman, Janae
61
Struble, Maia
62
Reid, Faythe
63
Delegarito, Gerilynn
64
Hong, Stephanie
65
Lords, Afton
66
Fincham, Danielle
67
Fritts, Kallista
68
Hammer, Kaitlyn
69
Lee, Sarah
70
Beck, Jazmyn
71
Purdy, Alayna
72
Orosco, Akayla
73
Greim, Lindsay
74
Rees, Lizzy
75
Zanin, Kelsie
76
Morris, Jhenae
77
Mabry, Jadeyn
78
Reyes-Solano, Joysbeliz
79
Nguyen, Katelyn
80
Giambri, Lucia
81
Fritts, Kallista
82
Kamahiai, Kaila
83
Lampkin, Jazelle
84
Beck, Jazmyn
85
Sangalang, Hana
86
Fritts, Kallista
87
Rees, Lizzy
88
Hoyt, Ashland
89
Williams, Mya Kay
90
Kamahiai, Kaila
91
Purdy, Alayna
92
Emery, Miranda
93
Moris, Jhenae
94
Gasper, Chevette
95
Diaz, Enairys
96
Zanin, Kelsie