2022 JBT Las Vegas Main Event- Handicap Singles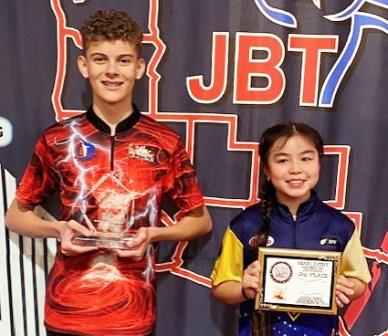 champion Tristan Dalton & runner-up Alyssa Randisi
Tristan Dalton of Las Vegas defeated Alyssi Randisi, Brooklyn NY, to win the handicap singles division of the 2022 JBT Las Vegas Main Event, hosted by the South Point Bowling Plaza and sponsored by the Brands of Brunswick, IAM Bowling, South Point, and the Junior Bowlers Tour.
Randisi began her climb up the finals board with a win over Tyler Tran 232-193. In simultaneous action, Devin Montoya got past Jonathan Hernandez 215-197. In the next round Alyssa escaped a thriller from Bryan Gregson 246-237, while Dalton stopped Montoya's run 285-249 in another high scoring battle. The top two seeds then came in, and each performed wonderfully, but ran into freight trains, as 10 year-old Randisi beat top seed Ava Johnson 237-223, while Dalton beat #2 Max Torres 279-251 to set up the finale.
Alyssa is already tournament-tough at her age, while Tristan was competing in his first big tournament and admitted to understandable nervousness. However, Dalton handled himself brilliantly, pouring on strikes in a win over Alyssa for the Main Event title, and $3,000 top scholarship prize, while Randisi added $2,000 for her runner-up performance.
Complete results are at our website, www.bowljbt.com. Huge thanks to everyone for attending, and all our sponsors, vendors, hosts, and volunteers, who all help make an event of this scope possible. The JBT Las Vegas Main Event returns to the South Point Plaza December 26-30, 2023, please help us spread the word to all ages and skill levels!
2022 LAS VEGAS MAIN EVENT- HANDICAP SINGLES- final results
Rank
Bowler
prize
1
Dalton, Tristan
$3,000
2
Randisi, Alyssa
$2,000
3
Johnson, Ava
$1,300
4
Torres, Max
$1,000
5
Gregson, Bryan
$900
6
Montoya, Devin
$800
7
Tran, Tyler
$700
8
Hernandez, Jonathan
$600
9
Randisi, Nolan
$500
10
Kankariya, Jai
$400
11
Orellana, Bryan
$300
12
Brooks Jr., Doug
$250
13
Yockman, Jayna
$200
14
Sham, Caden
$150
15
Verde, JT
$130
16
Bentkowski, Ezra
$120
17
Workman, Jaden
$110
18
Sanchez, Andrew
$100
19
Kankariya, Neel
20
Jorge, Ethan
21
Garcia, Anthony
22
Harnit, Nathan
23
Frey, Dylan
24
Lopes, Tyson
25
Tran, Carter
26
Abarca, Steve
27
Tiquia, Laelah
28
Gillespie, Jackson
29
Baker, Gage
30
King, jake
31
Christensen, Matthew
32
Reyes, London
33
Souza, Jazelle
34
Spriggs, Bailee
35
Domantay, AC
36
Leong, Dylan
37
King, Hayden
38
Martak, Stone
39
John, Isaac
40
Etchegoyen, Landon
re-entries not sorted out below:
41
Rossi, Brian
42
Abarca, Steve
43
Miller, Roman
44
Lopes, Tyson
45
Abarca, Katherine
46
Morency, Olivia
47
Leong, Dylan
48
Kankariya, Neel
49
Bollea, Evelynn
50
Glass, Thomas
51
Serafini, Madeleine
52
Evans, Zackary
53
Nguyen, Kylie
54
McCoy, Brandon
55
Coates, Terrell
56
King, jake
57
Clark, Ryann
58
Serafini, Madeleine
59
Yonesaki, Ryeder
60
Torres, Eddie
61
Galvez, William
62
Serafini, Madeleine
63
Chambers, Nathan
64
Randisi, Alyssa
65
Abigania, Jon
66
Coates, Terrell
67
Tang, Nathan
68
Giambri, Nico
69
Chambers, Ethan
70
Yockman, Jayna
71
Pointon, RJ
72
Frey, Dylan
73
Kankariya, Jai
74
Massengale, Tasia
75
Velasco, Xander
76
Purugganan, Kaili
77
Tran, Carter
78
Marleau, Truman
79
Jesko, Brylee
80
London, Abigail
81
Handa, Tyler
82
Kankariya, Neel
83
Macias, Jayden
84
Abkin, Stephen
85
Jaber, George
86
Miller, Roman
87
Bollea, Evelynn
88
Chambers, Ethan
89
McGough, James
90
Brooks Jr., Doug
91
Howard, Sophia
92
Chin, Lathan
93
Kitchens, Emma
94
Martak, Stone
95
Johnson, Ava
96
Yamada, Kaz
97
Brown, Madysin
98
Wang, Jerry
99
McGough, James
100
Romero, Angela
101
Souza, Jazelle
102
Evans, Zackary
103
Asuncion, Jesse
104
Harnit, Nicholas
105
Romero, Angela
106
Debina-Gasper, Aliyana
107
Romero, Angela
108
Cabanting, Kobe
109
Jimeno, Porfirio
110
Tran, Carter
111
Massengale, Tasia
112
Cabanting, Kobe
113
Jorge, Ethan
114
Yamada, Kaz
115
Purugganan, Garrett
116
Kankariya, Jai
117
Rosenblum, Alex
118
Purugganan, Garrett
119
Marleau, Truman
120
Rucker, Reilly
121
Wang, Jerry
122
Tonelete, Regis
123
Hockman, Nicholas
124
Harnit, Nathan
125
Brown, Madysin
126
Hartley, Alex
127
Hartley, Alex
128
Ngo, Brandon
129
Rosenblum, Alex
130
Domantay, AC
131
Tiquia, Jazel
132
Bell, Connor
133
Wang, Jerry
134
McCoy, Justyce
135
Tang, Nathan
136
Martak, Stone
137
Hockman, Nicholas
138
Cloud, Louis
139
Cabanting, Keiden
140
Reyes, London
141
Tiquia, Laelah
142
Coates, Terrell
143
Kidd, Christina
144
Santos, Ethan
145
Wallin, Lailani
146
White, Caitlyn
147
Glass, Thomas
148
Stiley, Colin
149
Evans, Zackary
150
John, Isaac
151
Samarin, Benjamin
152
Sanchez, Andrew
153
Wallin, Lailani
154
McCoy, Justyce
155
Leong, Dylan
156
Rosenblum, Alex
157
Kielich, Kloey
158
Soto, Ethan
159
Harnit, Nicholas
160
Scharton, Trevor
161
Fincham, Devin
162
Sibilla, Brayden
163
Todacheenie, Xaden
164
Romero, Jonas
165
Cloud, Louis
166
Sibilla, Brayden
167
McNutt, RJ
168
Soto, Ethan
169
Kidd, Christina
170
Ngo, Chloe
171
Samarin, Benjamin
172
Wallin, Lailani
173
Lee, Peyton
174
Clark, Mackenzi
175
Sham, Caden
176
Nguyen, Kylie
177
Velasco, Cameron
178
Pendergrass, Conner
179
Jaber, Lewis
180
Soto, Ethan
181
Santos, Ethan
182
Velasco, Xander
183
Kitchens, Emma
184
Hardy, TJ
185
Purugganan, Kaili
186
Romero, Jonas
187
London, Abigail
188
Howard, Sophia
189
Todacheenie, Xaden
190
Reyes, Queona
191
Adkins, Jerod
192
Brown, Madysin
193
Stiley, Colin
194
Gregorich, Noel
195
Harnit, Nicholas
196
London, Abigail
197
Clark, Mackenzi
198
Glass, Thomas
199
Velasco, Xander
200
Giambri, Nico
201
Soto, Ashley
202
Enright, Jakob
203
Nguyen, Kylie
204
Miric, Sara
205
John, Ivan
206
McNutt, RJ
207
Ngo, Chloe
208
Tonelete, Regis
209
Hardy, TJ
210
Aquino Jr., Wayne
211
McGough, Hannah
212
Yonesaki, Ryeder
213
Cloud, Louis
214
Powers, Troy Ace
215
Weed, Jason
216
Pimentel, Raeden
217
Christensen, Matthew
218
Reyes, Queona
219
Miric, Sara
220
Reyes, Queona
221
Pendergrass, Conner
222
Velasco, Cameron
223
Gregorich, Ryland
224
Harnit, Nicholas
225
Pointon, RJ
226
Marleau, Truman
227
Griffin, Kaitlyn
228
Jaber, Lewis
229
Torres, Eddie
230
Tang, Nathan
231
Sibilla, Brayden
232
Oshiro, Kelsey
233
Wang, Jerry
234
Montoya, Devin
235
Todacheenie, Xaden
236
McGough, Hannah
237
Ahlen, Lucas
238
Asuncion, Jesse
239
Chin, Lathan
240
Lee, Peyton
241
Lee, Peyton
242
Hernandez, Jonathan
243
Smyth, Ryleigh
244
Smith, Sterling
245
Gregorich, Luka
246
Pointon, RJ
247
Jorge, Ethan
248
Pointon, RJ
249
Meliska, Connor
250
Gutierrez, Jesus
251
Tiquia, Jazel
252
Powers, Troyace
253
Smyth, Keir
254
Pendergrass, Conner
255
Kitchens, Emma
256
Meraz, Zoey
257
Navarette, Santi
258
Abkin, Stephen
259
Hopkins, Hailey
260
Clark, Brenna
261
Handa, Tyler
262
Aquino, Laynee
263
Lopez, Brendon
264
Evans, Zackary
265
Chambers, Nathan
266
Macias, Jayden
267
White, Caitlyn
268
Barron, Joaquin
269
Moreland, Hayden
270
Read, Jessica
271
Gutierrez, Jesus
272
Navarette, Santi
273
Raymond, Shaiden
274
Baker, Gage
275
Fujioka, Kameron
276
Clark, Mackenzi
277
King, Hayden
278
Giambri, Nico
279
Gutierrez, Jesus
280
Tiquia, Jazel
281
Ahlen, Lucas
282
Meraz, Zoey
283
Ward, Andrew
284
Henkels, Mannel
285
Bell, Connor
286
Hopkins, Hailey
287
Navarette, Santi
288
McNutt, RJ
289
Scharton, Trevor
290
Williams, Mya Kay
291
Adkins, Jerod
292
Pointon, RJ
293
Regpala, Gabriel
294
Raymond, Shaiden
295
Kamahiai, Bulla
296
Romero, Jonas
297
Weed, Jason
298
Giambri, Lucia
299
Jaber, George
300
Hopkins, Hailey
301
Jimeno, Porfirio
302
Raymond, Shaiden
303
Tonelete, Regis
304
Cabanting, Keiden
305
John, Ivan
306
Regpala, Gabriel
307
Redfield, Jutin
308
Samson, Ethan Jon
309
Raymond, Shaiden
310
Simmons, Chase
311
Abkin, Stephen
312
Soto, Ashley
313
Jaber, Lewis
314
Redfield, Jutin
315
Jaber, George
316
Weed, Jason
317
Jimeno, Porfirio
318
Montoya, Devin
319
Hopkins, Hailey
320
Lopez, Brendon
321
Soto, Ashley
322
London, Abigail
323
Martak, Stone
324
Shepard, Aarin