2022 JBT Las Vegas Main Event press release
FOR IMMEDIATE RELEASE:
Abigania, Gastouniotis, Dalton win JBT Main Event Singles Titles;
$55,000+ in scholarships awarded!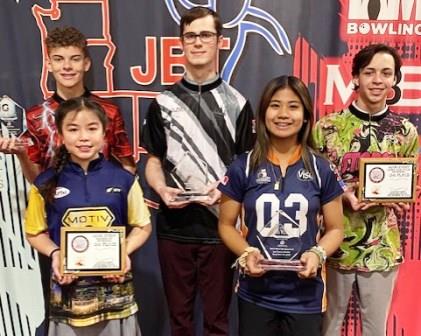 Tristan Dalton, Alyssa Randisi, Costa Gastouniotis, Katelyn Abigania, Lucas Finley
Californians Costa Gastouniotis and Katelyn Abigania, and Las Vegas' Tristan Dalton, captured singles titles at the JBT's Las Vegas Main Event tournament, hosted by the beautiful South Point Plaza, and sponsored by the Brands of Brunswick, IAM Bowling, South Point, and the Junior Bowlers Tour. A record $55,888 was awarded to bowlers of all skill levels and ages from all over North America.
Gastouniotis had a breakthrough tournament to claim scratch singles. With only one previous JBT title, he qualified 3rd in a super-strong field, then mowed through Hunter Mayes and Solomon Salama with 279 and 266 to reach the title match. Lucas Finley of Colorado, was up to Costa's torrid pace in the title match, starting with the front five, but could only watch as Gastouniotis extended the string to the front ten. A 2-8 in the eleventh stopped his quest for history, but it's doubtful he cares, as the 288-258 final score (and 833 finals total) was good for the title, his second career JBT win, and enormous $4,500 first place prize. Finley earned $3,000 for the excellent runner-up performance.
The girls scratch field was also loaded with talent, with every finalist boasting either Team USA experience, a Main Event title, or both. In the end, San Diego's Abigania continued her breakthrough season with a grindout 181-169 win over 2020 Main Event champ Jennifer Loredo for the title and $1,800 top prize. She's been beating the boys all season on our weekly JBT Tour, and now adds this accolade to her stellar resume!
The handicap finals featured newcomer Dalton and 10 year-old Randisi, who with her brother made a big splash last season, only to improve even more this year with the title match appearance. Tristan, who admitted to big-time nerves in this big-time spot, showed no sign of them and bowled brilliantly in coasting to the win over Alyssa, first JBT title, and $3,000 top scholarship prize!
Pint-sized phenoms Caden Sham and Alyssa's brother Nolan Randisi claimed the handicap doubles win, while college standouts Charles Bostic and TJ Rock edged the field for the scratch doubles win, each worth $1,000 top prizes. Even more prizes were earned in the always-fun Team event, warm-up sweepers, optional brackets, and the U17 bonus list, all tallying up to that $55,000+ record fund.
Complete results are at our website, www.bowljbt.com. Huge thanks to everyone for attending, and all our sponsors, vendors, hosts, and volunteers, who all help make an event of this scope possible. The JBT Las Vegas Main Event returns to the South Point Plaza December 26-30, 2023, please help us spread the word to all ages and skill levels!
2022 LAS VEGAS MAIN EVENT- SCRATCH SINGLES final results
Rank
Bowler
prize
1
Gastouniotis, Costa
$4,500
2
Finley, Lucas
$3,000
3
Salama, Solomon
$2,000
4
Larsen, Nicholas
$1,500
5
Padilla, Cesar
$1,000
6
Mayes, Hunter
$800
7
Grammer, Austin
$700
8
Close, Tyler
$600
9
Lee, Garrett
$500
10
Zieg, Allex
$400
11
Coates, Tyler
$350
12
Reynoso, Ernesto
$300
13
Greim, Zach
$250
14
Orosco, Kyle
$200
15
Lellos, Christopher
$150
16
Rock, TJ
$100
17
Richardson, Dmitri
$100
18
Oliva, Vaughn
$100
2022 LAS VEGAS MAIN EVENT- GIRLS SCRATCH SINGLES- final results
Rank
Bowler
prize
1
Abigania, Katelyn
$1,800
2
Loredo, Jennifer
$1,200
3
O'Bryant, Annalise
$900
4
Fuzie, Vanessa
$700
5
Cummins, Mabel
$600
6
Domaguin, Avery
$500
7
Marquez, Koryn
$400
2022 LAS VEGAS MAIN EVENT- HANDICAP SINGLES- final results
Rank
Bowler
prize
1
Dalton, Tristan
$3,000
2
Randisi, Alyssa
$2,000
3
Johnson, Ava
$1,300
4
Torres, Max
$1,000
5
Gregson, Bryan
$900
6
Montoya, Devin
$800
7
Tran, Tyler
$700
8
Hernandez, Jonathan
$600
9
Randisi, Nolan
$500
10
Kankariya, Jai
$400
11
Orellana, Bryan
$300
12
Brooks Jr., Doug
$250
13
Yockman, Jayna
$200
14
Sham, Caden
$150
15
Verde, JT
$130
16
Bentkowski, Ezra
$120
17
Workman, Jaden
$110
18
Sanchez, Andrew
$100