2022 JBT Las Vegas Main Event- Scratch Singles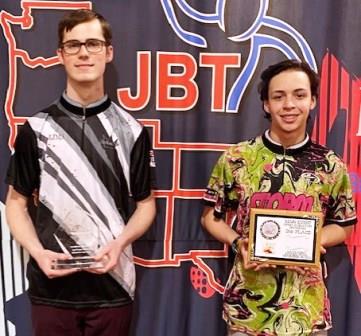 champion Costa Gastouniotis and runner-up Lucas Finley
Costa Gastouniotis of Goleta, CA defeated Lucas Finley, Longmont CO, 288-258, to win the scratch singles division of the 2022 JBT Las Vegas Main Event, hosted by the South Point Bowling Plaza and sponsored by the Brands of Brunswick, IAM Bowling, South Point, and the Junior Bowlers Tour.
Finley began a climb from the #8 seed of the finals with a 248-169 win over #5 Austin Grammer. On the other side of the bracket, 21-time JBT champ Hunter Mayes beat another Colorado bowler, #7 Tyler Close. Finley kept it rolling in round two, stopping #4 Cesar Padilla 236-206, while Costa began an amazing run with a 279-214 win over Mayes. More of the same from Gastouniotis resulted in a 266-253 semifinal thriller over Nick Larsen, while Finley ended top seed Solomon Salama's quest to become the first three-time Main Event singles winner with a 195-170 victory to set up the final.
Two-time JBT champ Finley and one-time winner Gastouniotis were not the 'big names' on the entry roster, but each proved they were right where they belonged in a major title match as each ran the front five on the challenging (for mere mortals) pattern. A sixth frame 9-count meant all Lucas could do was watch as Costa rang the string to ten. A shot at Main Event history ended with a 2-8 on his next shot, but it's likely he didn't care, as that wrapped up an astonishing 833 set, the Main Event title, and $4,500 scholarship windfall. Finley earned $3,000 for the runner-up performance, down to a solid $600 for Close.
Complete results are at our website, www.bowljbt.com. Huge thanks to everyone for attending, and all our sponsors, vendors, hosts, and volunteers, who all help make an event of this scope possible. The JBT Las Vegas Main Event returns to the South Point Plaza December 26-30, 2023, please help us spread the word to all ages and skill levels!
2022 LAS VEGAS MAIN EVENT- SCRATCH SINGLES final results
Rank
Bowler
prize
1
Gastouniotis, Costa
$4,500
2
Finley, Lucas
$3,000
3
Salama, Solomon
$2,000
4
Larsen, Nicholas
$1,500
5
Padilla, Cesar
$1,000
6
Mayes, Hunter
$800
7
Grammer, Austin
$700
8
Close, Tyler
$600
9
Lee, Garrett
$500
10
Zieg, Allex
$400
11
Coates, Tyler
$350
12
Reynoso, Ernesto
$300
13
Greim, Zach
$250
14
Orosco, Kyle
$200
15
Lellos, Christopher
$150
16
Rock, TJ
$100
17
Richardson, Dmitri
$100
18
Oliva, Vaughn
$100
19
Miyake, Connor
20
Davis, Harry
21
Switalski, Luke
22
Hong, Daniel
23
Ogata, Kalin
24
Atkins, Adam
25
Nakagawa, Raiden
26
Guba, Andrew
27
Bryant, Amarr
28
Sangalang, Shin
29
Weyl, Michael
30
Kaurin, Mac
31
Woodward, Riley
32
Bostic, Charles
33
Alo, Daryus
34
Howard, Brandon
35
Bivins, Brock
36
Yamada, Kai
37
Fakler, Payne
38
Chin, Leoj
39
Weems, Jos
40
Tacorda, Andrei
re-entries not sorted out below:
41
Rock, TJ
42
Chin, Leoj
43
Derego, Shane
44
Huffman, Sebastian
45
Marmolejo, Michael
46
Padilla, Cesar
47
Rodas, Ardani
48
Reynoso, Ernesto
49
Shene, Harley
50
Davis, Harry
51
Mastroianni, Anthony
52
Lawrence, Robert
53
O'Hollaren, Elias
54
Olvia, Vaughn
55
Matherly, Cayden
56
Rees, Nic
57
Mayes, Chris
58
Jance, Colt
59
O'Hollaren, Elias
60
Marmolejo, Michael
61
Sangalang, Shin
62
Hind, Henry
63
Bostic, Charles
64
Ogata, Kalin
65
Schmidt, Harper
66
Rodas, Ardani
67
Sicard, Bud
68
Hind, Henry
69
Ogata, Kalin
70
Richardson, Dmitri
71
Griffin, JP
72
Zieg, Allex
73
Goodman, Michael
74
Gastouniotis, Costa
75
Finely, Lucas
76
Chatterton, Brody
77
Goodman, Michael
78
Chatterton, Brody
79
Lake, Donovan
80
Brown, Luke
81
Gastouniotis, Costa
82
Molloy, Josh
83
Stovall, Seth
84
Clarke, Tyler
85
Tidball, Nathan
86
Woodward, Riley
87
Hardman, Liam
88
Ferrell, Manny
89
Gootzeit, Jason
90
Garner, Earl
91
Abigania, Josh
92
Kaurin, Mac
93
Chatterton, Brody
94
Longa, Dart
95
London, Kenji
96
Ponzo, Kyle
97
Tocarda, Andrei
98
Ferrell, Manny
99
Morris, Jeremy
100
Huffman, Sebastian
101
Tidball, Nathan
102
Lee, Henry
103
Castronova, Tyler
104
Grammer, Austin
105
Rother, Brandon
106
Tacorda, Andrei
107
Nakunz, Bryce
108
Montoya, Dominic
109
Shene, Harley
110
Peck, Miles
111
Davis, Harry
112
Lu, Kevin
113
Griffin, JP
114
Hind, Henry
115
Erickson, Justin
116
Kidd, Nicholas
117
McElroy, Benaiah
118
Hong, Daniel
119
Castronova, Tyler
120
Griffin, JP
121
Stovall, Seth
122
Weaver, Anders
123
Sicard, Bud
124
Kwon, DoHoon
125
Lujan, Diego
126
McElroy, Benaiah
127
Snow, Mason
128
Bardol, Jason
129
Montoya, Dominic
130
Meliska, Caden
131
London, Kenji
132
Workman, Payton
133
Matherly, Cayden
134
Erickson, Justin
135
Marmolejo, Michael
136
Tidball, Nathan
137
Bell, Quinten
138
Oliva, Vaughn
139
Fujioka, Kasey
140
Sicard, Bud
141
Knight, Bailey
142
Kaurin, Mac
143
McGowan, Skyler
144
Gootzeit, Jason
145
Romine, Tyler
146
Coleman, Aaron
147
Peck, Miles
148
Reynoso, Ernesto
149
Garner, Earl
150
Trejo, Ezekiel
151
Uribarri, Dante
152
Richardson, Dmitri
153
Hardman, Liam
154
Garton, Jaxson
155
Mastroianni, Anthony
156
Thompson, Alex
157
Nebres, Elijah
158
Lee, Garrett
159
Matherly, Cayden
160
Ponzo, Kyle
161
Thompson, Alex
162
Alo, Daryus
163
Ceballos, Ivan
164
Faro, Christopher
165
Purugganan, Brent
166
Jance, Colt
167
Kidd, Nicholas
168
Pimentel, Ryland
169
Lu, Kevin
170
Finely, Lucas
171
Erickson, Justin
172
Calica, Aaron
173
Roque, Cristian
174
Garton, Jaxson
175
Perham, Tristan
176
Weems, Jos
177
Manabe, Kody
178
Morella, Anthony
179
Vallesteros, Eddy
180
Miyake, Connor
181
Baraczyszyn, JR
182
Ortega, Gabriel
183
Velasco, Martin
184
LaRose, Brody
185
Silva, Ian
186
Groves, Chris
187
Valasco, Martin
188
Stovall, Seth
189
Schmidt, Harper
190
Snow, Mason
191
Lake, Donovan
192
Longa, Dart
193
Bass, Ryan
194
Ponzo, Kyle
195
Woodward, Riley
196
Kidd, Nicholas
197
Finely, Lucas
198
Bentkowski, Ezra
199
Rother, Brandon
200
Rother, Brandon
201
Piper, Zane
202
Lake, Donovan
203
Lawrence, Thomas
204
Kuretich, Kyler
205
Ubibarri, Daunte
206
Jance, Colt
207
Knight, Bailey
208
Peck, Miles
209
Ortega, Gabriel
210
Chan, Kobe
211
Garton, Jaxson
212
Goodman, Michael
213
McGowan, Skyler
214
Pfaff, Jimmy
215
Disecker, River
216
Steelmon-Hill, Connor
217
Disecker, River
218
Alo, Gyrus
219
Montoya, Dominic
220
Meliska, Caden
221
London, Kenji
222
Tidball, Nathan
223
Bell, Quinten
224
Kahuhu, Luke
225
Ortega, Gabriel
226
Keller, Grant
227
Todeschi, CJ
228
Fernandez, Gavin
229
Kitchens, Xavier
230
Uribarri, Dante
231
Coleman, Aaron
232
Morella, Anthony
233
Ngo, Brandon
234
Ponzo, Kyle
235
Lu, Kevin
236
Goodman, Michael
237
Kwon, DoHoon
238
Romine, Tyler
239
Prevetti, Anthony
240
Narbeaez, Noah
241
Clarke, Tyler
242
Purugganan, Brent
243
Bardol, Jason
244
Morella, Anthony
245
Narnaez, Noah
246
LaRose, Brody
247
Molloy, Josh
248
Kitchens, Xavier
249
Marine, Ian
250
Bivins, Brock
251
Schmidt, Harper
252
Yamada, Kai
253
Lee, Garrett
254
Ruiz-Jimenez, Aiden
255
Lujan, Diego
256
Yamanoha, Adrian
257
Piper, Zane
258
Prevetti, Anthony
259
Criss, Cameron
260
Fernandez, Hayden
261
Kufeldt, Brady
262
Todeschi, CJ
263
Silva, Ian
264
Nakunz, Bryce
265
Bivins, Brock
266
Jance, Colt
267
Vallesteros, Eddy
268
Ruiz-Jimenez, Aiden
269
Pimentel, Ryland
270
Goodman, Michael
271
Mastroianni, Anthony
272
Lujan, Diego
273
Yamanoha, Adrian
274
Chatterton, Brody
275
Steelmon-Hill, Connor
276
Derego, Shane
277
Kahuhu, Luke
278
Velasco, Martin
279
Alo, Gyrus
280
Ceballos, Ivan
281
Silva, Ian
282
Barczyszyn, JR
283
McElroy, Benaiah
284
Ortega, Gabriel
285
Fernandez, Gavin
286
Roque, Cristian
287
Chatterton, Brody
288
Fernandez, Gavin
289
Knight, Bailey
290
Matherly, Cayden
291
Ceballos, Ivan
292
Brittain, Travis
293
Groves, Chris
294
Terada, Quentin
295
Kadooka, Jayden
296
Marine, Ian
297
Silva, Ian
298
Terada, Dylan
299
Weaver, Anders
300
Keller, Grant
301
Roque, Cristian
302
Nakunz, Bryce
303
Weaver, Anders
304
Purugganan, Brent
305
Kuretich, Kyler
306
Fernandez, Hayden
307
Steelmon-Hill, Connor
308
Henkels, Yuron
309
Roque, Cristian
310
Terada, Dylan
311
Pfaff, Jimmy
312
Ruehlen, Jashua
313
Coleman, Aaron
314
Robinson, Xavier
315
Atkins, Adam
316
Switalski, Luke
317
Terada, Quentin
318
Lawrence, Robert
319
Terada, Dylan
320
Chan, Kobe
321
Kitchens, Xavier
322
Lameg, Ricky
323
Ruiz-Jimenez, Aiden
324
Miyake, Connor
325
Brittain, Travis
326
Trejo, Ezekiel
327
Prevetti, Anthony
328
Fernandez, Hayden
329
Ceballos, Ivan
330
Ruehlen, Jashua
331
Kahuhu, Luke
332
Debina, Darin
333
Kufeldt, Brady
334
Meliska, Caden
335
Romine, Tyler
336
Lawrence, Thomas
337
Bass, Ryan
338
Brittain, Travis
339
Criss, Cameron
340
Weaver, Anders
341
Calica, Aaron
342
Kahuhu, Luke
343
Ruehlen, Jashua
344
Sicard, Noah
345
Ruiz-Jimenez, Aiden
346
Scharton, Connor
347
Kufeldt, Brady
348
Terada, Quentin
349
DePero, Louis
350
Scharton, Connor
351
Weems, Jos
352
Acock, Dan'd
353
Breese, Rylan
354
Kadooka, Jayden
355
Garton, Jaxson