Below is a quicker synopsis of the 2006 Main Event. Full permission is granted to use all or part of this article- in fact, please do share it with your local papers, etc. If anything gets published, we'd love for you to send us a copy.
Bowers, Henning, Karpovich win 2006 Main Event;
$53,589 in scholarships awarded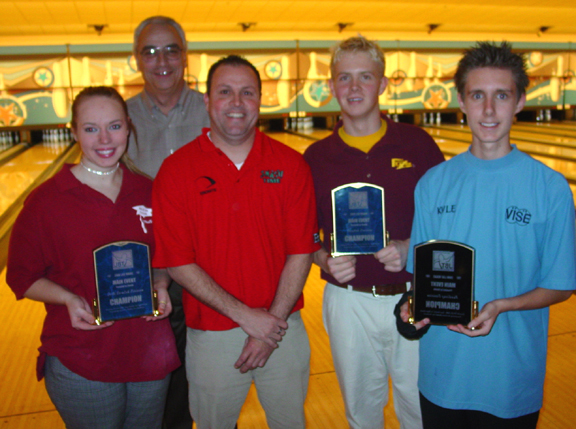 (l-r) Girls Scratch champ Kaleena Henning, Texas Station GM Jerry Francomano, Ebonite's Todd Zenner, Scratch champ Brent Bowers, Handicap champ Kyle Karpovich
Over 1,000 entrants from 26 states and Canada took part in the 2006 Las Vegas Main Event, presented by Ebonite International and the Junior Bowlers Tour. After four days of intense competition, Brent Bowers, Mulvane KS, won the Open Scratch division, Kaleena Henning, North Platte NE, captured the Girls Scratch title, and Kyle Karpovich, Chandler AZ, claimed victory in the Handicap division.
Miss Henning, the #3 seed, escaped from her first match over #8 Mandy Pezzano, then parlayed that all the way to a title match win over Wichita State star and #5 seed Emily Maier 234-215, for the $1,500 first place scholarship prize.
Bowers, the Open Scratch division top seed, rolled an 827 set during qualifying to help lead a high-scoring field. #10 seed Craig Hanson, Orlando FL, had already won four matches (defeating seven opponents) to reach the title match, and had a lead halfway through. However, Bowers then found the look on the left lane, striking out from the sixth frame for a 234-209 win, and a $5,450 scholarship windfall.
Karpovich, the only JBT regular to reach a title match this year, found himself in a terrific battle with 13 year-old Haley Rubin (big sister Ashley finished 4th in Girls Scratch). Kyle's tenth frame strike proved to be enough to capture a thrilling 262-259 win and the $2,000 scholarship prize, which was augmented to $2,200 for throwing an Ebonite ball in the title match.
This year's addition of a side Doubles event was a big success as well. Michael Pixley and Andrey Buie, Sacramento CA, captured the Scratch Doubles title with a 1478 six-game total, splitting a $1,000 scholarship. The Handicap Doubles crown went to Douglas and Jessica Lai, as the San Francisco siblings tallied a 1444 total for the $1,000 top scholarship prize.
Randy Churchill Jr, Ontario Canada, rolled the event's only 300 game. In addition to Bowers' 827, Chris Weyrauch rolled an 810 series. Fourteen other games of 280 or better were bowled, including a 289 by Maier in the first round of the finals!
Thanks again to Dave Wodka and Todd Zenner of Ebonite, as well as to Texas Station GM Jerry Francomano for a first-class hosting job. In all, $53,589 in scholarships was awarded to a 1,000+ entrant field. This total is one of the biggest scholarship payouts for one event in the country, and far eclipses events like Junior Gold in terms of payout vs. entry fee. We hope payouts like this will encourage this year's bowlers to spread the word of our event, making this just the beginning of an even bigger and better event in years to come.
Find complete Main Event results and learn more about the Junior Bowlers Tour at www.bowljbt.com, and we'll see you at Texas Station in 2007 for the next Main Event!