2006 Main Event Handicap Division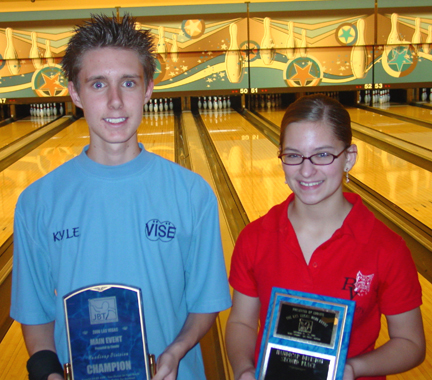 champ Kyle Karpovich and runner-up Haley Rubin
Kyle Karpovich, a JBT regular, picked a great week to come up with his best bowling ever, capturing the handicap division of the 2006 Las Vegas Main Event, presented by Ebonite International and the Junior Bowlers Tour.
After three days of qualifying, the field was cut to 66 for six tough matchplay games, after which the top 16 advanced to a unique finals. Round one consisted of two four-way matches, with the high score from each match advancing. In one match, #9 Jordan Harrington rolled a 234, enough to eliminate Mark Trudel, James Hawkins Jr, and Jeremy Throne. In the other match, #16 seed Shayne Huntley, who snuck into the finals by one pin, kept the good luck going with a 226 that beat out Douglas Lai, Andrae Lara, and Zach Hattori to advance.
Round two consisted of two three-way battles. In the top bracket, #6 seed Haley Rubin blasted a big 278 (with handicap) to eliminate Harrington (231) and #5 Christina Fraijo (201). The other match saw a whole lot of strikes, and again it was Huntley who came up biggest, rolling a 263 to edge Evan Hayashi (239) and Julie Kawaye (224).
Down to conventional head to head matches in round three, Rubin defeated #4 seed and 2005 Main Event runner-up Logan Kennedy 234-181, while #3 Scott Englehart finally ousted Huntley 227-202. However, Shayne's jump from 16th to 6th earned him an extra $580 in scholarships for a $700 payday.
Round 4, the semifinals, saw Rubin get by top seed Spencer Dukes 215-203, while #2 Karpovich defeated Englehart 211-186.
The finale saw a great battle between Rubin, a 7th grader on her town's high school bowling team, looking to avenge her big sister's semifinal loss in the Girls Scratch division, and Karpovich, whose high finish on tour was a 2nd place finish in the 2006 PBA Pro-Am. Both bowlers were locked in the whole match, and in the end, Kyle's first strike in the tenth was enough for a thrilling 262-259 win, his first JBT title, and a whopping $2,200 scholarship bonanza, $200 of that coming from the Ebonite bonus for winning with an Ebonite bowling ball.
Thanks again to Ebonite, as well as to Texas Station for a first-class hosting job. In all, a tremendous $53,589 in scholarships was awarded to a 1,000+ entrant field. Find all the Main Event results and learn more about the Junior Bowlers Tour at www.bowljbt.com, and we'll see you at Texas Station in 2007 for the next Main Event!
HANDICAP- Final standings and scholarship winners
rank
Name
City
State

prize

1
Karpovich, Kyle
Chandler
AZ
$2,200
2
Rubin, Haley
Brandon
SD
$1,500
3
Dukes, Spencer
San Diego
CA
$1,107
4
Englehart, Scott
Chatsworth
CA
$900
5
Kennedy, Logan
Las Vegas
NV
$828
6
Huntley, Shayne
Mission Viejo
CA
$700
7
Fraijo, Christina
Covina
CA
$675
8
Hayashi, Evan
Waipahu
HI
$675
9
Kawaye, Julie
Sacramento
CA
$496
10
Harrington, Jordan
South Jordan
UT
$350
11
Lai, Douglas
San Francisco
CA
$800
12
Trudel, Mark
Bakersfield
CA
$282
13
Lara, Andrae
Mililani
HI
$216
14
Hawkins, James
Anaheim
CA
$195
15
Hattori, Zach
Las Vegas
NV
$130
16
Throne, Jeremy
Farmington
NM
$168
17
Hannasch, Lindsay
Saugus
CA
$110
18
Polk, Avery
Denver
CO
$146
19
Shepan, Cory
Las Cruces
NM
$95
20
Howard, Stephanie
Prospect
CT
21
Trudel, Brandon
Bakersfield
CA
$32
22
Fujita, Ronnie
El Sobrante
CA
$166
23
Lai, Jessica
San Francisco
CA
$500
24
Frederick, Kyle
Chandler
AZ
$16
25
Conn, Jaymes
EL Cajon
CA
26
Scheer, Ryan
Rio Rancho
NM
27
Brown, Trevor
Roy
UT
28
Page, Robert
Los Angeles
CA
29
Castelloe, Brian
Carlsbad
CA
$80
30
Truong, Kevin
San Francisco
CA
$20
31
Mounier, Natalie
Phoenix
AZ
32
Erb, Matthew
Phoenix
AZ
$91
33
Shukers-Stegeman, Adam
Denver
CO
$45
34
Broadus, Diamond
Las Vegas
NV
35
Cruz, Anthony
San Diego
CA
$75
36
Hellman, Blaine
Henderson
NV
$20
37
Gonzalez, Manuel
Albany
CA
38
Jones, Kevin
Diamond Bar
CA
39
Drew-Kaohu, Winter
Honolulu
HI
$48
40
Lim, Brian
San Francisco
CA
$112
41
Martin, Jaymie-Rae
Kapolei
HI
$128
42
Bacoccini, Cassie
Albuquerque
NM
$16
43
Jaramillo, Brianna
Los Lunas
NM
$16
44
Nagamine, Casey
Kaneohe
HI
$30
45
Lara, Jamie
Mililani
HI
46
Short, Cameran
Newton
KS
47
Baker, Bethany
Tempe
AZ
$16
48
Goad, Jeff
Phoenix
AZ
$25
49
Staggs, Darcie
Bullhead City
AZ
$104
50
Kurzeka, Susan
Albuquerque
NM
$32
51
Garchitorena, Carlo
San Francisco
CA
$98
52
Mora, Marycruz
San Diego
CA
53
Hale, Kevin
Bakersfield
CA
$16
54
Foley, Ryan
Sparks
NV
55
Shelton, Lacey
Albuquerque
NM
$32
56
Karpovich, Keaton
Chandler
AZ
$52
57
Read, William
Albuquerque
NM
$48
58
May, Michael
Vista
CA
$20
59
Price, David
Safford
AZ
$32
60
Halter, Allison
Georgetown
TX
$32
61
Ward, Michael
Loveland
CO
62
Cox, Cameron
Bakersfield
CA
$48
63
Marshall, David
Newport
OR
64
Cotton, Daniel
Glendale
AZ
65
Tufo, Justin
Denver
CO
$56
66
Niblo, Landon
Aurora
CO
$30
67
Rosenberg, Corey
Las Vegas
NV
$80
68
Truong, Kevin
San Francisco
CA
$20
69
Akau, Leland Jr.
Honolulu
HI
70
Brown, Ryan
Rancho Santa Margarita
CA
71
Jarosz, DJ
Reedley
CA
$48
72
Uyehara, Sky
Aiea
HI
$16
73
Gordon, Casey
Sanger
TX
$32
74
Ferrer, Joshua
Henderson
NV
$20
75
Jarzemba, Debbie
Santa Fe
NM
$32
76
Allen, Austin
Mililani
HI
77
Rodriguez, Raymond
Santa Barbara
CA
78
Payne, Matt
Phoenix
AZ
79
Shepan, Travis
Las Cruces
NM
$20
80
Bietman, Laura
Diamond Bar
CA
$32
81
Lopez, Angelic
West Covina
CA
82
Evans, Jeremy
Bakersfield
CA
83
Galvan, Candice
Norwalk
CA
$32
84
Kong, Sherman
San Francisco
CA
$45
85
Sands, Alex
Daytona
FL
86
Waddle, Chris
Bakersfield
CA
87
Akau, Landon
Honolulu
HI
88
Jeong, Matthew
San Francisco
CA
$20
89
Zermeno, Sam
El Paso
TX
$16
90
Holliday, Michael
Albuquerque
NM
91
Patty, Mike
Walnut Creek
CA
$150
92
Miyaji, Sharyn
Honolulu
HI
93
Cape-Jones, Alex
Brentwood
CA
94
Longo, Brandon
Chandler
AZ
95
Stern, Drew
Northridge
CA
$16
96
Croft, Jeff
Simi Valley
CA
$250
97
Pacheco, Frank
Goleta
CA
98
De la Cruz, Joseph
Goleta
CA
99
Lien, Troy
San Diego
CA
100
Carlton, Robert Kojima
Santa Barbara
CA
101
Lara, Jacqueline
Mililani
HI
102
Shelton, Wendy
Albuquerque
NM
$30
103
Reynolds, Tabetha
Lancaster
CA
104
Claspell, Justin
Lake Havasu City
AZ
105
Valle, Dirk
Ogden
UT
106
Cervinski, Justin
Layton
UT
107
Fritz, David
San Diego
CA
108
Nagamine, Sheila
Kaneohe
HI
109
Bell, Jordan
Peoria
AZ
110
Ho, Matthew
Kailua
HI
$16
111
Williams, Ahkeen
Las Cruces
NM
112
Basom, Justin
Lemon Grove
CA
113
Lebbs, Adam
Oro Valley
AZ
$30
114
Mathis, Randy
Trabuco Canyon
CA
$32
115
White, Brandon
Las Vegas
NV
116
Chambers, Kyle
Glendale
AZ
117
Shiira, Shelly
Honolulu
HI
118
Rodriguez, Anthony
Santa Barbara
CA
119
Goad, Kayla
Phoenix
AZ
$25
120
Jarosz, Danielle
Reedley
CA
$16
121
Cane, Peter
Albuquerque
NM
$16
122
Garcia, Erika
San Diego
CA
123
Silva, Kaitlin
Canyon Country
CA
124
Valenzuela, Chris
Mission Hills
CA
125
Teller, Brandon
CA
126
Uyehara, Shawnna
Aiea
HI
$16
127
Niblo, Whitney
Aurora
CO
$40
128
Fazio, Amanda
Vista
CA
129
Valle, Drake
Ogden
UT
130
Udell, Stephanie
Santee
CA
$16
131
Yadao, Ryan
Las Vegas
NV
$16
132
Clabaugh, Ricky
San Diego
CA
133
Doming, Cody
Ventura
CA
134
Fox, Robert
Bakersfield
CA
135
Lott, Maegan
La Porte
TX
136
Seawright, Jonah
Albuquerque
NM
137
Pendelton, Mikey
Livermore
CA
138
Reguero, Rebeca
Phoenix
AZ
139
Wasiak, Mikolaj
Tucson
AZ
140
Sheather, Eric
Mira Loma
CA
141
Guerrero, Steven
Houston
TX
142
Miner, Sean
Hill AFB
UT
143
Sims, Justin
Ventura
CA
144
Lebbs, Jacob
Oro Valley
AZ
$30
145
Clabaugh, David
El Cajon
CA
146
Fox, Darin
Bakersfield
CA
147
Dennis, Troy
Phoenix
AZ
148
Hughes, Christopher
Syracuse
NY
149
Knight, Taylor
Phoenix
AZ
150
Gould, Brooks
Gilbert
AZ
151
French, Liana
Ventura
CA
57 deleted re-entries