2006 Main Event Girls Scratch Division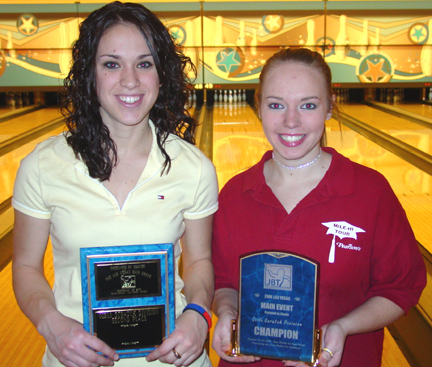 runner-up Emily Maier and champ Kaleena Henning
Kaleena Henning outlasted a very talented finals field to capture the Girls Scratch division of the 2006 Las Vegas Main Event, presented by Ebonite International and the Junior Bowlers Tour.
After three days of qualifying competition, the filed was whittled down to 30 for six games of head-to-head matchplay, after which the top 8 advanced to a modified bracket-style stepladder finals. In round one of the finals, #8 seed Mandy Pezzano, who snuck into the finals by just 13 pins, upended #6 Jessica Helwi 223-209, while #5 Emily Maier defeated #7 Kirsten Sorensen in a big way, thrilling the crowd with the first ten strikes en route to a 289-212 win.
In round two, Maier stayed hot, defeating #4 Bryanna Caldwell, the JBT's all-time winningest female bowler, 224-215. Meanwhile, #3 Henning looked to be headed towards a tough loss to Pezzano, but a missed spare in the tenth turned the tables one more time, and Kaleena escaped with a 213-207 win to advance.
In the semifinal matches, Maier got by #1 seed and defending Main Event champion Danielle Schilling 237-216, while Henning defeated the #2 seed Ashley Rubin to reach the title match.
The title match was a classic battle between two very talented bowlers, with both girls seemingly striking at will through the early stages. In the end, though, Henning came through with the hits she needed for a 234-215 win, and the $1,500 first place scholarship prize. Maier's excellent run through the stepladder was still good for the $1,200 runner-up prize.
Thanks again to Ebonite, as well as to Texas Station for a first-class hosting job. In all, $53,589 in scholarships was awarded to a 1,000+ entrant field. Find all the Main Event results and learn more about the Junior Bowlers Tour at www.bowljbt.com, and we'll see you at Texas Station in 2007 for the next Main Event!
GIRLS SCRATCH- Final Standings and Scholarship Winners
Rank
Name
City
State
Prize
1
Henning, Kaleena
North Platte
NE
$1,500
2
Maier, Emily
Sparks
NV
$1,238
3
Schilling, Danielle
Ventura
CA
$1,042
4
Rubin, Ashley
Brandon
SD
$1,030
5
Caldwell, Bryanna
Tucson
AZ
6
Pezzano, Mandy
Hawthorne
NJ
$706
7
Helwi, Jessica
Mulvane
KS
$456
8
Sorensen, Kirsten
Fremont
CA
$450
9
Urban, April
Henderson
NV
$278
10
Hurst, Melissa
Derby
KS
$195
11
Wass, Meaghan
Carson City
NV
$225
12
Churchill, Jennifer
Windsor
ONT
$78
13
Goll, Felicia
St. Clair Shores
MI
$130
14
Dutton, Courtney
Chandler
AZ
15
Calberry, Valerie
Brampton
ONT
$86
16
Bolton, Blanche Elise
Merritt Island
FL
17
Diaz, Angelica
San Diego
CA
18
Landers, Caycee
Mission Hills
CA
19
Boiselle, Jennifer
Winchester
MA
20
Davis, Rachelle
Tucson
AZ
21
Lofthouse, Casey
Wellsville
UT
$16
22
Ornelas, Emily
Phoenix
AZ
$40
23
King, Tiffany
Surprise
AZ
$34
24
Falk, Amanda
Tucson
AZ
25
Page, Brittany
Los Angeles
CA
26
Schiffelbein, Amanda
Tecumseh
KS
27
Alvarado, Krystal
Corona
CA
28
Genova, Nicole
Chico
CA
29
Pratt, Brittany
30
Barber, Brittani
Del Valle
TX
31
Guerreo, Savanah
Riverside
CA
32
Koff, Ana
Miami
FL
33
Piper, Arisha
Pico Rivera
CA
$14
34
Hanken, Lori
Oregon City
OR
$20
35
Lycan, Lana
San Diego
CA
36
Halter, Amanda
Georgetown
TX
37
Ho, Dee Dee
Arcadia
CA
38
Fry, Amanda
Antelope
CA
39
Belden, Ashley
Tijeras
NM
40
Madrid, Alyssa
Las Vegas
NV
$20
41
Vadnais, Amanda
Prescott
AZ
42
Carrillo, Deanna
Montebello
CA
43
Bodinet, Rebecca
Maricopa
AZ
44
McCusker, Jessica
Allen
TX
45
Mayall, Kaitlin
Chula Vista
CA
$58
46
Nishida, Tara
Kaneohe
HI
47
McGinnes, Alyse
La Crescenta
CA
48
Wainner, Jennifer
Santa Paula
CA
49
Signaigo, Suzana
Kapolei
HI
50
Dias, Leslie
Lafayette
CO
51
Mox, Erika
Henderson
NV
$16
52
Hetkowski, Jessica
Las Vegas
NV
53
Barber, Brittani
Del Valle
TX
54
Lopez, Tanna
Rawlins
WY
$20
55
Albani, Amanda
Glendale
AZ
56
Ansteth, Sarah
Las Vegas
NV
57
Ijams, Allie
Mission Viejo
CA
58
Zemelka, Chelsea
Phoenix
AZ
59
Rawsthorne, Catherine
Federal Way
WA
$32
60
Cervinski, Cassy
Layton
UT
61
Green, Kayla
Thornton
CO
62
Brown, Amanda
Simi Valley
CA
63
Monteith, Susy
Orange
CA
$20
64
Laney, Chrystal
Gresham
OR
65
Brock, Ashley
Kennewick
WA
66
Tipton, Justine
Portland
OR