2006 Main Event Open Scratch Division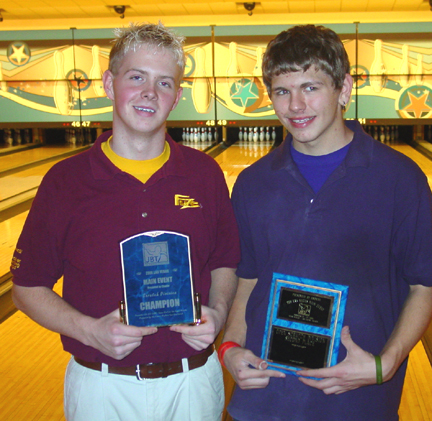 champ Brent Bowers and runner-up Craig Hanson
Brent Bowers put on a clinic all week long, capped off with a tremendous clutch performance in the title match, to capture the Scratch division title of the 2006 Las Vegas Main Event, presented by Ebonite International and the Junior Bowlers Tour.
After three days of qualifying, the field was carved down to the top 78 for six tough matchplay games, after which the top 16 bowled in a unique bracket-style finals. In round one, two simultaneous four-player matches were held, with only the highest game advancing. In the top match, #13 seed Kevin Saunders' 247 was good enough to beat Jeremy Medina, Shawn Redd, and Matthew Tuckfield, while #10 Craig Hanson escaped from the bottom match with a big 259, beating Brad Miller, Jim Bosse, and Robyn Ashley.
In round two's three-way matches, Saunders won the top bracket match again, firing a 244 to eliminate #5 Michael Pixley and #6 Scott Christensen (who rolled a 299 earlier in the event). Hanson made it through his second match as well, and in thrilling fashion, as he doubled in the tenth for a 276 game that edged a terrific 269 from BJ Baker, also eliminating a solid 232 effort from Jeff Spiesman.
It wasn't the toughest shot in the world, but it sure wasn't a house shot, but these highly skilled bowlers just kept striking in the semis, with Hanson getting by #3 seed Andrew Koff, the '05 Main Event runner-up and fellow Floridian, by a 258-244 margin, while Saunders kept rolling as well, defeating 21-time east coast JBT champ Anthony Pepe 258-199.
In round four, the semifinals, Bowers finally stopped Saunders' excellent run, 205-185, while Hanson remained unstoppable, getting by #2 Josh Blanchard, who was looking for his 5th straight win in JBT play, 209-193, to set up a great title match.
Craig had already beat seven outstanding bowlers to reach this point, and figured to have his toughest test against Bowers, who had set all kinds of Main Event scoring records, including an astronomical 827 set in qualifying, en route to securing the top seed. However, it was the confident Hanson who rolled out to an early lead in the final, with Brent unable to find the range on the left hand lane. When Bowers chopped a bucket on that lane in the 5th, however, it would be the last time he missed. Making a set of great moves, he struck out from there, and he would need every one as Hanson hung tough as well. Needing a double and count to shut out, Brent threw two more flush hits for the win, and an enormous $5,450 payday. Hanson's great run through the finals ended with a terrific $3,270 consolation prize.
Thanks again to Ebonite, as well as to Texas Station for a first-class hosting job. In all, a tremendous $53,589 in scholarships was awarded to a 1,000+ entrant field. Find all the Main Event results and learn more about the Junior Bowlers Tour at www.bowljbt.com, and we'll see you at Texas Station in 2007 for the next Main Event!
OPEN SCRATCH- Final Standings and scholarship winners
rank
Name
City
State
PRIZE
1
Bowers, Brent
Mulvane
KS
$5,450
2
Hanson, Craig
Orlando
FL
$3,270
3
Blanchard, Josh
Fresno
CA
$2,340
4
Saunders, Kevin
Goodyear
AZ
$1,756
5
Koff, Andrew
MIami
FL
$1,400
6
Pepe, Anthony
Jackson Hgts
NY
$1,219
7
Pixley, Michael
Sacramento
CA
$1,300
8
Christensen, Scott M (co)
Evergreen
CO
$720
9
Baker, BJ
Tempe
AZ
$715
10
Spiesman, Jeff
Ventura
CA
$630
11
Medina, Jeremy
Santa Fe
NM
$600
12
Redd, Shawn
Sunnyvale
TX
$769
13
Bosse, Jim
Berlin
CT
$600
14
Ashley, Robyn
Farmington
NM
$500
15
Tuckfield, Matt
Miami
FL
$634
16
Miller, Brad
Raytown
MO
$556
17
Wodzinski, Mike
East Meadow
NY
$848
18
Clark, Tucker

$350
19
Cormack, Matt
Woodland Hills
CA
$428
20
George, Kris
Glendale
AZ
$318
21
Peck, Shane
Riverside
CA
$286
22
Pirtle, James
Waipahu
HI
$300
23
Eppele, Kevin
Las Vegas
NV
$115
24
French, Mark
Ventura
CA
$120
25
King, Kyle
Phoenix
AZ
$82
26
Weyrauch, Chris
Chandler
AZ
$212
27
Peters, Jacob
Decatur
IL
$208
28
Inafuku, Kellen
Mililani
HI
29
Smith, Tommy
Des Plaines
IL
$699
30
Jackson, Will (ut)
Layton
UT
31
Shimon, Shane
Sacramento
CA
32
Panaligan, Nate
N. Las Vegas
NV
33
Fritsch, Chris
Citrus Heights
CA
$30
34
Van Hecke, Ryan
Sterling Heights
MI
$16
35
Beasely, Travis
Citrus Heights
CA
$60
36
Young, Geoffrey
Denton
TX
$41
37
DeCaluwe, Andy
Mt Prospect
IL
$91
38
Tatrow, Kevin
Bel Aire
KS
$32
39
Tajiri, Joshua
Mililani
HI
$150
40
Marshall, Austin
Newport

OR
41
Ferrer, Jordan
Henserson
NV
42
Sands, Trey
Miami
FL
$250
43
Richards, Dean
Tacoma
WA
$304
44
Weier, Cameron
Federal Way
WA
$67
45
Monteith, JR
Orange
CA
46
Cross, Mike
Tucson
AZ
47
Hithcock, Sam
Lake Forest
CA
48
Hildebrand, Spencer
Shawnee Mission
KS
$16
49
Bolosan, Chris
Newport News
VA
$16
50
Ocana, Robert
Edinburg
TX
51
Sambueno, Toby
Aiea
HI
52
Mizo, Jarret
Honolulu
HI
53
Fukumizi, Preston
Los Angeles
CA
$72
54
Cote, Randy
Tucson
AZ
55
Davenport, Chris
Tucson
AZ
56
Hill, Kiall
Sunrise
FL
$272
57
Dias, Alex
Lafayette
CO
58
Smith, Cameron
Santee
CA
59
Behunin, Jordan
Ogden
UT
60
Kolczak, Kasey
Ogden
UT
61
Miles, Clayton
Portland
OR
$350
62
Allred, Brandon
Las Vegas
NV
$175
63
Churchill, Randy
Windsor
ONT
$92
64
Rogers, Zach
MIami
FL
$48
65
Miles, Robert Scott Jr.
Chester
MD
66
Marchak, Mike
Des Plaines
IL
67
Kagawa, Chris
Las Vegas
NV
68
Kanda, Justin
Honolulu
HI
69
Reynoso, Andy
Las Vegas
NV
70
Holland, Forrest
Escondido
CA
$16
71
Kluender, Eric
Kansas City
MO
72
Stewart, Blake
Sandy
UT
73
Sekara, Justin
Richmond
CA
74
Jones, Matt
Canoga Park
CA
75
Jensen, Christian
Anthem
AZ
$32
76
Leseberg, Brian
Ventura
CA
$96
77
McGinness, Brandon
La Crescenta
CA
78
Hawkins, Darren
79
Byer, Andy
Albuquerque
NM
$20
80
Douthit, Theo
Glendale
AZ
$300
81
Hara, Dustin
Pearl City
HI
82
Jones, Kyle
Kearns
UT
83
Bodinet, Dan
Phoenix
AZ
$16
84
Del Cerro, Mark
Fremont
CA
$80
85
Coyle, Cayson
Las Vegas
NV
86
Bidwell, Devin
Simi Valley
CA
87
Greiner, Alex
Richmond
CA
88
Jackson, Will
Gardena
CA
$45
89
Majdanski, Bobby
Las Vegas
NV
90
Planer, Stephen
Oklahoma City
OK
91
Hiyane, Cy
Aiea
HI
92
Mathews, Jeff
Las Vegas
NV
93
Ballard, Brian
San Diego
CA
$14
94
Lavoie, Jeremy
Windsor Locks
CT
95
McElvaney, Ken
Ventura
CA
$45
96
Prather, Taylor
Sparks
NV
97
Jensen, Curtis
Fresno
CA
$75
98
Coleman, Brian
Salt Lake City
UT
$25
99
Morrison, Kyle
Draper
UT
100
Thomas, Willie IV
Richmond
CA
$20
101
Urrutia, Nathan

CA
102
Kolczak, Kraig
Ogden
UT
103
Norton, Bryan
Ventura
CA
$48
104
Allen, Raymond
Mililani
HI
105
Carroll, Daniel
Seattle
WA
106
Daniels, Evan

UT
107
Fujita, Michael
El Sobrante
CA
$44
108
Reid, Shane
Enfield
CT
109
Grant, Bill
Rio Rancho
NM
$20
110
Torres, Richard
Antioch
CA
111
Claspell, Joe
Lake Havasu City
AZ
112
Laskey, Adam
Fargo
ND
$48
113
Marin, Joseph
Oxnard
CA
114
Reclosado, Ralf
Daly City
CA
$16
115
Rubin, Eric
Phoenix
AZ
$100
116
Geering, Greg
Phoenix
AZ
117
Hidani, Darren
Mililani
HI
118
Koyanagi, Cory
Torance
CA
$33
119
Zakrzewski, Henry
Palatine
IL
120
Klemsen, Jake
Milwaukie
OR
$35
121
Beach, Kris
Freeport
IL
$40
122
Schoenfeld, Kevin
Phoenix
AZ
$20
123
Nagamine, Kyle
Kaneohe
HI
$16
124
Hopfner, Todd
Bonney Lake
WA
125
Honculada, Phillip
Houston
TX
126
Bakshys, George
Milford
CT
$110
127
Reyes, Juanmanuel
Aiea
HI
$20
128
Wiltfang, Bear
Lake Havasu City
AZ
$16
129
Reynoso, Adam
Las Vegas
NV
$40
130
Garbera, Greg
Tempe
AZ
131
Medina, Justin
Santa Fe
NM
132
Mochizuki, Peter

HI
133
Ray, Derek
Denton
TX
134
Brooks, Andy
Albuquerque
NM
135
Zehntner, Travis
Goleta
CA
$20
136
Williams, Kirk
Oregon City
OR
$20
137
Caldwell, Bryan
Glendale
AZ
138
Davis, Phllip
Blue Springs
MO
139
Murobayashi, Blaine
Mililani
HI
140
Ward, Matthew
Loveland
CO
141
Entsminger, William
El Paso
TX
$80
142
Ono, Jordan
Pearl City
HI
143
Bray, Bobby
Puyallup
WA
144
Nishijima, Dean
Torrance
CA
145
Pate, Nick
Georgetown
TX
146
Wu, Kevin
Sacramento
CA
$16
147
Pekins, Brandon
Gardena
CA
$33
148
Ray, Johnny
Las Vegas
NV
149
Amrein, Nicholas
Hillsboro
OR
150
Johnston, David
Glendale
AZ
151
Shock, Nathan
Thornton
CO
152
Hewitt, Travis
Fremont
CA
153
Lyon, Ross
Lakewood
CA
154
Algeri, Marc
Phoenix
AZ
155
Brown, Ricky
RSM
CA
156
Scherbak, Taylor
Lincoln
NE
157
Weyrauch, Brian
Tempe
AZ
$64
158
Phandanouvong, Foster
San Diego
CA
159
McBride, Joshua
Wichita
KS
160
Goldschen, Jared
Woodland Hills
CA
$20
161
Ruzylo, Kyle
Oceanside
CA
$16
162
Goldstien, Joey Jr
San Francisco
CA
$24
163
Dick, William
Boynton Beach
FL
164
Smith, Patrick
Bakersfield
CA
$16
165
Watts, Brandon
Lake Havasu City
AZ
166
Lien, Shane
San Diego
CA
167
Hennes, Andrew
Lake Mary
FL
$64
168
Wareing, Mitch
South Jordan
UT
169
Hair, Charlie
Lake Forest
CA
170
Nelson, Eric
South Jordan
UT
171
Garcia, AJ
Azusa
CA
172
Fry, Billy
Antelope
CA
173
Narciso, Kevin
Phoenix
AZ
$16
174
Florez, Jerod
Bosque Farms
NM
175
Lewis, Derek
Wicking
KS
176
Hayashi, Jared
Waipahu
HI
$100
177
Robinson, Bradley
DeSoto
TX
178
Goto, Jaron
Aiea
HI
179
Sloan, DJ
Las Vegas
NV
180
Kemper, Matt
Hillsboro
OR
181
Beisswenger, David
Las Vegas
NV
182
Adams, Alex
Fair Oaks
CA
183
Croft, Jeremy
Simi Valley
CA
$250
184
Patty, Dan
Walnut Creek
CA
185
Richardson, Garrett
Hercules
CA
186
Katz, Jordan
Las Vegas
NV
187
Inafuku, Keene
Mililani
HI
188
Kamiyama, Micah
Honolulu
HI
189
Ross, Delano
Inglewood
CA
190
Bratton, Buster
Voncalla
OR
191
Clark, Ben
Draper
UT
$32
192
Schaub, Eddie
Las Vegas
NV
193
McPherson, Cort
Simi Valley
CA
194
Garcia, Armando
San Diego
CA
195
Scott, Jordan
Fresno
CA
196
Korenic, Cale
Escondido
CA
197
Bolton, Babe
Merritt Island
FL
198
Grinfelds, Dzintars
San Francisco
CA
199
Briancesco, Ernest
West Valley City
UT
200
Foster, Justin
Ontario
CA
201
Hamamura, Shaun
Mililani
HI
202
Jones, Kyle
Phoenix
AZ
203
Christensen, Scott T
Ripon
CA
204
Demshok, Rick
Richmond
CA
205
Buie, Andrey
Elk Grove
CA
$500
206
Lopez, Miguel
Peoria
AZ
207
Martin, Kenny
Pacifica
CA
208
Driggs, Robert
Portland
OR
209
Lee, CJ
Gilbert
AZ
210
McHann, Matt
Las Vegas
NV
211
Alley, Robbie
Tijeras
NM
212
Roman, Patrick
Escondido
CA
213
Mares, Mark
Los Lunas
NM
214
Larcome, Jason
Chula Vista
CA
215
Kutcher, Chris
Las Vegas
NV
216
Callahan, Jeff
Puyallup
WA
217
Jones, Jason
Kearns
UT
218
Leach, Labriel
Tucson
AZ
219
Bray, Daniel
Citrus Heights
CA
220
Hanagi, Kean
Mililani
HI
221
Hugo, Robert
Santa Barbara
CA
222
Ploner, Daniel
Yorba Linda
CA
223
Del Campo, Kris
Las Vegas
NV
224
Kilgore, Eric
Los Angeles
CA
225
Roane, Christopher
Waianae
HI
226
Powanda, Nick
San Diego
CA
$16
227
Carter, Randall
228
Haney, Christopher
Oxnard
CA
138 deleted re-entries