2007 LAS VEGAS MAIN EVENT- Handicap Doubles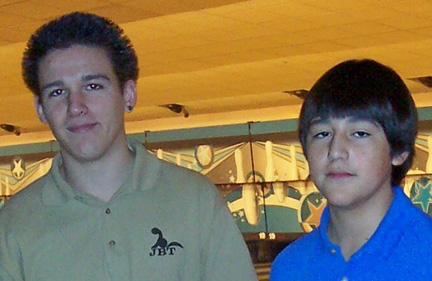 champs Kenny Herbster & Eric Hatchett
Kenny Herbster and Eric Hatchett captured the 2007 Main Event Handicap Doubles title, held in conjunction with the Las Vegas Main Event, at Texas Station.
The Las Vegas duo fired 1454 with handicap to snare the $1,000 top scholarship. They outdistanced runners-up Taylor Knight (Phoenix AZ) and Jonah Seawright (Albuquerque NM), who split $500 for second place at 1379.
Herbster's Main Event success continued with a third place finish in the singles event, earning him over $1,500 on the week!
Final results
| | | | |
| --- | --- | --- | --- |
| rank | bowlers | score | prize |
| 1 | Herbster/Hatchett | 1454 | $1,000 |
| 2 | Kight/Seawright | 1379 | 500 |
| 3 | Reguero/Klein | 1350 | 250 |
| 4 | Throne/Bristow | 1345 | 200 |
| 5 | Hayashi/Hayashi | 1328 | 100 |
| 6 | Read/Carper | 1320 | 90 |
| 7 | Garriot/Truman | 1318 | 80 |
| 8 | Carper/Camacho | 1317 | 70 |
| 9 | Ferry/Lim | 1316 | 60 |
| 10 | Shoup/Sullivan | 1312 | 50 |
| 11 | Natividad/Quiles | 1302 | 40 |
| 12 | Coveris/Armstrong | 1301 | 40 |
| 13 | Belden/Seawright | 1299 | 40 |
| 14 | Raymond/Raymond | 1299 | 40 |
| 15 | Garriott/Truman | 1297 | 40 |
| 16 | Akana/Badua | 1293 | |
| 17 | Goad/Goad | 1290 | |
| 18 | Hansen/Hansen | 1283 | |
| 19 | Turner/Chui | 1279 | |
| 20 | Williams/Williams | 1276 | |
| 21 | Payne/Kenny | 1275 | |
| 22 | Kellogg/Owen | 1273 | |
| 23 | Cotton/Akau | 1268 | |
| 24 | Truman/Gariott | 1265 | |
| 25 | Gordon/Tan | 1259 | |
| 26 | Morales/Morales | 1257 | |
| 27 | Loop/Hansen | 1256 | |
| 28 | Lim/Heins | 1255 | |
| 29 | Shoup/Klien | 1253 | |
| 30 | Buenaventurax2 | 1245 | |
| 31 | Shoup/Sullivan | 1239 | |
| 32 | Lonso/Olpendo | 1237 | |
| 33 | Dennis/Seawright | 1235 | |
| 34 | Kojima/Friedman | 1235 | |
| 35 | Staggs/Mayall | 1233 | |
| 36 | Humphrey/Santana | 1230 | |
| 37 | Mercado/Morales | 1230 | |
| 38 | Koff/Low | 1222 | |
| 39 | Neves/Nagasawa | 1222 | |
| 40 | Staggs/Sullivan | 1222 | |
| 41 | McCoy/Kolar | 1216 | |
| 42 | Shepard/Shepard | 1216 | |
| 43 | Moody/Moody | 1215 | |
| 44 | Martel/Klein | 1214 | |
| 45 | Thoemmes/Ikeda | 1213 | |
| 46 | Kolarny/Phandan | 1208 | |
| 47 | Nakagawa/Nakagawa | 1208 | |
| 48 | Zimmerman/Carper | 1205 | |
| 49 | Mercado/Natividad | 1202 | |
| 50 | Badilla/Ailport | 1201 | |
| 51 | Keraly/ Calabrese | 1201 | |
| 52 | Dukes/Dukes | 1200 | |
| 53 | Shoup/Reguero | 1191 | |
| 54 | Lou/Hansen | 1188 | |
| 55 | Howard/Hanuscin | 1181 | |
| 56 | Entsminger/Seawright | 1179 | |
| 57 | Kampley/Francisco | 1174 | |
| 58 | Martin/Naauao | 1162 | |
| 59 | Read/Byer | 1150 | |
| 60 | Mayall/Reynolds | 1144 | |
| 61 | Atherton/Vitzthum | 1136 | |
| 62 | Florendo/Cando | 1135 | |
| 63 | Nagamine / Hayashi | 1134 | |
| 64 | Humphrey/Santana | 1127 | |
| 65 | Schweers/Karas | 1122 | |
| 66 | Dacauay/Florendo | 1106 | |
| 67 | Loop/Hansen | 1106 | |
| 68 | Metzer/Zimmerman | 1104 | |
| 69 | Naauao/Lee | 1090 | |
| 70 | Baker/May | 1078 | |
| 71 | Kemper/Kemper | 1030 | |
| 72 | Hansen/Hattori | 994 | |
| 73 | Jaramillo/Laws | 862 | |