2007 LAS VEGAS MAIN EVENT- Girls Scratch Division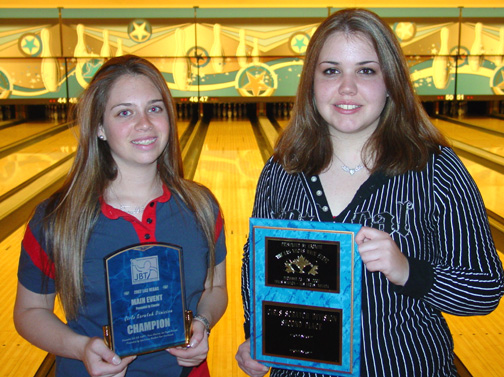 champ Samantha Hesley & runner-up Alyse McGinnes
Samantha Hesley, Wellington FL, captured the girls scratch division of the 2007 Junior Bowlers Tour's Las Vegas Main Event, presented by the Ebonite International and hosted by Texas Station.
After two days of qualifying, the 66 entrants were whittled to 30 for an exciting six game semifinal. The field was then chopped again, this time to 8, for our unique bracket-style stepladder finals.
In round one, #5 Alyse McGinnes, the 2004 Girls Scratch champion, defeated #8 Ashley Belden, a former JBT Bowler of the Year, 222-179, while at the same time #6 Amanda Falk ousted #7 Caycee Landers, 191-183. In round two, both higher seeds were upset, as McGinness eliminated #3 April Urban 206-184, and Falk ousted 2005 Main Event champ Danielle Schilling 168-151.
In the semifinal matches, #2 Hesley defended her seed with a 233-215 win over Falk, but top seed Bryanna Caldwell was upset by McGinnes, 202-171, setting up a #2-#5 title match.
McGinnes was looking to become the first bowler to win two Main Event titles, but in a closely contested title match, it was Hesley who emerged with the 183-177 win, and a $1,500 champion's scholarship prize, while McGinnes settled for $1,200 for the runner-up spot.
2007 LAS VEGAS MAIN EVENT-

GIRLS SCRATCH FINAL STANDINGS and SCHOLARSHIP WINNERS

rank
name
city
state
winnings
1
Hesley, Samantha
Wellington
FL
$1,886
2
McGinnes, Alyse
La Crescenta
CA
$1,246
3
Caldwell, Bryanna
Tucson
AZ
4
Falk, Amanda
Tucson
AZ
5
Urban, April
Las Vegas
NV
1000
6
Schilling, Danielle
Ventura
CA
850
7
Landers, Caycee
Mission Hills
CA
616
8
Belden, Ashley
Tijeras
NM
9
Muther, Kelsey
Topeka
KS
432
10
Signaigo, Suzana
Aiea
HI
460
11
Koizumi, Jordeen
Waipahu
HI
250
12
Kreighbaum, Rachel
Battle Ground
WA
200
13
Hurst, Melissa
Derby
KS
150
14
Galganski, Dayna
North Palm Beach
FL

15
Goll, Felicia
St. Clair Shores
MI
8
16
Rubin, Ashley
Brandon
SD
186
17
Hanken, Lori
Oregon City
OR
50
18
Hannasch, Lindsay
19
Page, Brittany
Los Angeles
CA
20
Davis, Rachelle
Tucson
AZ
56
21
Carrillo, Deanna
Montebello
CA
16
22
Washburn, Kalyn
Tucson
AZ
23
Koff, Ana
Miami
FL
24
Wallace, Michelle
Bend
OR
48
25
Genova, Nicole
Chico
CA
26
Ferry, Jaime
Garden Grove
CA
72
27
Mayall, kaitlin
Chula Vista
CA
28
Helwi, Jessica
Wichita
KS
32
29
Sorensen, Kirsten
Newark
CA
30
Rawsthorne, Catherine
Federal Way
WA
66
31
Ajimine, Dara
Honolulu
HI
32
King, Tiffany
Surprise
AZ
32
33
Beyers, Victoria
Bethany
OK
16
34
Fraijo, Christina
Covina
CA
35
Jucutan, Sharla
San Diego
CA
36
Dutton, Courtney
Chandler
AZ
37
Pearson, Shannon
Westminster
CO
38
Catlett, Cristina
Denver
CO
39
Mayfield, Gabriella
Lake Isabella
CA
40
Ijams, Allie
Flagstaff
AZ
48
41
King, Tiffany
Surprise
AZ
42
Kreighbaum, Rachel
Battle Ground
WA
43
Tallman, Fallon
North Canton
OH
44
Bolton, Blanche Elise
Merritt Island
FL
16
45
Henning, Kaleena
North Platte
NE
46
Lycan, Lana
Santee
CA
47
Scruggs-Barber, Brittani
Del Valle
TX
48
Hamamoto, Starr
Hilo
HI
49
Hetkowski, Jessica
Las Vegas
NV
50
Santos, Seiko
Waipahu
HI
51
Cabezas, Martika
Palm Springs
CA
14
52
Uyehara, Sky
Aiea
HI
48
53
Forgash, Falisha
Lakewood
WA
54
Fry, Amanda
Antelope
CA
55
Yeakley, Courtney
56
Madrid, Alyssa
Las Vegas
NV
57
Zemelka, Chelsea
Phoenix
AZ
58
Baschal, Robin
Palmer Lake
CO
59
Bell, Joi
Pflugerville
TX
16
60
Silva, Kaitlin
Canyon Country
CA
14
61
Catkett, Cristina
62
Reynolds, Tabetha
Lancaster
CA
63
Zipkin, Leanna
Pacifica
CA
64
McCusker, Jessica
Allen
TX
65
Miyaji, Sharyn
Honolulu
HI
16
66
Drew-Kaohu, Winter K.M.
Honolulu
HI